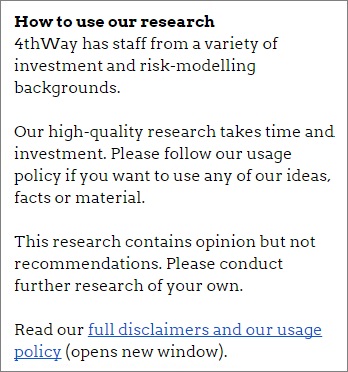 Unfortunately, due to low use from 4thWay's website users, we rarely update these detailed Insight Reports any more. Please see our Quick Expert Reviews in 4thWay's P2P lending comparison tables and see our latest guides, articles and research by visiting our Learn page.
If you would really find it useful to have reports like this, or other detailed reports in another format, please get in touch. We are very interested in how we can present you with all the information you want and need – in the way you want it – to educate yourselves about P2P lending opportunities.
Here's our detailed Lending Works review. This report was last updated on 9th February, 2017.
Quick expert summary: low bad debts, a large reserve fund and insured loan repayments
The word "strong" doesn't even begin to describe the defences this P2P lending site has built against losses:
It is more selective of its borrowers than any other major personal loans P2P lending company.
It has a large reserve fund to cover expected losses.
And it has a unique insurance to pay you if a borrower is unable to pay due to accident, sickness or unemployment.
[br]
Lending Works has been around since the beginning of 2014 and has completed tens of millions of pounds' worth of personal loans. We have no up-to-date management accounts, but Lending Works recently received another £3 million in backing from respected investors. It's extremely transparent, enabling us to analyse each individual loan's performance using risk modelling and investing techniques.
Lending Works* has a lot of underwriting experience in its key team as well as credit-risk experience with personal loans. We believe its interest rates are high enough, with a large margin of safety, to protect lenders from disaster during a severe recession. To sensibly spread your money across lots of borrowers, lend money over many months.
About Lending Works' lending products
Lending Works offers simple accounts that enable you to lend to other individuals in personal loans:
5-year lending: lend your money in loans lasting four or five years.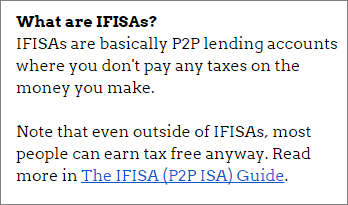 3-year lending: lend in loans lasting up to three years.
Lending Works ISA: get either of the above two accounts, but wrapped in an "IFISA" at no additional cost. (It's not clear on its website, but you have to sign up and log in to open an IFISA.)
With all these products, your money is automatically matched to borrowers and lent out to them.
Interest rates, PLUS Ratings and Risk Scores
[supsystic-tables id='36']
Only 6/64 platforms have earned 4thWay PLUS Ratings.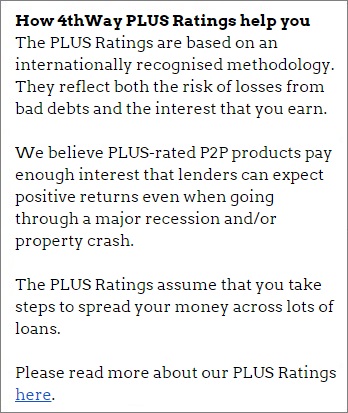 Lending Works* is the only P2P lending site to have earned our top rating of five PLUSes on all of its lending products.
This means we forecast it would take no more than two years to recover losses through interest earned during a major recession – if you lost any money at all.
Lending Works' loans are generally under £25,000 and they are not secured, so it's difficult (but not impossible) for Lending Works to repossess and sell the borrowers' property if they can't pay their debts.
But, despite that, Lending Works gets the top calculated PLUS Rating due to its low bad-debt rate, fair interest rates, large reserve fund, insurance to cover some bad debts.
Lending Works' 4thWay Risk Score of 4/10 is low. It shows that we believe average losses before interest in a terrible recession would be limited to less than 5%.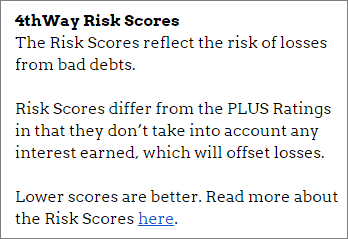 More than that, a lower Risk Score means that you are less likely to lose a lot of money even if you have worse than average luck.
I'll put that another way. Imagine there's a severe recession that depletes Lending Works' reserve fund. Even if you then suffer more loans with bad debts than another lender does, you'll probably only do a little worse – so there will be very few individual lenders, if any, with extreme losses.
The PLUS Ratings and Risk Scores are indicators, not guarantees. Read more disclaimers here.
Key data points
[supsystic-tables id='37']
*No lenders have suffered losses from these bad debts because Lending Works' reserve fund has covered them.
Lending Works review: team and processes
Lending Works' key people have decades of experience between them. While their backgrounds are largely from the mortgage industry, intersprinkled among them is some personal loans history at different levels of the business from the chairman down. One of its credit-risk specialists was at Zopa – a very large personal loans P2P lending site –  and so he should have learned a lot from there about lending to individuals.
Lending Works describes very thorough criteria and processes for assessing loan applications, showing everything that we would expect in personal loans. Among other things, it does affordability and "honesty" checks, it uses at least one reliable major credit reference agency, and it does fraud checks – an absolute must – although insurance through Lending Works* also protects lenders from fraudulent borrowers.
Bad debts
It took a year and over £4 million in loans before Lending Works had any bad debts. Even now, bad debts remain very low at something like 0.7% per year. Any bank would be absolutely delighted to say the same.
These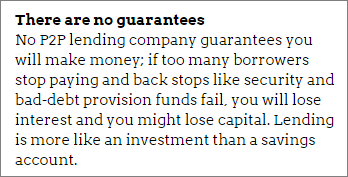 bad debts have easily been covered by Lending Works' backstops: its reserve fund and its insurance to cover repayments from borrowers who become unemployed or can't repay due to accident or illness.
This record is what we would expect to see at a competent personal loans provider when it is Lending Works' size.
While it is no longer small, having completed tens of millions of pounds' worth of loans, that is still a drop in the ocean compared to the amount of money that individuals borrow in the UK.
The smaller a P2P lending site is, the more easy it is to choose the real cream – the primest prime individual borrowers. It is to be expected, then, that Lending Works' bad debts are lower than its larger competitors.
Lending Works' late loans are also very low at around half a percent. This indicates that bad debts are not rising fast. It also shows that Lending Works is not hiding bad debts by just calling them "late".
We have seen no signs that Lending Works is weakening its very high standards in borrower selection.
Customer satisfaction
Following the crowd is always a dangerous way to choose what to invest – or lend – in. However, customer ratings can be a statement about a P2P lending company's customer service and ethos.
Lending Works* has a 9.5/10 rating on TrustPilot from nearly 500 reviews.
Exiting loans early
Quitting a P2P loan is not as simple as withdrawing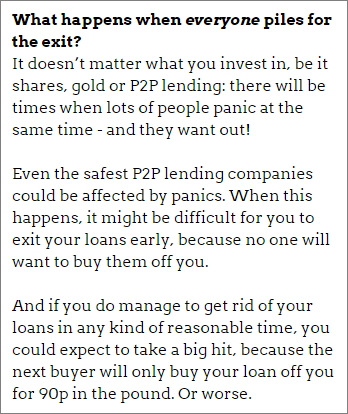 your savings from your bank.
For starters, your loan has to be bought by someone else. There is good evidence that this doesn't normally take long with Lending Works.
Exit fees
Lending Works charges you either 0.6% of the loans you're selling or £20, whichever is greater.
£20 is higher than 0.6% unless you're withdrawing over £3,333.
Making it up to the next lender
Here's a second potential cost. If you want to leave early at a time when interest rates have gone up, Lending Works can't merely transfer your loan parts to new lenders. Those new lenders expect to get higher interest rates than you were getting.
So you have to make it up to them from your loan money. That's why you might find that you get back, say, 98p in the pound. (If you have been earning interest for at least a few months it should cover this potential cost.)
On the other hand, Lending Works won't adjust the other way, giving you more money if interest rates have fallen. So you can't profit from your exit.
How to sell your loans
If you want to exit early, Lending Works* will automatically see to it that other lenders buy your loans off you as soon as possible.
Lending Works will simply tell you the total estimated exit charge for the amount that you want to sell. If you decide to go ahead after that, Lending Works will sell all your loan parts as quickly as it can.
Withdrawing your money without charge
Since Lending Works does loans that are repaid on a monthly basis, you can easily recover a large portion of your money in a year or two, with no exit charges, merely by automatically withdrawing all the repayments made by borrowers.
Some borrowers will repay early, further speeding up the return of your money.
Easily automate your lending
Lending Works* has several automation options:
Automatically deposit and lend money on a regular basis.
Automatic re-lending of repayments made by the borrower, including interest.
Automatic withdrawal of loan repayments made by borrowers, including interest.
Automatic withdrawal of just the interest paid by borrowers, with your loan repayments being re-lent.
To make regular contributions, set up a standing order with your bank. If you have automatic lending switched on, Lending Works will do the rest for you.
You can even decide how much you want to lend or re-lend in each of Lending Works' products. For example, you might initially lend in the 5-year product, but you might want to re-lend the repayments you receive 75% in the 3-year product and 25% in the 5-year one.
Ease of lending
We have anecdotal evidence that lending can sometimes take a few weeks at Lending Works. This is due to lots of lenders competing to lend.
Any delay means you lose the opportunity to earn interest, but we're only talking here a tiny fraction in lost interest from any waiting around.
Your bank transfers to Lending Works arrive the next day; you cannot pay by debit card for an instant transfer.
Lending Works, like many P2P lending companies, allows borrowers to repay loans early. Great for your borrowers, but it can potentially mean more time with your money sitting idle, rather than on loan. Again, the impact of this in terms of lost interest while you wait will usually be tiny.
Spreading your risks

You will always lend to at least three borrowers, but probably many more. The figure will rise each month if you re-lend your loan repayments and interest to new borrowers.
If you want to be sure of splitting your money between a lot more borrowers right from the start, you could stagger your loans.
Every few days you put in some more money to lend until it's all invested. Split it into 10-20 chunks over four to 12 weeks and you'll probably be quite well diversified from the start, for such a low-risk P2P lending company.
Remember that, for you to suffer bad debts on any of your loans, the entire bad-debt reserve fund must first be depleted. (Even then, you only lose money if the bad debts are more than the interest you earn over the years.)
Deal-making potential
Since you can't select borrowers, there is no deal-making potential at Lending Works, so you can never expect to make extraordinary gains through horse trading. The corollary is that you shouldn't expect extraordinary losses.
Technology
Lending Works* uses secure authentication both before and after you log in to your online account.
More than one insurance company is providing Lending Works' insurance to protect from some forms of bad debt. This insurance cover also protects from fraud and cybercrime. We think it unlikely that insurance companies would agree to such cover without taking at least a cursory glance at the safety measures that Lending Works has in place.
Transparency
Lending Works* does a great job of providing key statistics on its website and it answers our questions clearly and candidly.
It also shares a huge amount of detailed information with us, and with individual lenders, making it very transparent.
Analysing the risks from bad debts at Lending Works is therefore easy.
Skin in the game
As far as we know, like most P2P lending
companies (and most other investments for that matter) Lending Works' founders do not share lenders' risks directly by lending in all the loans that are matched in its service.
What happens if Lending Works goes bust?
Lending Works is regulated by the UK's Financial Conduct Authority and is a member of the Peer-to-Peer Finance Association.
It has set up a trustee, owned collectively by you, the lenders, to run down all your loans in an orderly fashion if it goes out of business.
If you suffer losses from bad debts, your money is not protected by the government any more than it is if you lose money on the stock market. You take the risks and rewards of investing your money.
When your money is not on loan, it will be held in an account at a high-street bank, currently NatWest, and kept separate from Lending Works' own funds. In the event NatWest fails, this money and all your other deposits at the bank (and other banks in the group that share the same banking licence) are protected by the government through the Financial Services Compensation Scheme. This protects up to £85,000 of your money.
Financial health
Lending Works* has recently gone from being a start-up with £3.5 million in funding to a genuine competitor to the big players.
Since it is still a small company, it is not obliged to file detailed, audited accounts.
It is too early to know how successful the company is.
It's most recent accounts are over a year old showing little information, albeit a positive position.
In late 2014 we wrote that "it's staggering success, particularly in recent months, is likely to reward it with more start-up funding, if need be".
crunchbase estimates it has received around $10 million in funding. £3 million of this came in the middle of 2016 from respected investors. Providing its directors and employees are not being paid obscenely, this should help keep it going.
In the current market, we believe that Lending Works can continue to grow rapidly without taking wild risks.
Accuracy
There's always the risk, for all companies, that their information is inaccurate. And we can never be sure that a company is fault or fraud free. However, we have seen no signs to indicate possible significant errors in Lending Works' numbers or statements.
Costs
Since you are the lender, the borrower owes you, not Lending Works.
You, in turn, owe Lending Works for managing your little lending business.
So, although Lending Works charges you no lending fees directly, you're still paying, because you're not receiving everything the borrower pays.
It's the difference between what borrowers pay and what you receive that are your real total costs.
The costs you pay to Lending Works go towards carrying out all the services that you can't do yourself: checking borrowers thoroughly, collecting on debts, admin and much more.
Another part of the cost will go towards maintaining the large reserve fund on your behalf – that's really a benefit more than a cost.
The final part of the cost will be Lending Works' cut for providing its services and to cover any costs for themselves, such as sales and marketing.
What's the bottom line?
Most P2P lending sites don't reveal their actual average borrower rates, because they want to keep them secret from either competitors or from the borrowers themselves.
Unfortunately, in those cases, that means we can't work out the difference between what borrowers pay and what lenders receive.
Lending Works also does not reveal its borrower interest rates.
Strong competition for prime personal loans will most likely be keeping Lending Works' borrower rates down and, therefore, our best guess is that the costs will be reasonable.
Important!
We do not provide personal financial advice and no opinions expressed on or through this website are to be taken as personal financial advice.
While we try to be as accurate as possible, we can accept no responsibility for any direct or indirect losses if any information on this website proves to be incorrect.
It is a big challenge rating investments accurately, not least because we rely on data and information from P2P lending companies and others. That's why, while the 4thWay® PLUS Ratings and Risk Scores are objective measures that we are proud of and are working to improve all the time, they are not infallible.
See our full terms and conditions of use.