About the 4thWay PLUS Ratings And 4thWay Risk Scores
Click "Learn" to get help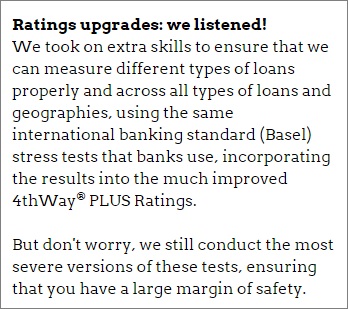 The 4thWay® PLUS Ratings are intended to be an easy way for individual lenders to estimate at a glance how high the risk of losing money is during a major recession and how long it might take you to recover those losses through the interest you earn.
The 4thWay® PLUS Ratings build in what Benjamin Graham (the "father of modern investing") would call a large margin of safety to increase the chances that lenders will find their results satisfactory or better.
What are the 4thWay PLUS Ratings and 4thWay Risk Scores?

The 4thWay PLUS Ratings are calculated to tell you whether you could expect to lose money during a very severe recession, and how long you might expect to take to recover from those losses, after accounting for the interest you've earned and any protections offered by the online lending platforms, such as reserve funds set aside to pay expected bad debts.
The 4thWay PLUS Ratings were created by a senior credit specialist partner at one of the major accountancy firms, a senior quantitative risk modeller (i.e. someone who helps banks improve their lending) and experienced investors.
The 4thWay® Risk Scores look solely at the risk side, i.e. at the scale of potential losses in a very severe recession, but unlike the PLUS Ratings they don't factor in the interest you might earn.
Both the ratings and the risk scores assume that you spread your money across lots of loans, using multiple peer-to-peer lending platforms to do so if necessary. The 4thWay PLUS Ratings are indicators, not guarantees or promises, so please don't use them without supplementary research.
How are platforms awarded a 4thWay PLUS Rating?
Investment-grade online lending platforms such as peer-to-peer lenders are awarded 4thWay PLUS Ratings based on tests of their potential performance during a very severe, 1-in-100-year recession.
These tests could lead to losses up to six times higher on some platforms, or with property P2P lending platforms, a recession and property crash combo that leads to 55% property-price falls for borrowers forced to sell in a hurry. How well do the platforms withstand those tests?
When we have enough reliable data, we also break down 4thWay PLUS Ratings further when a P2P lending platform offers different lending products or different borrower grades. Therefore a platform could have more than one 4thWay PLUS Rating.
What the ratings and scores mean
4thWay PLUS Ratings
After a 1-in-100-year recession leading to up to 5-6 x losses plus a 55% property crash:
4thWay Risk Scores
If savings accounts have a risk score of 1 during a very severe recession and crash, and the stock market can earn the maximum risk score of 10, where in between do rateable peer-to-peer lending platforms sit?
You can see individual risk scores in 4thWay's comparison tables.
What risks do the 4thWay PLUS Ratings help with?
The 4thWay PLUS Ratings are an estimate of the risk of losses from loans going bad during a very severe recession. Indirectly, the PLUS Ratings also reveal something of the competence of the people behind the platforms at both choosing borrowers and eliminating borrower fraud. The PLUS Ratings also assume extreme "liquidity risk", meaning that you are unable to withdraw any of your money early due to a panic with lots of lenders trying to sell and too few lenders wanting to buy your loans off you.
The PLUS Ratings do not take into account the risk that a P2P lending platform itself might commit fraud. If you lend in foreign currencies, they do not take into account the risk of currency exchange rates changing.
If a UK-based P2P lending platform goes bust, it is supposed to have plans, processes and administrators in place to wind down the existing loans gently, ensuring that repayments come to you and bad debts chased. However, the 4thWay PLUS Ratings do not factor in any risk that the P2P lending platform might have inadequate plans that lead to you losing some of your outstanding loans.
Methodology
Our methodology is highly conservative; for example, we penalise heavily for short histories and if the history is too short the platform cannot receive a rating at all. We also assume that all loans with late payments will end up becoming genuinely bad debts. We treat all platforms equally while accepting that our method needs to account for different types of lending and idiosyncratic performance.
Since July 2016, the methodology behind the ratings and risk scores received their biggest upgrade to date.
Here's what we do:
History
Each peer-to-peer lending platform is checked to see if it has enough history to make a conservative forecast of its current loan book's performance during a 1-in-100 year recession. If it does not then it cannot receive a rating. If it is borderline, it receives a rating that usually is accompanied with heavy penalties.
Transparency
We check that we have received plenty of information, enough to make a conservative forecast. This information can include summary and detailed statistics about each individual loan. Borderline cases can still receive a rating with penalties.
Data irregularities
We then check for deep-data irregularities, such as regrading (e.g. a platform changing a borrower from A+ to C on its own rating scale) which could reveal the platform is poor at assessing borrowers in advance. It could also be, for example what 4thWay risk modellers call "heterogeneity and monotonicity", which to you and most of the rest of us here at 4thWay means whether the bad debts and rates rise smoothly and as expected if the peer-to-peer lending platform offers different borrower grades.
Current losses
We look at the current number of loans that have gone into default (heavily penalised for such things as short history or borderline transparency) and to be conservative we include late loans here.
Stress tests
We then use international banking standard "Basel" stress tests to see what would happen to the loans in a very severe recession or property crash of 55%. We conduct much more severe versions of these tests than the banks are required to do. Depending on the type of lending, this can mean that far more loans go bad and a lot more money is lost on each loan that goes bad.
This is where we take into account:
The type or types of lending (e.g. consumer loans or business loans)
Any known security, provided the size of that security at the platform is clear and unambiguous.
The size of any reserve funds and other credit enhancements
All the above enables us to calculate the 4thWay Risk Score. There's one more step for the 4thWay PLUS Rating:
Interest earned
We then add in any potential interest earned, which enables us to estimate if there will be any losses after interest and how long it could take to recover those losses. With this information, we calculate the 4thWay PLUS Rating.
 Where next?
Please see the PLUS Ratings and Risk Scores in our impartial peer-to-peer lending comparison tables.