ArchOver Review: Secured And Insured Business Loans
Click "Learn" to get help
Without any ado, here's my Quick Expert Review under 450 words that you can read in about two minutes, followed by my candid and full ArchOver Review:
The Short Review - 2 Minute Read
  4thWay's Quick Expert ArchOver Review
ArchOver's unique strengths are inhibited by sparse information on bad debts
Established in 2014, lenders using ArchOver* have lent around £100 million to business borrowers. Most of ArchOver's business loans are secured, for lenders' benefit, against the invoices due to be paid by the borrowers' customers or similar assets. This means it is easier to recover loans that go bad.
Some of the loans have what could ultimately turn out to be an innovative insurance to cover against losses: the customer invoices owed to the borrowers are insured. If a borrower's customer is unable to pay, the insurance will cover it. ArchOver expects the insurance to pay 90% of the amounts on the invoices, which should always be more than the total loan, but so far this insurance is untested.
ArchOver wants to see that the borrower is likely to be able to meet the monthly loan payments. Loans must be for less than 80%-90% of the value of security (e.g. the value outstanding on invoices), which is standard for this kind of lending. Borrowers need two years' trading history and annual sales of £2 million+, which is good.
ArchOver has hundreds of years' combined experience in arranging loans. It also has experience in credit-risk modelling, which is not a given in business P2P lending.
ArchOver's processes in selecting loans, monitoring them and responding quickly to bad debts appears to give lenders a lot of protection against losing money. For the loans with insured invoices, the insurer also assesses them before approving the insurance, which adds a double layer of checks.
Lending interest rates of 6.25% to 10% appear to offer a good-to-excellent margin of safety compared to the risks involved. From the limited information available, I think that bad debts are very low, but we really need to see proper, regular data from ArchOver to confirm that.
We don't get enough information on late or bad loans. Usually we take this as a sign that a P2P lending site has something to hide, but in this case it could simply be poor judgement from ArchOver on how much information to share.
ArchOver isn't profitable, as it's still in the start-up phase. However, it's owned by a much larger business, Hampden Group, which provides insurance services. Over the past seven years, Hampden Group's profits averaged over £4 million and it has assets worth over £70 million.
The minimum lending amount is fairly high at £1,000. I think it's reasonable for lenders to aim to lend less than 1%-2% of your P2P lending pot to any single borrower on ArchOver.
ArchOver's lending accounts are available as IFISAs.
Full ArchOver Review: introduction
One of ArchOver's* directors made a bold claim shortly after it started matching business borrowers to individual lenders in August 2014: that ArchOver is the safest of the business loans P2P lending websites – even while paying 6.25% to 10% to lenders in individual loans.
In 2018, with what appears to be just a handful of bad debts, ArchOver still maintains that it is the safest.
I must have heard similar claims a dozen times, but ArchOver does have some attractive features that make it safer and it seems likely that it will add good diversity to your lending with good to excellent interest rates for the risks involved.
History, size and breadth of lending opportunities
ArchOver has completed about £100 million since 2014 in around 600 loans, but many of those loans are to the same borrowers.
ArchOver provides no figures, but there might be as few as 30-60 borrowers in total.
That might not be enough for a wide spread of loans by itself, but as part of a bigger portfolio across many P2P lending sites it is sufficient for most lenders, and you can grow a larger portfolio over time.
There are between five and 15 new loan opportunities a month (often to the same borrowers), typically for between £100,000 and £500,000 each.
Please answer these three questions to improve our reviews:
How lending works, including who sets rates and automated features
ArchOver sets the interest rates for individual loans that it has approved.
You choose individual loans to lend in for yourself. There is no automated lending or re-lending facility.
You get to see a summary of the borrower, brief financial results for previous years, brief profiles of key people and the main risks. You can ask ArchOver additional questions about specific borrowers.
The minimum you can lend in a loan is £1,000 and you lend in multiples of £1,000.
You pledge money to a loan before you transfer the money, so you can keep earning interest on it in a bank account before the loan starts.
Auctions take 14 days or close early if the loan is successfully funded in full. It usually takes several days for the loan to be sold out.
If the loan is fully funded, you transfer the money and start lending. You can do free, same-day bank transfers.
There is no resale market, which would enable you to spread your money around faster by buying existing loan parts from other lenders. You lend only when new opportunities arise.
You usually receive interest on a monthly basis and all or most of the actual loan repaid at the end.
The money is paid back to your bank account.
Unless you have a big budget, the £1,000 minimum limits your lending opportunities and your ability to spread out across enough loans. Based on the information available, I think lenders should lower their risks by lending no more than 1% to 2% of their lending or investment pot to a single borrower at Archover.
Corporate lending
Companies can lend through ArchOver too. They do so on the same terms as individual lenders, meaning they don't get to choose loans first or earn higher rates.
Banks or other financial businesses ("institutions") also lend through ArchOver, and our latest information is that they have lent around 40% of the total.
As is usually the case in P2P lending, institutions also lend on the exact same terms as individual lenders.
What ArchOver's loans have in common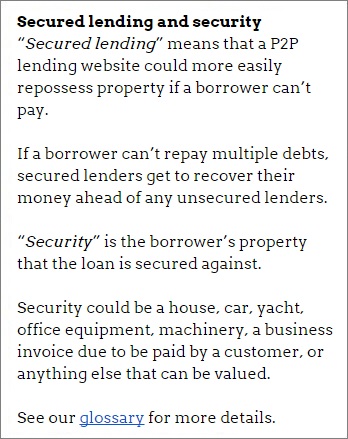 ArchOver has different categories of loan.
Four out of five of the loan categories have a lot in common.
ArchOver* calls the four in question: Secured; Secured & Insured; Secured & Assigned; and Bespoke. (See info box about secured lending.)
I find the Secured & Insured loans particularly interesting, but I'll come to that later.
Firstly, here's what all four of these loans have in common:
The loans are all to established, small or medium-sized businesses.
The businesses are borrowing either to consolidate or move other loans; to provide themselves with money so that their businesses can continue to run (so-called "working

capital

"); or for expansion. These are all the usual reasons that businesses borrow.
Interesting positioning for business lending: the loans last 3-36 month loans, and average 12 months. Borrowers just pay the interest on a monthly basis and usually they repay the loan at the end (so called "interest-only loans") either using their profits to repay or by taking out a new loan.
In contrast, standard small business loans are typically for one to five years and have some of the loan and interest repaid on a monthly basis. So ArchOver's are different kinds of loans, which will attract a very different borrower. That can help you to

diversify

your portfolio of loans from other business loans P2P lending sites.
In addition, since they are interest-only loans, this can help you keep your money on loan without constantly needing to re-lend monthly partial repayments of the loan. On the flipside, it lowers the risks if a borrower is steadily repaying your loan along with the interest payments.
Loans are secured, typically against all the

assets

of the business (that means machinery, computers, vehicles, cash and anything else of value) that it has available at the time.
Loans are also specifically secured on the business borrowers' customer invoices or recurring income that reflect the future prosperity of the business. The borrower needs to maintain that level of invoices throughout the loan. This sort of

security

might reduce the risk that a loan will go bad and also reduce losses when a loan does go wrong. But it is not as strong as lending against real property to buy-to-let landlords, which is currently the gold standard in

security

.
In addition to taking the invoices or recurring income as specific

security

, ArchOver takes a more general "all-

assets

charge", meaning that whatever cash, equipment, property and possessions the borrower happens to have left when it goes bust can be repossessed and sold for lenders' benefit. Bog-standard all-

assets

charges are a far weaker form of

security

than specified

security

- or at least lenders should see them as such until ArchOver demonstrates otherwise. Tight borrower selection is more valuable than a typical all-

assets

charge.
In the event that a borrower is unable to repay you and legal action needs to be taken, you and all the other ArchOver lenders will be

first in the queue

to repossess and recover your money. (Except for the exceptions outlined below for the Bespoke loans.) This means if the borrower also owes money to, say, Lloyds Bank, you get to see your share returned to you first when your

security

is recovered or sold.
With these kinds of loans, you can expect it to take a long time to recover bad debts.
There is no

reserve fund

set aside to cover losses, so you will take any losses on your loans for yourselves. However, there are other defences for individual lending products, which I shall outline below.
ArchOver does not grade its loans as e.g. A+, A, B and so on. It applies its minimum criteria to all loans.
None of ArchOver's lending products have

4thWay PLUS Ratings

or

4thWay Risk Scores

, because Archover does not provide enough information to 4thWay for our banking calculations. I think it would have a high chance of earning one of the top ratings.
On balance, I believe the intrinsic risk in loans of this type, i.e. before taking into account ArchOver's abilities, is between low and medium risk, and potentially on the lower side compared to standard, unsecured small business loans. I'll adjust this view if necessary below, after sharing my views on ArchOver's key people and processes in later sections.
ArchOver's Secured Business Lending: key details
4thWay PLUS Rating

Interest rate after bad debt

8.22%

Here we show the P2P lending site's own estimate
(or 4thWay's if theirs are not appropriate)

4thWay Risk Score

N/A

Description: £100 m in loans to profitable businesses since 2014, mostly secured, with some loans having insurance that might cover some losses, optional auto-lend & auto-diversification. Available in an IFISA

Minimum lending amount

£250

Exit fees - if you sell loans before borrowers fully repay

N/A - no early exit possible

Early exit is not guaranteed. Usually, other lenders need to buy your loans

Do you get all your money back if you exit early?

N/A

Loan size compared to

security

value

90% (max) usually

Reserve fund

size as % of outstanding loans

Company/directors lend alongside you/first loss

ArchOver's owner, Hampden Group, currently lends over £4m on equal basis with other lenders (as of 2018)

ArchOver Quick Expert Review: unique strengths are inhibited by sparse information on bad debts

Established in 2014, lenders using ArchOver have lent around £100 million to business borrowers. Many…

Read the full review here
ArchOver's Secured & Insured loans
Aside from the commonalities between the loans described above, ArchOver's loan categories have important differences, so let's start with its Secured & Insured loans: ArchOver's flagship loans. These loans, paying 6.25% and upwards, have an interesting feature well worth noting.
The outstanding invoices that ArchOver* borrowers have issued to their customers are insured, as is any work-in-progress.
The insurance means that, if a borrower's customer takes a long time to pay, or is unable to pay, the insurance should usually cover 90% of the outstanding amounts in the invoices, Or 50% if the borrower has not completed the work for the customer yet.
The total loan to the borrower is never for more than the total insured amount of the invoices.
The borrower is required to keep a supply of ongoing work, invoices and work-in-progress that sustain the invoice level somewhat above the loan amount for the duration of the loan. Otherwise, ArchOver can take steps to move in, ultimately such as demanding repayment.
Both ArchOver and the borrower are listed as the insured parties, but the money will go straight to the borrower in all cases except in the case the borrower goes bust.
The borrower pays the insurance premiums out of its own pocket.
The insurance is usually provided by Coface, a French insurer that is big in this space, listed on the Euronext stock exchange and very profitable. Those of you familiar with insurers' business models will be pleased to know that, over the years, Coface has attractive combined ratios, steady investment income and high customer retention – the key factors in assessing an insurer's strength.
Coface also does some checks and assessments before allowing the borrower to take out insurance. This is likely to add an extra layer of protection to lenders, since it is not just ArchOver that is conducting reviews.
All this combined, the invoice insurance is a potentially very powerful feature for lenders. It is not protecting borrowers against all potential business troubles directly and not ensuring that your loan will be repaid to you. But it increases the chances that lenders will get their money back, or more of it back, if a loan goes bad.
We all know that insurance small print can be problematic and, so far, ArchOver has avoided the need to test this insurance. It is only after some bad debts on these kinds of loans have reached a later, critical stage that we can truly get a sense of how strong the insurance is.
ArchOver's Secured & Assigned loans
ArchOver's secured and assigned loans pay from 7.75%, so somewhat more than the insured loans.
These offer a different kind of security. The ArchOver* borrowers you lend to must have a lot of customers that are contracted to make repeated, ongoing payments for rental services or licensing.
The rented items are either physical or "intangible". An example of an intangible item might be software that is licensed for the customers' use for several years in return for regular payments.
The borrower usually borrows less than three months' worth of the annual income that is already contracted to be paid, meaning the borrower can't borrow a higher sum off the back of insane growth forecasts. The maximum loan amount is adjusted downwards based on the typical "churn" of customers – that's the proportion of customers who typically stop being customers in a year.
ArchOver holds the security on secured and assigned loans, which is a little anomaly. Normally in P2P lending it is the individual lenders who are expected to have the security, which is typically "held in trust" for them by the P2P lending site or a third party. It is better protection for lenders if they themselves have the security in this way, but with ArchOver's strong owner (see Financial health) I don't see this is a big concern for lenders. Everything else about ArchOver is direct lending and direct security between lender and end borrower.
It is because the recurring revenue is technically "assigned" to ArchOver that these types of loans get their name.
As with ArchOver's secured and insured loans, ArchOver also gets an all-assets charge.
The tight standards ArchOver set heres will help it to focus on better quality businesses with lower risk of having trouble with repayments in future. In addition, these loans will help lenders to diversify into a different kind of business borrower.
ArchOver's

Secured loans
These loans are exactly like either the secured and insured loans or the secured and assigned loans, with lending to the same sorts of businesses on the same sorts of terms.
However, there is one important difference: businesses are either unable to get invoice insurance for good reason (e.g. because they provide services to the government) or it is not possible to get the customer's revenues assigned to ArchOver*.
Everything else still applies. This means, for example, the borrower still has its loans capped at 80% to 90% of its outstanding invoices or against a proportion of its recurring income for the year.
ArchOver's lowest lending rate for these kinds of loans is 7%, which is understandably higher than the lowest rate for secured and insured.
ArchOver's Bespoke loans
ArchOver's bespoke loans are more complicated to understand, and more edgy, and that is why lending interest rates start from 9.25%.
Bespoke loans can be based on either secured and insured, secured and assigned or secured loans, as described above, with an important difference.
These loans appear to begin their life as a kind of bridging loan, which means that the borrower is temporarily extending its debt levels beyond what it would usually be allowed – typically for up to three months.
In the first few months, if the loan goes bad then you will still be first in line to recover your debts on any specific security, namely the invoice security or the assigned recurring income – if that was taken.
However, with the all-assets charge, you will not be first in the queue to recover your share. Before you see a penny, other lenders will recover their share first. So if Barclays Bank, for example, is also lending to the same bad borrower as you in a separate loan, it will get any cash remaining in the borrower's bank account, and be able to receive the first proceeds when the borrowers property, computers, machinery and so on is sold.
The intention of these bespoke loans is clearly that the borrower is expected to pay off other debts swiftly and then you will be made first in line. But with this kind of lending you should expect more loans to go bad. Certainly with the secured only bespoke loans (with no insurance and no assignment of recurring income), the risk of suffering unrecoverable losses if the loan goes bad will also be higher.
ArchOver's Research & Development Advance loans
At last, we come to ArchOver's latest innovation, which is a completely different kind of loan that still seems to fit with ArchOver's style.
In return for earning 10% lending rates or more, you will lend money to a business that is applying for a research and development grant payable by HM Revenue & Customs. The loan will be repaid after the grant is received, which might take around six months.
This is the only unsecured loan type that ArchOver offers, meaning it will be harder for you to grab something off the borrower to sell if it does not ultimately receive the grant and otherwise finds itself unable to repay.
While the rules for receiving R&D grants are laid out and in a well-trodden path, if you want to read about grants and subsidies being rejected by surprise, please read Abundance: A £4 Million Lesson In The Risks Of Green-Energy Loans.
Borrower selection criteria and processes
ArchOver* does not emphasise security quality over borrower quality and seems to put importance on both of them, which is great to see. Beause it is not a given in secured P2P lending.
Often, the P2P lending site only cares that the security is worth far more than the loan size. While this means that they usually get lenders their money back after a loan goes bad, it also means an awful lot of loans go bad and linger around with unknown results for months or years. Many lenders find this nerve-racking or downright disappointing.
It is appropriate that ArchOver takes the quality of the borrower seriously, since invoice and recurring income security is not always as easy to value as physical assets or bricks-and-mortar.
The minimum standards ArchOver demands of its borrowers are more strict than average for business lending. Borrowers must:
Have been trading for at least two years with a stable management team, or at least three years for secured and assigned. These are high minimums compared to a more typical 18 months to two years.
Have income of at least £2 million, which is also on the higher (better) side.
Be registered in England, Wales or Scotland.
Pass essential fraud and credit checks.
Have a "proven" business model and stable management team.
Usually have a wide spread of customers, so that they are not over-reliant on a handful of customers.
Usually need to sell goods or services to other businesses, not to individuals, which is better for invoice-based lending.
Discuss their businesses in detail with ArchOver.
After ArchOver's credit team has reviewed the borrower, it is passed to ArchOver's credit committee with a recommendation on whether to go ahead or not. The committee gets the last word on whether to proceed.
For secured and insured loans, the business must also:
Supply goods or services.
Have an existing borrowing record (credit record).
Have invoices due to be paid by its customers as well as work in progress.
For secured and insured loans the business does not necessarily have to be profitable, but it has to demonstrate a clear path to profitability in the very near future.
For secured and assigned loans, the business must also:
Be one that relies on receiving recurring income from its customers.
Be treated to ArchOver's analysis of its ability to repay.
Be profitable.
ArchOver's research and development advance loans are new, so we do not yet have full details of all ArchOver's selection criteria. However, here are the ones we know about:
The borrowers need to have a two-year history of successful research and development grant claims, which I take to mean at least two prior specific claims.
The borrower needs to use professional advisors to help prepare the claim for the research and development grant.
The borrower has to state that it has no outstanding debts with HM Revenue & Customs.
ArchOver has not provided us with many details of this new loan type, but it looks like ArchOver might not conduct detailed analysis of the borrowers' financial accounts on these loans. Instead, it just asks borrowers to confirm that they believe they have sufficient funds to keep trading until the grant is received.
The themes throughout the above criteria for all the loan types helps to attract a lot of borrowers with similar attributes: such things as borrowers that sell to other businesses, not individuals, with future expected cash coming in and reasonable cash-like security (the invoices or recurring income). All of it is likely to help ArchOver focus on completing loans to the types of businesses that it understands best and will continue to learn more about as time goes by.
Loan-monitoring processes
ArchOver* is very diligent in monitoring the financial health of its borrowers, especially regarding the level of incoming cash and maintaining the level of security that borrowers offered at the start of the loan. None of this is a given in P2P lending, so ArchOver is setting higher standards than you often see.
After the loan is live, ArchOver ensures that payments from its borrowers' customers go through a bank account controlled by ArchOver first. With the R&D loans, the grant itself is paid through this ArchOver account.
All the money is then passed on to the borrower within a day. ArchOver is not allowed to hold any money back except potentially in the case that the borrower has gone bust. But this allows ArchOver to see directly the customer payments that are happening, and therefore enables it to take quick action if something appears to be wrong.
ArchOver builds on this by taking a look at borrower's management accounts on a monthly basis and comparing results to forecasts.
To keep track of security each month, ArchOver wants an up-to-date list of outstanding invoices or a schedule of recurring revenue, which it compares to forecasts and ensures it is meeting the agreed minimum amount over the value of the loan.
Finally, ArchOver does a face-to-face visit every six months.
Again, all this is not a given in P2P lending and puts ArchOver at the top of the P2P pile when it comes to monitoring loans. This can really help to spot problems and aid ArchOver and the borrower to take action before a debt becomes a problem.
Bad-debt recovery processes
ArchOver* takes it seriously if a loan is just 14 days late for payment. This is quick reactions for typical business lending, although not quite so unusual for lending based on invoices.
4thWay users have shown us emails from ArchOver that appear to show it react quickly to a loan once it has acknowledged that it is going into trouble. Swift action is absolutely the best practice as it can lead to better outcomes for lenders.
ArchOver Review – key people and experience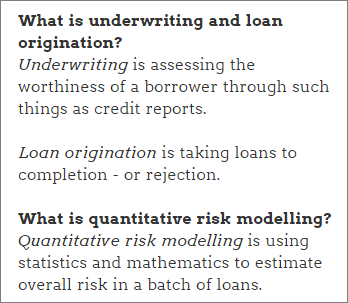 Underwriting and loan origination (see sidebox): ArchOver's team has grown a lot. It now includes a half-dozen or so regional managers with well over 100 years experience in arranging business loans.
This sort of position is often about the face-to-face with borrowers at the beginning of the process. In many lending businesses there is often something of a conflict of interest, since the regional managers can be incentivised to do as many deals as possible, which can impact the quality of borrower referred to head office.
That's why you ideally want to see plenty of the other types of experience below to keep a lid on any wild activity.
Quantitative risk modelling (see sidebox) and credit analysis: ArchOver* does better than many P2P lending sites in terms of credit-risk modelling, although that is not a high hurdle.
Charlotte Marsh has been Head of Credit since ArchOver started. She has had no direct experience in any lending roles prior to ArchOver. She has an accounting background, which she appears to be putting to good use in analysing borrowers, based on the incomplete information we have about how ArchOver's loans are performing. (More on that below.)
She has a team of three. Tom Mitchell, had no credit-risk experience prior to joining ArchOver in 2014. It wasn't until 2018 that the first member of the team with bank credit analysis experience joined: Gianfranco Lusardi. He has had some experience of this at Allied Irish Bank, although we have no details about how much.
Martha Jenkinson had about one year's experience in risk analysis at Crowd2Fund, another P2P lending site, before joining ArchOver in 2017.
At least one of ArchOver's regional managers also claims to have senior credit-risk management experience, although we have no details.
While Archover's credit risk and credit analysis team is certainly large enough, their overall level of experience does not appear to be impressive. While ArchOver's focus is a lot on the face-to-face approach to understanding a business, numbers matter too.
Accounting and business: You would hope for a deep understanding of accounts and business for the kinds of loans ArchOver approves. ArchOver doesn't let you down: the company has over 100 year' of accounting and business credentials throughout its whole team.
Results so far
Unfortunately, 4thWay and the public does not get enough information from ArchOver to assess its performance.
I understand that lenders have typically earned 8.22%, which is excellent. However, it looks likely that there have been few bad debts, which are yet to be resolved, and we require more information on a regular basis.
ArchOver seems reluctant to be more open, believing that is a sound business decision. Usually, I am deeply sceptical of any secrecy. Lenders can't lose money by rejecting opportunities that are not satisfactorily open.
But I am inclined on this occasion to believe ArchOver, even if I do not agree that it is a commercially sound idea to hide information from its customers.
The main reason is that I think that if there was more substantial trouble at ArchOver I would have uncovered more warning signs. Also, despite their low level of experience in some areas, their minimum borrower and security standards are high and I have no reason to doubt their total return to lenders of 8.22% is substantially inaccurate.
ArchOver has completed loans with relatively few borrowers, so its record will become even more important as it grows further.
Bad debts versus the interest earned
ArchOver's ability to recover bad debts is still mostly untested. In the long run, I expect that not all loans will lead to a 100% recovery, but I believe the 50% to 80% losses that you sometimes see in invoice lending should be a real rarity at Archover, if it happens at all; ArchOver's processes are such that those individual loan disasters should be minimised.
Certainly, on average, losses will be lower than typical unsecured business loans.
The worst-case scenario that I can envisage for ArchOver would see typical losses of around 40% to 50% on loans that go bad. But I see a high chance that ArchOver will prove itself much better than that over the coming years, even before considering the insurance on some of its loans.
I think it is likely that the proportion of borrowers that go bad will be no more than 7% or 8% at the worst, which means that if 50% of their debts cannot ultimately be recovered, lenders will still be earning a decent profit on their loans, on average.
I think this is going to prove to be  a large margin of safety, even during severe recessions.
The interest rate tiers seem to be appropriate for each type of loan, although that will become more clear as ArchOver's record develops over an even longer period – and when it publishes more details.
I think the rates for secured and insured as well as secured and assigned could prove to be generous. The bigger question marks on interest rates is for the research and development loans and the bespoke loans, which are newer loan types for ArchOver.
Early exit
ArchOver gives lenders no option to sell your loans to another lender before the borrower has repaid you.
Lending costs
It is as typical in P2P lending as it is in many other forms of investment that the investment providers are not transparent about costs.
ArchOver is no better than the rest: it does not tell you the cost of lending. However, I can have a very good stab at estimating the cost.
The cost to lenders is hidden in the spread between what borrowers pay and what lenders receive, which, again, is rather similar to other investments.
The borrower pays interest on the loan, plus an upfront fee, plus interest charged on that fee, because it is added to the loan. I estimate that the spread between what lenders receive and what borrowers pay is around 5.7 percentage points per year. That is the total lending cost.
Many borrowers borrow repeatedly through ArchOver, and ArchOver earns a fee each time, despite less work being required on follow-up loans. In essence, less work thanks to repeat business helps ArchOver to contain costs to lenders.
Overall, I think this level of cost is probably appropriate for these kinds of loans, which require a lot of work for ArchOver to approve initially and then to monitor.
While ArchOver states "there are no charges" for lenders, I highly recommend reading There's No Such Thing As "No Lender Fee". Lending (as with all investing) is never free, even though many P2P lending sites claim this to be so.
Regulation and legal structure
You lend directly to the borrowers, so this is "pure" P2P lending which gives you substantial protection in the event ArchOver was to go under.
ArchOver* is regulated by the UK's Financial Conduct Authority. ArchOver is required by the FCA to set aside at least £50,000 to assist with winding down existing loans smoothly if ArchOver itself goes out of business.
In that eventuality, it also has trustees to run down the loan book. Those trustees are Hampden Group, which is contractually obliged to wind down ArchOver's loans smoothly on lenders' behalf, if ArchOver can't go on. More on Hampden in a few paragraphs.
ArchOver is not a member of any P2P lending associations.
Financial health
ArchOver's costs went up three-fold from 2014 to 2016 while its income went up 11-fold.
Despite that, now, like most fast-growing P2P lending sites, its costs are still higher than its income and ArchOver still probably has some years to go before it makes a profit. That said its losses appear to be shrinking rapidly. It lost £1 million in 2016 but around half that in 2017.
More importantly, ArchOver* is supported by Hampden Group, which is a large provider of financial and business support services. Hampden manages insurance assets (assets means property, cash and items of value) and capacity to provide insurance in excess of £4 billion.
Hampden is an investor in ArchOver and it is currently lending £4 million in loans through the ArchOver website. So, while we don't know if ArchOver will still be around in ten years, this should reassure lenders further that existing loans will be wound down gently if Hampden decided to shut ArchOver down.
ArchOver

IFISA
ArchOver's loans are available in an IFISA. Here are the main details of its IFISA:
Key details
Description
Open to new lenders
Yes
Lenders can lend right away (subject to loans being available)
Yes
Minimum opening deposit for new ISA contributions
£1,000
Minimum lending amount (if different to above)
N/A
Interest rates the same as non-

IFISA

accounts
Yes
Additional fees for lending through an

IFISA

£0
Transfers in (from existing cash ISAs, share ISAs and

IFISAs

)
Description
Minimum transfer-in amount
£1,000
Transfer-in fee
£0
Transfer-out fee
To be confirmed
Extra features
Description
Lenders with ordinary accounts can automatically divert repayments and interest to their

IFISA

No

Flexible ISA

(you can withdraw and re-deposit new ISA money in the same tax year without losing your ISA allowances)
No
Visit ArchOver*  and see ArchOver in our comparison tables.
Sign up to our newsletter to receive news about ArchOver and how that affects you, and to receive alerts when risks or rates change significantly. Use the form below.
All figures and statistics inside tables in this review are updated automatically, as is the total lent amount, the average interest rate paid to lenders and the approximate total number of loans ever made, wherever they appear. All other facts and figures, such as the range of interest rates on offer for each loan type, as well as opinions, are updated whenever the review is updated. This review is updated at least once a year and the date of the last update is at the top.
Independent opinion: the opinions expressed are those of the author(s) and not held by 4thWay. 4thWay is not regulated by the ESMA or the FCA, and does not provide personalised advice. The material is for general information and education purposes only and not intended to incite you to lend.
All the specialists and researchers who conduct research and write articles for 4thWay are subject to 4thWay's Editorial Code of Practice. For more, please see 4thWay's terms and conditions.
*Commission and impartial research: our service is free to you. We already show dozens of P2P lending companies in our accurate comparison tables and we keep adding more as soon as they provide us with enough details. We receive compensation from ArchOver and other P2P lending companies not mentioned above when you click through from our website and open accounts with them. We vigorously ensure that this doesn't affect our editorial independence. Read How we earn money fairly with your help.