ArchOver Review: Secured And Insured Business Loans
Click "Learn" to get help
This page was last updated on 8 September, 2017
One of ArchOver's* directors made a bold claim shortly after it started matching business borrowers to individual lenders in August 2014: that ArchOver is the safest of the business loans P2P lending websites.
I must have heard similar claims two dozen times, sbut ArchOver does have some attractive features that make it safer and it seems likely that ArchOver will add good diversity to your lending with excellent interest rates for the risks involved. Here's my full ArchOver Review (although for a quicker summary see 4thWay's ArchOver Quick Expert Review):
Most interesting points
Interest rates have averaged 7.3% so far (up to 1 September 2017).
No lenders have lost money since ArchOver started matching loans in August 2014, and no loans have fallen late or gone bad.
ArchOver lends to businesses it has described as "successful" and "A+" only.
Loans are usually £100,000 to £500,000. The average loan size is gradually rising.
ArchOver does business loans that are all secured. (See sidebox.)
You're first in the queue to recover your money if your business borrower can't pay its bills.
The security ArchOver takes is often the invoices due to be paid by the business borrowers' customers…
So the security is usually very easy to value – unlike the majority of secured business lending.
This is rolling security: as customers pay invoices and your business borrower issues new ones, your loans are then secured against those new invoices.
Loans against invoices are for no more than 80% of the total invoiced amount.
Many of the invoices are insured, so that if the business borrower's customers are unable to pay, e.g. due to bankruptcy, then the invoice will be paid by an insurance company.
I know of no other business loans P2P lending website that does both secured and insured lending.
In addition to secured and insured loans, ArchOver also does secured and "assigned" loans. With these loans, the borrowers have contracts from their customers that bring in recurring revenue (income). ArchOver becomes the beneficial owner of this revenue.
Unlike most invoice lending, since these are rolling invoices, the loans can be for up to two years, occasionally three, with a minimum of three months, making it easier for you to keep your money on loan without relending.
The interest rates appear to be very attractive for the risks involved and I currently have no doubt that ArchOver will earn the top 4thWay PLUS Rating as soon as it is eligible.
Who can lend?
UK individuals and businesses can lend through ArchOver.
Size matters – and so does time
ArchOver has now matched around £50 million in 200 loans to over 30 different borrowers. It is setting up 1-10 loans per month, all for over £100,000.
With no lender losses and no bad debts since it started in 2014, in terms of the total amount lent, this is a substantial record. Over two-thirds of the total amount lent has been repaid, which is reassuring.
However, 30-odd borrowers is a not a large test of ArchOver's long-term mettle and so this reinforces the maxim that lenders should spread their money across lots of P2P lending sites.
That said, some business lending P2P sites have high bad debts because they are too quick to allow potential borrowers to sign on the dotted line. Rather than try and make a quick buck, ArchOver has been progressing at a reassuringly sensible pace. That's another great sign.
The loans are interest only on a monthly basis, with the actual loan repaid by the borrower at the end, which means that lenders don't need to re-lend large repayments on a regular basis.
Borrower selectivity
ArchOver draws a series of very impressive lines in the sand when approving borrowers.
For secured and insured loans, borrowers are allowed a maximum 80% loan versus the outstanding invoices that the borrower's customers owe, e.g. if customers owe the borrower £500,000 then it could borrow up to £400,000 through ArchOver.
The business borrower must ensure that the invoices it puts up as security never increase the loan size above 80%.
This compares well to ArchOver's most similar competitors, which approve loans going up to 85% or even 90%.
This means that, even before its insurance kicks in to cover unpaid invoices, I would estimate that ArchOver will typically be able to recover around 70% or more of the initial loan. That's high-quality business security. Combine that with the insurance which pays out when the borrowers' customers can't, and you can expect considerably lower losses on secured and insured loans that go bad. I believe those eventual losses will easily be covered by interest earned across lots of loans.
ArchOver doesn't stop there. The minimum standards it demands of its borrowers are more strict than we usually see in business lending. Secured and insured borrowers must have:
Been trading for at least two years with a stable management team.
Turnover of at least £2 million to support a £250,000+ loan.
Be registered in Britain.
Have a credit file.
The borrowers need to sell goods or services to other businesses, not to individuals, which is better for invoice-based lending, and it helps ArchOver focus on borrowers they understand best.
ArchOver's minimum criteria for secured and assigned loans require that the borrower has been trading at least three years, preferably five, to allow for the fact that these loans are probably not as safe as secured and insured. This is a high minimum for business lending, so another tick to ArchOver.
ArchOver also charges borrowers a higher rate on secured and assigned loans to compensate for the slightly higher risks.
ArchOver prefers to lend to borrowers that have a wide spread of customers, so that the risk is spread across a lot more customer invoices and so that the borrower is not over-reliant on a handful of customers.
Lending processes
ArchOver's credit team looks at the accounts, forecasts and security, and does all the essential fraud and credit checks.
ArchOver has partnered with Coface to insure against losses, which is an insurer specialising in exactly this area. This also reflects well on ArchOver's processes, because Coface, with its experience, is likely to know if ArchOver is not able to pick out great borrowers.
In addition, when it comes to secured and insured loans, Coface also checks out the borrowers, as well as the borrowers' customers, which gives ArchOver a second level of checks from a separate team. That's a very useful additional benefit.
For secured and assigned borrowers, ArchOver looks to see that the borrower has regular customers, i.e. it isn't constantly losing customers.
After ArchOver's credit team has reviewed the borrower, it is passed to ArchOver's credit committee with a recommendation on whether to go ahead or not. The committee gets the last word on whether to proceed.
After the loan is live, for added protection, ArchOver often ensures that payments from its borrowers' customers go through ArchOver first. To be clear, all the money is passed on to the borrower – ArchOver can't hold any back. But doing this does allow ArchOver to see directly the customer payments that are happening, and therefore enables it to take quick action if something appears to be wrong.
ArchOver also monitors the borrower on a monthly basis, getting an up-to-date list of outstanding invoices or a schedule of recurring revenue, as well as the previous month's management accounts. Again, this is not a given in P2P lending and puts ArchOver at the top of the P2P pile when it comes to monitoring loans. This can really help to spot problems and aid ArchOver and the borrower to take action before a debt becomes a problem.
ArchOver Review – experience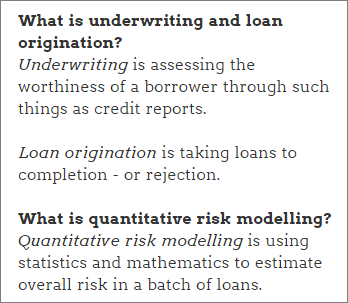 Underwriting and loan origination (see sidebox): ArchOver's team has grown a lot. It now includes a half-dozen or so regional managers with well over 100 years experience in arranging business loans.
Quantitative risk modelling (see sidebox): ArchOver does better than most P2P lending sites in terms of credit risk modelling, although that is not a high hurdle.
Charlotte Marsh has been Head of Credit since ArchOver started. While she has had no direct experience in any lending roles prior to ArchOver, this makes her spotless record at ArchOver so far all the more impressive.
She has an accounting background, which she appears to be putting to good use in analysing borrowers.
Her second, Tom Mitchell, had no credit-risk experience prior to joining ArchOver in 2014, but he benefits from the spotless record too.
At least one of ArchOver's regional managers also claims to have senior credit-risk management experience
Accounting and business: The company also has over 100 year' of accounting and business credentials throughout its whole team.
How lending works
ArchOver sets the interest rates for individual loans that it has approved.
You choose individual loans to lend in for yourself. There is no automated lending or re-lending facility.
You can ask ArchOver additional questions about specific borrowers.
The minimum you can lend in a loan is £1,000 and you lend in multiples of £1,000.
You pledge money to a loan before you transfer the money, so you can keep earning interest on it before the loan starts.
If the loan is fully funded, you transfer the money and start lending. You can do free, same-day bank transfers to ArchOver.
You usually receive interest on a monthly basis and all or most of the actual loan repaid at the end.
The money is paid back to your bank account.
Early exit
ArchOver has no option to sell your loans to another lender before the borrower has repaid you.
Lending costs
ArchOver has not provided us with enough details to estimate how much it costs to lend through them.
While it writes "There are no charges" for lenders, I highly recommend reading There's No Such Thing As "No Lender Fee".
Lending is never free!
That said, based on the limited information we have got, my educated guess is that costs are well within sensible boundaries for this kind of lending.
Regulation and legal structure
You lend directly to the borrowers, so this is "pure" P2P lending which gives you substantial protection in the event ArchOver was to go under.
ArchOver* is regulated by the UK's Financial Conduct Authority. ArchOver is required by the FCA to set aside at least £50,000 to assist with winding down existing loans smoothly if ArchOver itself goes out of business.
In that eventuality, it also has trustees to run down the loan book. Those trustees are Hampden Group, which is contractually obliged to wind down ArchOver's loans smoothly on lenders' behalf, if ArchOver can't go on. More on Hampden in a few paragraphs.
ArchOver is not a member of any P2P lending associations.
Financial health
ArchOver's costs are up three-fold since 2014 while its income is up 11-fold.
However, like most fast-growing P2P lending sites, its costs are still much higher than its income and ArchOver still probably has some years to go before it makes a profit. It lost £1 million in 2016.
However, ArchOver is supported by Hampden Group, which is a large provider of financial and business support services. Hampden manages insurance assets (assets means property, cash and items of value) and underwriting capacity in excess of £4 billion, which is a significant rise on just two years ago.
Hampden is an investor in ArchOver and it lends in loans on the ArchOver website. So, while we don't know if ArchOver will still be around in ten years, this should reassure lenders further that existing loans would be wound down gently if Hampden decided to shut ArchOver down.
Visit ArchOver*  and see ArchOver in our comparison tables.
Sign up to our newsletter to receive news about ArchOver and how that affects you, and to receive alerts when risks or rates change significantly. Use the form below.
The opinions expressed are those of the author and not held by 4thWay. 4thWay is not regulated by the FSMA and does not provide personalised advice. The material is for general information and education purposes only and not intended to incite you to lend.
Journalists, bloggers and specialists writing for 4thWay are subject to 4thWay's Editorial Code of Practice. For more, please see 4thWay's terms and conditions.
*Commission and impartial research: our service is free to you. We already show dozens of P2P lending companies in our accurate comparison tables and we keep adding more as soon as they provide us with enough details. We receive compensation from ArchOver and other P2P lending companies not mentioned above when you click through from our website and open accounts with them. We vigorously ensure that this doesn't affect our editorial independence. Read How we earn money fairly with your help.