P2P Lending And COVID-19: All News And Updates
Click "Learn" to get help
Here, we're pooling together the most topical news and questions that have come up over the past week. We'll keep this page updated as the global-health crisis runs its course.
Update from Crowd2Fund
Taken from Crowd2Fund's loan listing page on the 23rd April, 2020.
At Crowd2Fund we are passionate about helping entrepreneur's access much needed investment capital, whilst enabling investors to potentially earn good tax free returns by allowing them to invest directly via the platform.
Due to the current COVID19 crisis and the emergency CBILS credit measures we have temporarily paused listing new investments as we are unable to conduct the credit assessment of a small business effectively.
We will continue to support SMEs access the emergency credit and will continue to process repayments.
Users will be able to access their wallet funds as per usual and all other platform operations will remain available – we hope to be back up to our full capability soon.
Update from Funding Circle
Update from Funding Circle on 17th April, 2020.
From 17th April, Funding Circle is temporarily going to support businesses solely through the Government's support scheme, called CBIL. This means new lending for ordinary lenders is temporarily suspended. Read more about that here.
Update from LendingCrowd
Update from LendingCrowd on 16th April, 2020.
Borrowers are now allowed repayment holidays. Interest still accrues on their loans. Read more here.
Summary of update from Lending Works
Lending Works updated lenders on the 9th April, 2020. Here's a quick summary written by the 4thWay team.
No part of the economy – no businesses or individuals – have been immune to the impact of COVID-19, the P2P lending industry included.
Lending Works wants to get ahead of the game in the event that the pandemic causes substantial additional defaults. It has responded to unprecedented times with unprecedented actions by pausing both new lending and loan sales for 90 days. It's diverting temporarily diverting all lender interest to its Shield fund. Its Shield is designed to have more interest diverted to it in this way during more economically challenging times.
A sizeable minority of Lending Works lenders (7%) wanted to sell their loans early over the past few weeks. The scale of any uptick in bad debts that the Shield will need to cover is not yet known, especially since Government promises that consumers will be taken care of have not yet been proven. Borrowers with temporary cash-flow issues also need to be looked after with payment holidays. Lending Works' actions therefore seem proportionate and prudent.
Summary of update from Funding Circle
Funding Circle updated lenders on the 9th April, 2020. Here's a quick summary written by the 4thWay team.
Funding Circle has suspended trading on its secondary market, meaning that lenders can't buy and sell existing loans for the time being. Funding Circle wants to take the time to ensure that investors are trading loan parts at a fair price, i.e. with a fair interest rate for the risks. This is a prudent step in these unusual times.
Funding Circle lenders continue to steadily receive their loan repayments, which are typically 3%-5% of loans each month.
Funding Circle said:
"The ongoing restrictions on daily economic life will not impact all businesses equally within the diversified portfolio of businesses you lend to. However, it is inevitable that some will experience an impact as a result of the Coronavirus and may find it difficult to make their full monthly repayments.
"While the Government has announced a range of unprecedented and wide-ranging measures to support small businesses, these will take time to get fully up and running. This means that over the next few months you are likely to see an increase in the number of late loans in your account.
"We have deployed additional resources to our Collections and Recoveries team who are working closely to support these businesses through this period.
"Providing flexibility in the short-term—for example through payment plans which allow businesses to reduce or have a temporary break from their repayments—will help many of these businesses to get through the next few months, and allow them to maintain their monthly repayments over the term of the loan. This will minimise avoidable credit losses in the long run, protecting your returns in the process.
"[Some of the measures we have taken to protect investor returns have] included strengthening our credit criteria and increasing our [interest rates] on new loans to reflect how the economy may perform."
Update from ArchOver
Read the update from ArchOver here.
Update from RateSetter
1st April, 2020
On bad debts
"The performance of RateSetter's portfolio has been stable, as can be seen from our published statistics, and our expert credit risk and borrower services teams actively monitor and make adjustments every day. In the current climate, we will give support to our borrowers. Our provision fund is managed with a buffer to be a shock-absorber for external events and our focus remains on investor protection."
On lender withdrawal requests
"With regards to investment release requests, following the outbreak of the coronavirus in the UK, we saw an increase in the week commencing Monday 9 March, fluctuating as external news developed. Requests peaked on Monday 16 March and have subsequently reduced to normal levels. The vast majority of RateSetter investors continue to invest and we continue to deliver liquidity every day."
On the bank stimulus scheme
"In terms of access to the Bank of England's stimulus schemes, RateSetter believes the non-bank lending sector, including regulated P2P lending, has much to offer with regards to lending efficiently into the economy."
Update from CapitalStackers
25th and 28th March, 2020
"Disappointingly, some of our borrowers are reporting difficulties with the supply chain. Builders' merchants and timber factories going into lockdown isn't helping and will only serve to push out build programmes. We've reviewed and remodelled all our deals to take this into account.
"When you lend direct on a property development scheme through CapitalStackers*, the situation is going to be played out over a longer term (excepting projects where completion is imminent), so the need to move quickly is not quite so crucial.
"It's interesting to note that since this kicked off, we've had just one investor looking to sell a loan participation in our Secondary Market (that's a rare event given most choose to stay in for the whole ride).
"We're fully aware that our investors will be looking to us to keep them informed as the COVID-19 crisis unfolds. Of course, detailed information has always been available in the individual deal rooms on the platform. But for those investors who may not go looking for this, there's a chance they could miss important information.
"So to be clear, we'll be reporting even more regularly to you – both in general terms, and on a deal-by-deal basis. We'll give you all possible detail on how conditions on the ground are affecting the specific projects that you've invested in.
"Clearly, we can't predict how things will pan out, but by continuing to give you regular, exhaustive progress reports on each project – both from the borrower, and from the independent surveyor – we hope to give you all the information you need to assess the ongoing safety of your investments.
"Although the situation is unprecedented, we're also able to draw from historical examples in our modelling, and this gives us some cause for optimism.
"The last massive interruption to the market came in 2008 when the banking sector imploded and liquidity almost completely dried up. As you can see from the chart below, the market fell less than 20% in the eighteen months from the peak in September 2007 to the trough of March 2009. This, of course, is less than the minimum 25% headroom all CapitalStackers deals allow for."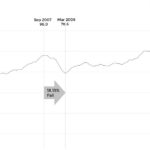 Click here for the full 28th March update and here for the 25th March update.
Update from JustUs
24th, March, 2020
JustUS CEO Lee Birkett has this update on his lending platform and the government's response to the crisis.
Update from CrowdProperty
CrowdProperty's CEO, Mike Bristow, wrote about the prognosis for lenders at CrowdProperty during the COVID-19 pandemic.
Update from LendingCrowd
Update from LendingCrowd on 13th March, 2020.
LendingCrowd gives its initial thoughts on its lending during COVID-10 here.
P2P lending companies can operate through the crisis
Peer-to-peer lending companies have been clamouring over each other to let lenders know that they can all work from home and keep their businesses going. The platform JustUs even did a one-day test of this some weeks ago.
Exiting some P2P loans and accounts delayed, but interest payments continue
Yet it's not been all smooth sailing for lenders in the first weeks of this global-health crisis.
Growth Street announced a few days ago that lenders may not remove their money for 90 days, due to too many lenders wanting to exit at the same time.
It stresses there are no issues with the quality of its underlying loans. Lenders will continue to earn interest in their loans while they wait for withdrawals.
Assetz Capital* is similar, pausing withdrawals for the same reason and placing withdrawal limits on all accounts, for an unspecified period of time. Octopus Choice has done the same.
RateSetter has not turned off withdrawals, but told lenders that withdrawals are now taking longer.
Expect more of the same at some other peer-to-peer lending companies.
What delays mean for lenders
The most avid readers of 4thWay might already be able to guess what my opinion is about this.
4thWay's writers, copywriters and specialists have written two warnings to lenders many, many times – far more than all the other warnings that we've explained to you in detail over the past six years.
The most common warning we have written is that you should spread your money across hundreds or thousands of loans, and at least a half-dozen peer-to-peer lending accounts and IFISAs, to protect yourself from the risk of losses due to bad debts, especially during harder economic times.
The second most common warning is the relevant one after these COVID-19 announcements. The warning is that investing in anything (shares, bonds, property, P2P…) means you'll sometimes need to be patient when you want your money back.
The more money that you want to be immediately available to you with no risk of delays, the less you should invest.
Otherwise, with some investments you might have to withdraw your money at a large loss if you want a guaranteed exit at any time – that's what typically happens in the case of the stock market, for example. Indeed, stock markets around the world have plummeted.
Or, in the case of other investments. such as peer-to-peer lending, you'll not be able to withdraw all of your money anything like as quickly as you hoped.
The natural life of investments in the stock market is typically over 10 years.
In P2P lending, it's the length of time that borrowers borrow for. As we've said many times, you can't always fight nature. We have often used the example of a recession as one of the times when more lenders will face longer delays to withdraw their money. But nothing is more natural than a viral pandemic, so that counts too.
Do delays mean
4thWay PLUS Ratings

will fall?

The 4thWay PLUS Ratings assume that lenders are willing and able to have their money tied in for longer in the event that too many lenders want to withdraw at the same time. Indeed, they assume you're willing and able to lend for at least the natural life of the loans.

The ratings are purely based on the risk of bad debts, not of so-called "liquidity events" – which is when an investment provider needs to close the doors to withdrawals, temporarily, usually due to a supply-and-demand imbalance like this one.

Yes, Growth Street and other peer-to-peer lending companies could surely do even more to explain to lenders in advance that withdrawal delays are likely to happen at times. Although their new investor tests gives a clear explanation of this, I think they could emphasise it somewhat more, as my colleagues and I have written before.

But such issues, at times, is all part-and-parcel of investing and the delays have no impact on the underlying risks of the loans themselves. So all these peer-to-peer lending companies keep their existing 4thWay PLUS Rating.

Lenders, please be patient. Panicking is one of the biggest ways that investors lose money. (Greed is the other big one.)

Don't forget that the 4thWay PLUS Ratings assume you lend in a basket of rated lending accounts, not just one of them. Our ratings are not guarantees in terms of an individual P2P lending account or IFISA, and we assume some will, at times, underperform, especially within lenders' own unique portfolios of loans. You need a basket of PLUS-rated accounts to balance your lending portfolio if you want satisfactory results overall.
What will happen to lending rates?
At this stage, it's more likely that lending rates will rise (before bad debts). Since there are a lower number of lenders combined with steady borrower demand, it's easier to charge higher borrower rates and therefore for lending rates to also rise.
P2P lending companies ask for same stimulus facilities as banks
P2P lending companies require that fresh new lending occurs regularly, so that they can earn the new fees that pay for their staff, prevent a big downsizing and, in worst cases, avert a wind-down of their lending platforms.
The Financial Times reports that Assetz Capital and RateSetter are both asking for access to the same stimulus facilities that banks get to continue during "unprecedented" crises, preventing a situation whereby banks are again supported while others are not. The banks receive special funding lines so that they can keep lending to borrowers who need it and help out the additional people and businesses with short-term issues caused by a crisis.
RateSetter reports a spike in demand from borrowers at the same time that more lenders have stopped re-lending and are even looking to exit some or all of their loans.
Assetz Capital has been approved to lend another £100 million of the British Business Bank's money, but it says more is required.
Assetz also said it's continuing to "work with borrowers", in the first hint that a larger than usual volume of troublesome loans is currently occurring as a result of the crisis.
Read more: For more on the British Business Bank, read Is Government P2P Lending A Sign Of Quality?
Visit Growth Street | Visit RateSetter | Visit Assetz Capital* | Visit Octopus Choice | Visit CapitalStackers*.
Independent opinion: the opinions expressed are those of the author(s) and not held by 4thWay. 4thWay is not regulated by the ESMA or the FCA, and does not provide personalised advice. The material is for general information and education purposes only and not intended to incite you to lend.
All the specialists and researchers who conduct research and write articles for 4thWay are subject to 4thWay's Editorial Code of Practice. For more, please see 4thWay's terms and conditions.
*Commission and impartial research: our service is free to you. We already show dozens of P2P lending companies in our accurate comparison tables and we keep adding more as soon as they provide us with enough details. We receive compensation from Assetz Capital, CapitalStackers and RateSetter, and other P2P lending companies not mentioned above when you click through from our website and open accounts with them. We vigorously ensure that this doesn't affect our editorial independence. Read How we earn money fairly with your help.