The IFISA (P2P ISA) Guide
Click "Learn" to get help
This page was last updated on 22 March, 2017
IFISAs in five bullet points
Tax-free lending on contributions of up to £15,240 per year. (Going up to £20,000 from 6 April 2017.)
There are no extra charges compared to doing P2P lending outside of an IFISA.
You can just open one new IFISA per year, but most people can lend tax free outside an IFISA anyway.
You can transfer into your IFISA as much money as you want from other ISAs, including cash and share ISAs or other IFISAs, and you can also transfer out the other way.
To initiate the transfer, don't withdraw your cash or you could lose your IFISA allowance! Instead, you complete a form with the IFISA provider you are transferring to, and it will initiate the transfer on your behalf.
When transferring from one IFISA to another, or when transferring from a normal P2P lending account to an IFISA, you have to sell your existing loans first.
You can actually open a second in the year
Current list of available IFISAs
Here's a complete list of all the P2P lending sites that already offer Innovative Finance Individual Savings Accounts. (Now you know why we just call them IFISAs.)
Note that secured lending P2P site HNW Lending requires you lend at least £10,000 per individual loan, so it is for wealthy people only. If you put £15,000 into your IFISA, you may lend as little as £5,000 per loan. Read about HNW Lending here.
To help choose your IFISA, read Neil Faulkner's article from 28 February 2017 on The 3 Best IFISAs To Open Now.
IFISAs coming soon
Here's a list of all the noteworthy P2P lending sites that have received full authorisation from the Financial Conduct Authority – which is required before they can offer IFISAs.
There are others with FCA authorisation but they are not established – they either aren't ready to open your account or don't even have a website yet.
Most other P2P lending sites are also working through the long, arduous process of getting full authorisation. In addition to getting FCA authorisation, the platforms then need to apply for ISA manager status with HM Revenue & Customs – the taxman. That step is a simple one though and not much of a barrier.
The main benefit of lending through an IFISA
The biggest benefit of a P2P ISA – a so-called "Innovative Finance ISA" or "IFISA" – is that the lending interest you earn is tax free. It remains tax free regardless of how much your pot of money grows over the years.
Bear in mind that, outside of an IFISA, most people won't pay tax anyway. Basic ratepayers have a £1,000 annual allowance on interest they earn through peer-to-peer lending and savings accounts combined, and even higher-rate payers have a £500 allowance.
This is particularly useful since you're only allowed to open one IFISA per year, but it is sensible to spread your money across several P2P sites early on. You can read more about your personal allowances in our tax guide: How Is Peer-to-Peer Lending Taxed?
Three other benefits of IFISAs
IFISAs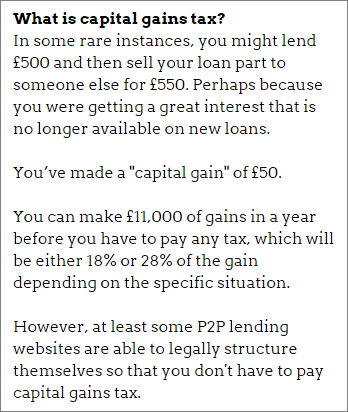 also enable you to avoid being taxed on any "capital gains" you make.
Capital gains taxes aren't so common in peer-to-peer, but they can happen. (See sidebox, right.)
Another benefit of IFISAs is that you're saved from having to report your peer-to-peer earnings to the taxman. You don't have to declare it anywhere.
You don't need to declare any ISA interest, income or capital gains to HM Revenue & Customs. When lending outside of an IFISA, you may have to do so.
ISA limits and paying into IFISAs
Every adult can put in up to £15,240 in an IFISA this tax year (that's from 6 April 2016 to 5 April 2017).
It doesn't matter how much this money grows after that, even if it grows to £100,000 or more. The total amount you can earn is uncapped and untaxed.
Rather than opening a second IFISA in the following tax year, P2P lending sites are allowed to let you add new money to the same IFISA instead, if that is what you want.
The annual allowance is shared between all your ISAs, so if you also contribute to a cash ISA and a stocks and shares ISA, you have to decide how you'll split this year's ISA limit.
While you can keep your IFISAs for life, you can only open one new one (in addition to one cash ISA and one shares ISA) per year.
You can open another, different IFISA with a different provider each tax year, and each year you get a new IFISA allowance to add to previous years.
You may continue to open and hold as many normal (non-IFISA) P2P lending accounts as you want.
Withdrawing your money
You can withdraw money from your IFISA money at any time, subject to the normal rules each peer-to-peer lending website has about selling loans and exiting early.
If you withdraw money in the same you year put it in, you will usually lose that part of your ISA allowance for the year.
However, your IFISA provider will tell you if it is a "flexible" ISA. This means that you can withdraw cash from your IFISA and then replace it in the same tax year. Replacing that amount will not count towards your annual ISA allowance. If you don't replace it within the same tax year you will lose that part of your allowance for that year.
Transfers in and out
You can transfer into or out of an IFISA from or to other IFISAs. You can also do it from or to cash ISAs or stocks and shares ISAs. You can transfer between ISAs as often as you like.
To transfer, don't withdraw your money first or you could lose your allowance. Instead, complete a transfer form provided by the IFISA provider you want to move to.
Transfers between ISAs do not affect your ISA allowance for the year. You can transfer as much as you want with no legal limit, although some P2P lending sites might choose to set their own limits.
What I mean is, if you have put in £15,000 a year for several years into one or more IFISAs, and you have earned a lot of interest on your loans, you could end up transferring hundreds of thousands of pounds from one IFISA to another. This is fine. The annual limit only applies to new money going into the IFISA in that tax year.
You have to do transfers in cash, so you have to sell any investments or loans before transferring, or you have to wait for loans to be repaid first.
If you're lending money already, but not through an IFISA, you also have to sell those loans before you can contribute the money into an IFISA.
When transferring, you can move all or part of your money from previous years. However, if transferring away from any ISA that contains some of your current year's allowance, you must transfer the whole amount.
When transferring from other ISAs, the ISA provider you are leaving might charge you for transferring out.
IFISA transfers are supposed to be completed within 30 days. If it takes longer and you are not happy with the explanation, you can complain to the Financial Ombudsman Service, which has the power to force the transferring company to compensate you.
IFISAs have no extra costs
So far, every P2P lending platform that has launched an IFISA, or announced it will do so, has stated that it will not charge you extra for buying, selling and holding loans through your IFISA – although some will charge you for transferring out.
You'll be able to lend as normal in the same way as you have been outside of the ISA.
Minimum lending amounts
Most P2P lending sites are using the same minimum lending amounts for their IFISA products as they do for their other lending accounts. This is typically between £1 and £100, although £500 is also fairly common, and £1,000+ rare.
Landbay is an exception. It has announced a minimum of £5,000 for its IFISA compared to £100 in its other lending accounts. LendingCrowd has a minimum of £1,000, although one of its non-IFISA products offers lending for as little as £20.
The risks of using IFISAs
The risks of using IFISAs for your P2P lending are fairly small:
You don't know if the costs will change after you move your money in. (You have a right to leave without exit charges in that case, provided you let the ISA provider know swiftly. If they try to charge you, get the powerful Financial Ombudsman Service to put it right for you.)
Laws and taxes regarding ISAs might change out of your favour. However, since you can get your money out of ISAs relatively easily, you might still have a chance to pull out before a negative change takes effect.
The usual risks of P2P lending also apply. For more on that, read Is Peer-to-Peer Lending Safe For Lenders? and The Five Key Risks In Peer-To-Peer Lending.
Where do you go to open IFISAs?
Most P2P lending sites are providing IFISAs drectly to you from their own websites. Soon, though, we will see a few IFISAs from external companies that allow you to lend across several different P2P lending sites at once.
You will be able to see all of the IFISAs in the list of IFISAs near the top of this guide and we'll link to them in our comparison tables too.
Time can be of the essence
IFISAs will be popular so you might find that getting your money inside the IFISA and out on loan at present is not so easy.
4thWay 5 PLUS-rated P2P site Lending Works*, launching its IFISA on 8th February 2017, received twice the cap it set of £1 million on initial IFISA applications – within 24 hours.
Even so, when you feel time is of the essence, never rush to lend or invest before you are 100% confident you understand the risks.
Read more on taxes:
How is Peer-to-Peer Lending Taxed?
*Commission and impartial research: our service is free to you. We already show dozens of P2P lending companies in our accurate comparison tables and we keep adding more as soon as they provide us with enough details. We receive compensation from Crowd2Fund, HNW Lending, Landbay, LendingCrowd, Lending Works, and Rebuildingsociety, and other P2P lending companies not mentioned above when you click through from our website and open accounts with them. We vigorously ensure that this doesn't affect our editorial independence. Read How we earn money fairly with your help.
**We put any and all P2P lending sites in our comparison table as soon as they provide us with over 100 data points and discuss their processes and key people with us.
***Says Peer2Peer Finance News.