Proplend Review
Click "Learn" to get help
It's a hot time in IFISA season with several peer-to-peer lending companies offering highly attractive cashback of up to £4,000 or 5% (even up to 200% if you're just lending small amounts!) Read more.
This is a Proplend review, written by one of our specialists. You can find more reviews in our comparison tables.
4thWay's Proplend Review
Fantastically good property
security

, usually backed up by steady rent, and excellent returns for lenders.
Proplend Review: their best-rated product
This account has been paying 7.51% interest after bad debts.
Read about the 4thWay PLUS Ratings, compare more peer-to-peer lending accounts or visit Proplend*.
What does Proplend do?
Proplend* does secured property lending in the UK, usually to landlords of residential properties or commercial properties such as shops, business parks and hotels.
It also does some short-term property (bridging) lending, such as loans to acquire land for property development. However, it doesn't do loans to actually develop properties.
It projects returns for lenders of 8.55% after bad debts.
When did Proplend start?
Proplend first approved a loan in 2014 and has completed £90 million in loans.
What interesting or unique points does Proplend have?
Proplend's biggest strength is in the security that borrowers offer lenders.
Usually, the borrowers are already earning rent on their properties that more than covers the monthly loan payments.
More than that, borrowers are always stringently restricted in how much they can borrow compared to the property valuation.
Lenders are able to choose the level of risk and reward they want, based on agreeing in advance whether they will come first, second or third in the queue in recovering their money if a loan turns bad.
So far, Proplend* has a good record of enabling lenders to exit their loans early – before a borrower repays. The average wait is 10 hours. While Proplend won't always manage to help you exit early, this compares favourably with many other P2P lending and IFISA providers.
Proplend review: how does Proplend work?
Pictures speak louder than words: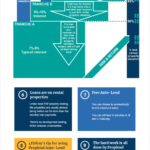 4thWay's Proplend review infographic: click to expand to see How does Proplend work?
Proplend review: How good are its loans?
Lenders in Proplend's "tranche A" loans are protected by real-estate security with a property valuation that's at least twice the size of the loan. This is incredibly good risk coverage for lenders. If a loan turns bad, any forced sale of the property would have to give lenders back less than half the property price, after costs, before you lost any of your initial loan.
Lenders lending in tranches B and C are taking riskier slices of loans, with a greater risk of losses in the event a loan turns bad.
Most loans – of all tranches – are secured against properties that are earning rent. The combination of rent and real-property security make the intrinsic risks substantially lower, as it reduces the chances of loans going bad and increases the chances of recovering bad debt too.
In terms of its tranche A loans, the intrinsic risks of this kind of lending are lower than any other type of P2P property lending currently available and, indeed, any other type of non-property lending too.
Proplend's short-term non-rental property loans are relatively new and make up around one-quarter of all the loans. But Proplend* has already built up a fair record of full repayments over the past few years on these loans.
It has also got a perfect record in turning around these non-rental loans when there are any problems, so that lenders get all their money back – plus interest.
Don't underestimate that last point, because a good record in quickly recovering late or bad debt is probably the most important sign of quality for these kinds of loans. This is especially the case for the variety of different types of properties that it accepts as security, because some of them could be relatively hard to value or sell.
Proplend review: lending processes
Despite pressure over many years to approve more loans, more quickly, Proplend* remains very choosy about the loans it approves, maintaining high standards.
Its processes are for reviewing borrowers, their properties and their tenants are as we would expect for these kinds of loans. This peer-to-peer lending company appears to have good processes to shut out fraud, which is where property lending has caused serious trouble at less professional lending companies.
It uses very simple, but strict base criteria to ensure that the loans it offers lenders are likely to repay in full and with interest. In addition to capping the amount borrowed versus the property valuation, rental-property owners are also generally required to be earning more in rent than the monthly loan payments, and to maintain such rents.
Proplend approves around 10% of applications. Being this choosy enables it to approve not just the best borrowers but, from among them, the ones that are willing and able to pay decent interest rates.
Most critically, Proplend has demonstrated speed and effectiveness in its processes when reacting quickly to loans that fall late. These loans have been fully repaid within just three months, on average. Just one P2P loan has gone past term for over five months.
How good are Proplend's interest rates, bad debts and margin of safety?
Proplend's results are absolutely in line with expectations. That's now demonstrated by around 50 loans that have repaid and another 50 that are still active and in good standing.
Less than a handful are currently a little bit late, and there's just one bad debt at Proplend. This bad debt took a reassuringly quick 11 months to go from being a little late to making a decent recovery. Most of the debt – including all tranche A debt – has been returned to lenders, and recovery efforts continue. There have been no other bad debts on Proplend's P2P loans.
Combined with generous interest rates for lenders, I believe the risks are very well contained.
Proplend's tranche A loans really hit a sweet spot on the risk-reward scale, but its tranche B and C loans are comfortably in a good interest-rate range too.
Proplend* continues to show a very steady and large margin of safety against losses. We look at the performance of all its loans using ternational banking-style stress tests. Our conservative version of these tests calculates the estimated potential results during a severe recession or property crash. I believe that Proplend lenders who take the time to spread their money across more loans still have a large margin of safety in such conditions.
How much experience do Proplend's key people have?
Proplend's lending team has increased its relevant banking experience over the years through new hires as well as six years of internal experience. Its two key decision makers, who have to approve all loans passed up to them from their lending team, are Raj Raghwani and Matt Carson.
Matt Carson has a lot of experience in corporate lending and managing risk. Raj Raghwani has not described a vast amount of experience and training in credit risk roles for these loans, but he's been involved in and around property lending for some years in other roles. The two of them are backed up by other experienced people in their team.
I'd like to see specific, additional experience in the top team. But that would be a bonus, because I think that some of Proplend's processes make it almost idiot proof.
Has Proplend provided enough information to assess the risks?
Proplend* is very transparent with 4thWay, sharing the highly detailed data we need to use bank risk-modelling and investing techniques to assess its performance. It provides us with access to its key people and answers our questions.
Is Proplend profitable?
Proplend isn't profitable yet.
Is Proplend a good investment?
I think Proplend is a good investment. Proplend* is an easy choice for anyone who can afford its high minimum amount for each loan and is able to spread across plenty of loans to cover risks. I expect it to continue to offer lenders highly satisfactory and stable returns, the majority of the time.
What is Proplend's minimum lending amount and how many loans can I lend in?
The minimum you can lend in each individual loan is £1,000.
At present, there aren't a huge number of opportunities to lend. So take several months to add money to your Proplend account and build up your number of Proplend loan holdings. Don't forget to spread your money across many other P2P lending sites, as usual.
Proplend Auto-lend spreads your money across all tranche A loans. If you choose to select loans manually, rather than use auto-lend, you might want to switch auto-lend on just prior to a loan you like going live. This is because a loan is sometimes completely sold to lenders using auto-lend, before other lenders have a chance to take part. You'll receive an email when a loan is about to go live.
Does Proplend have an
IFISA

?

Proplend's lending products are available as IFISAs.

Independent opinion: the opinions expressed are those of the author and not held by 4thWay. 4thWay is not regulated by the ESMA or the FCA, and does not provide personalised advice. The material is for general information and education purposes only and not intended to incite you to lend.

All the specialists and researchers who conduct research and write articles for 4thWay are subject to 4thWay's Editorial Code of Practice. For more, please see 4thWay's terms and conditions.

The 4thWay® PLUS Ratings are calculations developed by professional risk modellers (someone who models risks for the banks), experienced investors and a debt specialist from one of the major consultancy firms. They measure the interest you earn against the risk of suffering losses from borrowers being unable to repay their loans in scenarios up to a serious recession and a major property crash. They assume you spread your money across hundreds or thousands of loans, and continue lending until all your loans are repaid. They assume you lend across 6-12 rated P2P lending accounts or IFISAs, and measure your overall performance across all of them, not against individual performances.

The 4thWay PLUS Ratings are calculated using objective criteria that can be measured and improved on over time, although no rating system is perfect. Read more about the 4thWay® PLUS Ratings.

*Commission and impartial research: our service is free to you. We already show dozens of P2P lending companies in our accurate comparison tables and we keep adding more as soon as they provide us with enough details. We receive compensation from Proplend and other P2P lending companies not mentioned above when you click through from our website and open accounts with them. We vigorously ensure that this doesn't affect our editorial independence. Read How we earn money fairly with your help.