CapitalStackers Review
Click "Learn" to get help
Below is the Quick Expert Review of CapitalStackers from one of 4thWay's specialists.
4thWay's Quick Expert CapitalStackers Review
Very attractive interest rates and takes
loan checking

to a whole new level

CapitalStackers* has completed £17 million since launch in 2014. Its team is right up there as one of the most competent we have seen. It focuses on development lending and a little bit of rental-property lending. It has many decades of relevant banking experience, has high standards, and it does appropriate risk modelling using professional firms – covering all the bases.

CapitalStackers takes diligence in checking and monitoring loans to a whole new level,  beyond the comprehensive assessments we would usually expect for these kind of complex, high-interest loans.

The size of the loans compared to the property valuations are excellent. The average loan size is just 60.2% compared to the expected sale price of the completed developments. This gives huge cover in a property crash if the property needs to be repossessed and sold.

While CapitalStackers* currently approves relatively few loans, it offers attractive opportunities for active lenders to pick high-quality loans with very large profit potential.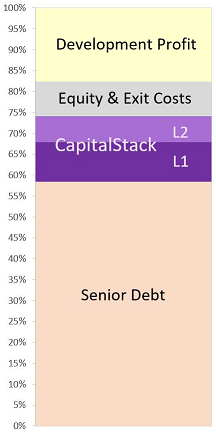 "CapStack" lenders might typically put their cash down first – e.g. to assist a property developer in buying the land – and yet be just second in line for being repaid in the event a loan goes bad, behind another lender such as a bank (which provides the "senior debt").
Lenders are well compensated for the extra risks. With £10 million in loans already repaid to lenders, the lowest interest paid to lenders so far has been 7.34%, with no penny lost. The highest interest paid has been a massive 22.48%. I believe the interest lenders have earned is far more than required to cover the risks involved.
There have been no bad debts. A few loans have fallen late, but CapitalStackers has shown the skill and ingenuity that we would hope for in responding quickly and helping the developers get their projects back on track.
CapitalStackers is very transparent with 4thWay, providing huge amount of access to its people and supporting information, so that we can get under its bonnet, including providing information it submits to the financial regulator and a whole lot more, giving me a lot of confidence.
With lenders, too, CapitalStackers now provides pretty clear and comprehensive statistics, and it really does its best to explain how it works. I would encourage you to give the decision makers a call to discuss their statistics and individual loans; it's an opportunity you can't get with most P2P lending providers.
Once CapitalStackers has enough history, I'm am certain that it will receive 4thWay's top PLUS Rating of 3/3, "Exceptional".
CapitalStackers' directors and close family continue to put a lot of their money where their mouths are. They are currently lending 27.6% of the total lent through its online lending platform on the same terms as all other lenders.
CapitalStackers* is already profitable – a rarity at the moment in the burgeoning P2P industry – and it has been for several years, including up to September 2020, its most recent financial year end. It's a small business but with very low costs, making it seemingly easy to sustain.
It has backing from an accountancy firm and it has a network of connections that we believe will enable it to expand and grow further, offering more loans as more lenders are attracted to it.
One of the three small negative points about CapitalStackers is that you currently have few loans available, but you don't have to transfer money until the loan is fully sold.
The second negative is that you need to be able to lend at least £5,000 in each loan.
The third negative is that you can't currently lend through an IFISA. That said, if you can afford to lend £5,000 per loan, you have probably already maxed out your ISA limits elsewhere.
CapitalStackers during COVID-19
CapitalStackers is still approving loans during the pandemic.
It's still early days, but CapitalStackers' performance so far has been very reassuring. It has seen just a few loans suffering noteworthy problems related to COVID-19, but just one of those remains to be repaid. That loan is on a development that now has a pre-sale agreement with a housing association, so it's looking good. CapitalStackers builds in a lot of headroom for such complications and lenders earn interest while they wait.
Read CapitalStackers COVID-19 Planning.
Independent opinion: the opinions expressed are those of the author(s) and not held by 4thWay. 4thWay is not regulated by the ESMA or the FCA, and does not provide personalised advice. The material is for general information and education purposes only and not intended to incite you to lend.
All the specialists and researchers who conduct research and write articles for 4thWay are subject to 4thWay's Editorial Code of Practice. For more, please see 4thWay's terms and conditions.
*Commission and impartial research: our service is free to you. We already show dozens of P2P lending companies in our accurate comparison tables and we keep adding more as soon as they provide us with enough details. We receive compensation from CapitalStackers and other P2P lending companies not mentioned above when you click through from our website and open accounts with them. We vigorously ensure that this doesn't affect our editorial independence. Read How we earn money fairly with your help.
One response to "CapitalStackers Review"