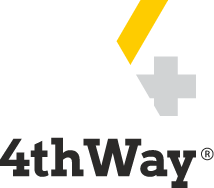 11 Biggest Peer-to-Peer Lending Companies in 2015
AltFi predicts that we will collectively lend close to £3 billion to people and businesses in 2015. That's twice as much as in 2014.
The introduction of tax-free lending through new P2P ISAs might help boost lending even further.
Lenders using RateSetter, Funding Circle and Zopa, the three biggest peer-to-peer lending companies, will lend over £1.5 billion.
In total, of the P2P lending companies studied by AltFi, 11 will help us lend at least £30 million, with a total of more than £2.5 billion:
The biggest peer-to-peer lending companies in 2015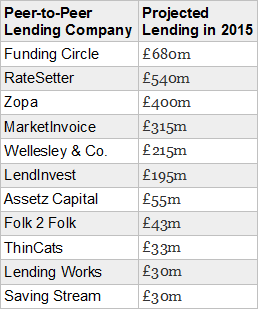 Source: AltFi
All these companies will grow rapidly except for ThinCats. Lenders on ThinCats must be high-net worth or "sophisticated" investors, and they are expected to lend 13% less this year than last year.
LendingWorks will grow the quickest, with lenders lending nearly six times as much in 2015. That's £30 million, up from over £4 million, aided by its unique combination of insurance to pay for losses when borrowers lose their jobs, their fat bad-debt provision fund to pay when borrower payments are late, and by lending to the very best borrowers only.
AltFi points out that it's hard to predict who will take what share of this rapidly growing industry. "For example, there is very little chance that anyone (apart from perhaps Wellesley themselves) could have predicted Wellesley's 3,760% growth this year!"
Graham Wellesley told 4thWay last year that it was astounded by the tide that carried it to such super-sized growth. Wellesley & Co. recently completed the largest single P2P loan in the world, at over £10 million.
We think a surprise entry into the biggest peer-to-peer lending category might be Landbay, which is not covered in AltFi's study. It's a buy-to-let P2P company focusing on very low risk borrowers, quality property that can be repossessed if the borrower fails to repay, and a bad-debt provision fund.
*Commission, fees and impartial research: our service is free to you. 4thWay shows dozens of P2P lending accounts in our accurate comparison tables and we add new ones as they make it through our listing process. We receive compensation from Funding Circle, Landbay, Lending Works, RateSetter and Wellesley, and other P2P lending companies not mentioned above either when you click through from our website and open accounts with them, or to cover the costs of conducting our calculated stress tests and ratings assessments. We vigorously ensure that this doesn't affect our editorial independence. Read How we earn money fairly with your help.