Funding Circle Review In 2021 For Investors
Click "Learn" to get help
4thWay's Funding Circle Review
Key findings for my Funding Circle Review
My gut feeling about Funding Circle is sort of positive, but sadly not supported by enough information. With less information now coming from Funding Circle, it's become a touch too difficult for lenders and independent analysts to assess its performance and ability.
This Funding Circle review by P2P lending ratings agency 4thWay is in two distinct parts. The first part is the Funding Circle Quick Expert Review – or "Main Points" – which covers the most critical facts and candid opinion of Funding Circle as an investment proposition. The second part goes into more detail for lenders who like to have as much information as possible before making investing decisions.
Together, these two Funding Circle reviews make up all 4thWay's key research, along with my opinions.
Funding Circle is an international business. This review is about the UK lending platform of Funding Circle, although it will mention the wider business when appropriate for assessing the risks for lenders using its UK platform.
Funding Circle Review Main Points - 8 Minute Read
What is Funding Circle?
Funding Circle offers peer-to-peer investors the opportunity to lend to hundreds of small- and medium-sized UK businesses at a time. The loans are usually between £10,000 and £400,000 for up to five years. Most of the loans are unsecured. These are very much like typical bank loans to businesses that are largely approved electronically using a scorecard.
When did Funding Circle start?
Funding Circle started in 2010. It's now 2021 and Funding Circle has completed £9.7 billion in loans to UK-based businesses, with billions more in other countries. It's the second-oldest peer-to-peer lending company in the UK and one of the oldest in the world.
What interesting or unique points does Funding Circle have?
Funding Circle has completed more unsecured business loans over a longer period of time than any other P2P lending platform in the UK. It has a huge historical book of matured (repaid and nearly repaid) loans.
It has grown to the size of a bank, both in terms of the volume of loans it now approves, which is £1.5 billion per year, and in its staffing levels in all the key skill areas.
Funding Circle is the only UK P2P lending site listed on the stock market. Like many innovative businesses that go public, its price was set far too high to begin with, and so it plummeted after listing. The share-price movements after listing were mostly not correlated to loan performance, and a falling price does not endanger the business itself.
Funding Circle review: how does Funding Circle work?
Funding Circle works rather like many P2P lending sites in that it automatically spreads your money across lots of loans, sets interest rates on your behalf, and gives you the option to potentially sell your owns to other lenders if you want to leave early.
Take a look at the infographic for a summary: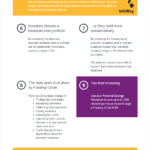 4thWay's Funding Circle review infographic: click to expand to see How does Funding Circle work?
Funding Circle during COVID-19
Funding Circle is not approving new P2P loans funded by small investors at this time. It's offering borrowers government-supported COVID-19 loans instead.
Regarding the performance of existing P2P loans, Funding Circle has declined to provide statistics to 4thWay that would enable us to assess the impact of COVID-19 on the basis of "reporting restrictions", and it doesn't publish such specific figures on its website.
Funding Circle's chief risk officer stated in June last year that its loan book should provide positive returns overall, once all loans are repaid and any recovery of bad debt completed, because it can withstand a rise in bad debts "multiple times over". One of the key unanswered questions is how variable individual lenders' results would be, i.e. what proportion of lenders would suffer losses.
How good are its loans?
Funding Circle still likely has good quality loans on average, but it no longer provides enough information for us to assess it. We can't, for example, see the spread between risky and less risky loans that lenders can have allocated to them.
There's a good geographic spread of loans across the UK's four nations and ten regions, which could help to keep bad debts smooth if a region starts suffering greater problems.
Funding Circle has proven itself to be at least pretty good at recovering bad debt. Some years ago, when Funding Circle used to provide its raw data, we found it was recovering around 40%. That's very good for these kinds of loans, which usually have no hard property that can be easily repossessed and sold to cover losses.
However, Funding Circle's chief risk officer recently estimated it is recovering around 30% of bad debt, while a page on its website this summer indicated 49% was a better estimate. Without the raw data we can't assess the true position, but even 30% recovery compares fairly well with high-street banks.
How much experience do Funding Circle's key people have?
Funding Circle proved long ago that it has a very large, fully-rounded team that easily competes with any bank. They have in-house former bankers, underwriters, credit-risk experts, data analysts and bad-debt collections personnel. It's a complete lending operation. However, we have no details on the amount of prior experience and training that its large team has. The head of the team though has experience in a similar role at the top for Barclays. Much of his background is in other forms of automated lending . i.e. not small business loans, but it's still relevant.
Funding Circle review: lending processes
Funding Circle has historically shown itself to be excellent at evaluating borrowers and learning from the large amount of data it has collected on tens of thousands of them. Its processes appear to be complete when it comes to assessing borrowers and taking action against bad debts, but limited access to Funding Circle makes it difficult for us to stay on top of its current position and processes.
How good are Funding Circle's interest rates, bad debts and margin of safety?
Funding Circle has previously demonstrated that it understands and contains the risks when approving loans, and it has historically priced interest rates well. Since it now inexplicably gives us and the public a lot less information, which is cause for concern, I can't have the confidence that it continues to offer a large margin of safety, especially in the event of a recession.
From the limited figures Funding Circle still provides, the average returns have remained distinctly positive. The worst projected returns in recent years have come from loans that went live in 2017. Funding Circle projects that lenders in those loans will still, on average, make 4% or a little more after fees and bad debts. In recent years, this does seem to be the norm for the average lender.
4thWay estimates that interest rates before deducting fees and before bad debts have stayed steady since 2012, being between 9% and 10% each year, even though Funding Circle has gradually allowed more riskier borrowers onto its platform. It suggests that lending interest rates before deducting bad debts have continued to fall, which is what I'd expect to happen as a P2P lending site matures – up to a point. The lower rates fall, the greater the risk of losing money to bad debts.
At least partly due to a riskier average lending profile, bad debts have risen. Projections for bad debt were £2 per £100 lent. They have gone up to as much as £3.20 to £6.40 per £100 lent over the past few years (pre-pandemic). These bad debts are probably not staggeringly worse than those that are reported or projected by competent high-street banks, such as HSBC, although it's uncertain without more information from Funding Circle.
Has Funding Circle provided enough information to assess the risks?
Funding Circle used to enjoy praise from 4thWay for its openness with us and the public, but this changed from around spring 2018.
Funding Circle has not been able to provide us with data or answers to any of our requests for specific figures for the past few years. It intrigues me that, with a team of 100 data, credit and credit-risk people, it doesn't have more data at its fingertips, or be ready to share.
The lengths Funding Circle has gone to since 2018 to shoot itself in the foot on transparency is quite surprising. For example, the last time we contacted them, we merely asked its communications and PR department for approximate figures on the impact of COVID-19 – not even fully accurate ones – in an attempt to elicit even a little bit of information. The response was: "Our reporting restrictions make giving even approximate breakdowns of our delinquencies, payment holidays and arrears difficult."
Its public blogs from its chief risk officer, while interesting, also provide little data. Its online, aggregated public statistics are useful but very limited, and not timely.
Is Funding Circle profitable?
A little later this year, in March 2021, we'll get some information on how it performed last year, i.e. whether it was profitable. Funding Circle last reported a year ago that it had turned profitable on its UK arm in 2019, making £3 million on £100 million in sales.
This is still a rarity in the new and growing P2P industry, so it's a highly notable achievement. Funding Circle believes the US arm of its global business will soon follow suit in becoming profitable. Currently, it's making an overall loss.
Lenders might be worried about a dramatic plunge in its share price after its flotation on the stock market. However, this has less to do with the underlying prospects of its business, and more to do with the hype and high price that typically goes with a "fintech" business selling shares for the first time on the stock market. I believe Funding Circle is here to stay.
Is Funding Circle a good investment?
My gut tells me, on balance, that Funding Circle is probably still a good investment, but its disturbing backward steps in transparency and lack of information to assess the risk-reward balance make it impossible to confirm this with the necessary level of confidence.
What is Funding Circle's minimum lending amount and how many loans can I lend in?
If you lend at least £2,000, your money will be split thinly across at least 200 borrowers. While we don't have enough data from Funding Circle to estimate a sensible level of diversification, it's probably going to be that 200 loans is an appropriate minimum. The minimum you're allowed to lend is £10.
Does Funding Circle have an

IFISA

?
Funding Circle's lending accounts are available as IFISAs.
Can I sell Funding Circle loans to exit early?
You can attempt to sell your loans to other lenders. For most of Funding Circle's history, lenders have sold their loans reasonably quickly, but this has not always been the case, especially over the past 12 months.
You absolutely must realise that P2P lending is not about rapid trading, but lending to borrowers, which typically means until the borrowers have repaid. If you're able to leave early, it's a nice bonus. The bonus does cost you 1.25% of the loans you sell, though, which goes to the buyer of the loans.
When you elect to sell, Funding Circle sells your loan parts automatically through its secondary market, as and when buyers become available.
What more do I need to know?
It's not uncommon in these kinds of loans for a significant minority of lenders to see their lending returns take a hit at the beginning due to early bad debts. But, over time, the interest you earn and the recoveries on bad debts will improve the results. Lending for a longer period could be a critical step for getting positive and satisfactory returns overall.
Visit Funding Circle.
Funding Circle Review: their best-rated product
No Funding Circle account has a 4thWay PLUS Rating, because it doesn't provide enough data for us to assess the risk of losses during a severe recession using the international Basel standards.
Read about the 4thWay PLUS Ratings, compare more peer-to-peer lending accounts or visit Funding Circle.
Full Funding Circle review: is Funding Circle in trouble?
A year ago, in early 2020, Funding Circle (LSE:FCH) shares were down 80% compared to early 2019. Since then, the COVID-19 lockdown has not further hammered share prices. The share price now in early 2021 is very similar to where it was a year ago and hasn't moved much. Taking the share price now, at the start of 2021, the publicly-listed shares in the business are valued at £320 million, down from £1.5 billion when it listed on the London Stock Exchange in 2018.
Share investors take huge risks investing in businesses that are newly listed on the stock market, especially when they have no stable record of profitability at the time they list. However, these risks are completely different to the risks taken by people lending money through Funding Circle's online platform.
Furthermore, movements in its share price aren't impacting the profitability of the business itself. Funding Circle received cash from investors when it first publicly listed. But all trading on the stock market after that is conducted between its share investors. Investors selling for less than they paid are the ones who lose money, not Funding Circle itself.
Some of Funding Circle's endeavours have not gone according to plan. Its operations and online P2P lending platforms in Germany and the Netherlands are being wound down after poor lending results and heavy losses. Its bid to offer development lending to investors was unsuccessful.
And its investment fund, the £300 million Funding Circle SME Income Fund, closed in 2019 after its investors withdrew money in large numbers. I think Funding Circle had over-promised on the income that these investors could expect to earn from small business lending.
However, it's all part of an innovative business' normal operations to try different things and you can expect a lot of those experiments to fail. I'm not unduly concerned.
Funding Circle's revenue and profit trajectory has not been unusual for a fast-growing company. Revenue has grown extremely rapidly. Profitability has taken longer, but that is beginning to take shape. By cutting its Netherlands and German operations it should remove 60% of global losses. And it's highly likely that Funding Circle could increase profits easily if it gave up on growth and cut costs instead.
In short, Funding Circle is not in trouble.
What about Funding Circle UK?
Funding Circle's UK operations are the ones that matters to us. The UK branch is the most advanced and most stable, Funding Circle is headquartered in the UK, and it's listed on the UK's main stock market, the London Stock Exchange. If all other Funding Circle branches failed, it would collapse down to the UK, where lending will continue.
This review focuses on the operations of Funding Circle's UK branch. Its UK branch was profitable last year despite tough market conditions. Although the pandemic will not help it, I believe the UK part of Funding Circle is ahead of many other P2P lending companies on its journey to becoming a sold and stable business.
Employees are broadly satisfied according to a large number of anonymous employee reviews on Glassdoor.
It's not out of the question that Funding Circle will at some point take a strategic decision and diverge away from being a P2P lending platform. Just as Landbay and Wellesley have done before it. Funding Circle has not been one of the P2P companies that has gushed with enthusiasm about its desire to support the small investor (lender) forever in the way that RateSetter or Zopa have. So its UK branch might shift away from P2P. But this would happen gently. P2P loans would be wound down naturally as borrowers repay.
How much are Funding Circle fees?
Funding Circle charges a one-off fee to borrowers that appears to be typically between about 3% and 5% of the amount borrowed. It also charges a servicing fee to lenders of 1% per year on any outstanding debt in good standing, taking 1/12 of the outstanding amount each month.
I've done some calculations to estimate typical total lending costs, using the limited information available on the Funding Circle website. The total spread between what borrowers pay and what lenders receive (the total lending cost) is likely to be around 3.3% per year. 3.3% per year is the total average fee you can expect for each Funding Circle loan you fund, and it includes the one-off fee and the servicing fee.
Income reported by Funding Circle in its public accounts appears to corroborate this estimate, although I must stress that I have insufficient data.
Funding Circle's fees are fair and pretty consistent with similar P2P lending companies and they are not out-of-line with the costs of banking.
Like most P2P lending companies, Funding Circle is not transparent about its fees. Normally we can't abide secrecy at 4thWay, but on fees the problem most P2P companies have is that it gives their competitors an advantage to disclose how much income they make per loan.
You need to disregard whether a fee is nominally charged to the borrower or to the lender. All fees charged by Funding Circle reduce lenders' returns, regardless of whether they are charged to the borrower or lender. This is because Funding Circle's fees are money that otherwise would have gone to you, had you been running your own lending operation for yourself, and because it's being earned off the money you provide at a competitive total cost to the market.
How much do investors earn at Funding Circle?
Total borrower costs appear to average around 12.3% per year, as best as we can estimate with the limited amount of information Funding Circle makes available. After fees, average returns to lenders before bad debts are probably around 9% per year during reasonably normal market conditions.
Annual bad debts can typically eat up to half of this, so that your returns are expected to be 4%-6%, although every lender has individual results based on the loans you're lending in.
Funding Circle hasn't provided enough data to estimate the spread of results between individual lenders or to weigh the differences between the Funding Circle Conservative account and the Funding Circle Balanced account. Given the narrow range in expected interest rates between the two accounts, however, and to some extent based on older Funding Circle data, I would much rather use the Funding Circle Conservative account.
Why use Funding Circle and how much should I lend?
Investors who lend through peer-to-peer lending websites should strongly consider doing some small business lending of the kind that banks regularly do. These are straightforward, unsecured loans to creditworthy business borrowers. Funding Circle offers just that.
It's a very different type of lending to many others, which can be useful. You can protect yourself when lending by having a wide variety of types of loans. That way, if one part of the economy suffers a shock, other borrower types will prop up your results.
Due to weaknesses I've already mentioned above, Funding Circle is not a strong buy to me, but it would not upset me if you decided to put a small proportion of your lending and investing pot into it, in order to diversify. A cap of around 5% is probably sensible due to lack of detailed information to assess the risks fully.
Funding Circle review 2021: how variable are lenders' results?
A key factor for lenders is not just the average returns, but how variable the results are between different lenders.
Since Funding Circle doesn't share data with 4thWay or provide figures when questioned about lending results, we have little to go on. Funding Circle used to also prominently publish some useful statements about lenders' consistent results, but it no longer does so.
We have Funding Circle's data up to a couple of years ago, when Funding Circle suddenly stopped publishing it. I don't know how its results have progressed since then. Therefore, I think that trying to extrapolate results from back then for my Funding Circle review today would stretch the available evidence too far.
Does Funding Circle have problems?
Funding Circle is a very large online lending platform that has had over 90,000 lenders. With Funding Circle having such a large number of customers, it's therefore no surprise to find some 4thWay readers complaining about their losses or of difficulties exiting loans early. It's inevitable with any business, and therefore any P2P lending company, that some customers will complain. But how much substance is there?
Each investor has a unique basket of loans. The sensible, and more knowledgeable, investors are lending at least £2,000 and committing to do so for quite a few years. They will also be quite relaxed about the precise date they will get all their money back.
We've seen enough evidence at 4thWay to know that a good proportion of lenders don't follow those basic P2P investing principles. It's likely that a substantial number of those lenders will sell up at a loss.
Indeed, one man, who is prominent in the investing world and often provides commentary to the press, lent in just 20 Funding Circle loans. Then he complained that he had bad debts and sold for a loss a few months later. He really should have known better, and yet many individual lenders will not have his investing experience.
So it's not possible to see how many genuine investors who are doing the right things have lost money. Funding Circle has therefore not demonstrated that it has problems – although it's not making it easy, or even possible, to see that it doesn't have problems either.
Reported Funding Circle problems with early exit
Complaints about early exit are an easier matter to deal with. I think, to a large extent, the issue is that many of the lenders complaining they can't sell their loans early have not understood this investment.
P2P lending is a lot more stable than the stock market because accessing your money early is not as easy and sometimes it's impossible. Stability and liquidity are opposite sides of the same coin. The stock market allows investors to leave at almost any time they want, but that luxury comes at the price of high volatility: often you may leave but the price at sale has tanked.
The pandemic means it's not possible to exit loans early at present, but complaints started earlier than that. In 2019, many news outlets reported that Funding Circle lenders had a 100-day wait for withdrawals. This has not been confirmed to me by Funding Circle, but the volume of Funding Circle users describing issues certainly indicates that time to exit loans has slowed considerably.
The key reason is supply and demand. Perhaps due to lower interest rates after bad debts, more lenders have been asking to sell up early, so they have had a longer wait for other lenders to buy their loan parts.
Is Funding Circle safe? And what about the

FSCS

?
Funding Circle is safe compared to many P2P lending companies in that it has a very high chance of its UK lending operation surviving and thriving, now that it has achieved both a large scale and profitability.
In terms of fraud or negligence, Funding Circle is a legitimate and professional business, with an in-house legal team, and it is listed on the UK's main stock exchange, where it attracts substantial scrutiny. The risk of lender losses due to fraud at Funding Circle is therefore very small. (Read Fend Off Peer-To-Peer Lending Fraud & Incompetence – A Checklist.)
In terms of safety of your cash, any money you deposit at Funding Circle that is not on loan is held in a segregated account for lenders at Barclays Bank. This means that your unlent cash is covered by Barclays' FSCS. The Financial Services Compensation Scheme protects you in the event that Barclays itself is unable to repay you money in this account. The current limit is £85,000 and this includes all your cash in any Barclays bank accounts. The limit is doubled for joint accounts.
If you're wondering how safe is Funding Circle as a lending opportunity – i.e. how safe is your money from bad debts – and have just joined us from the start of this section, most of this review focuses on that particular risk-reward balance. I suggest you start at the top!
Funding Circle review: how easy is it to lend?
Funding Circle makes it very easy to lend. You just choose to use either the Funding Circle Balanced account or Funding Circle Conservative account and deposit money. Funding Circle does the rest. You can decide whether Funding Circle automatically re-lends the repayments and interest you receive.
Bank-like lending offered by Funding Circle is a numbers game, so it's not like reviewing and selecting individual property loans. The most important thing you can do is spread your money across lots of loans as quickly as possible, so Funding Circle's automated accounts enable that.
Lenders like Funding Circle
For the previous version of the Funding Circle review, we wrote that its most similar competition comes in the form of two, much smaller, P2P lending companies. This hasn't changed.
LendingCrowd* is the only one to provide enough information to be assessed for 4thWay PLUS Ratings and it has indeed managed to earn them. It's been paying returns averaging above 7%. You can read about it here.
Crowd2Fund* doesn't provide enough information to be rated. You can read about it here.
Funding Circle review: key details of its Conservative Lending Account
4thWay PLUS Rating

Interest rate after bad debt

4.3%

Here we show the P2P lending site's own estimate
(or 4thWay's if theirs are not appropriate)

4thWay Risk Score

N/A

Description: £9.7 bn lent since 2010 in mostly lower-risk & some higher risk business loans, with auto-lend, auto-diversification & early exit. Available in an IFISA

Minimum lending amount

£10

Exit fees - if you sell loans before borrowers fully repay

1.25%

Early exit is not guaranteed. Usually, other lenders need to buy your loans

Do you get all your money back if you exit early?

Yes

Loan size compared to

security

value

Varies

Reserve fund

size as % of outstanding loans

Company/directors lend alongside you/first loss

No

Funding Circle Quick Expert Review: my gut feeling about Funding Circle is sort of positive, but sadly not supported by enough information

Funding Circle offers peer-to-peer investors the opportunity to lend to hundreds of small- and medium-sized…

Read the full review here
Visit Funding Circle.
Independent opinion: 4thWay will help you to identify your options and narrow down your choices. We suggest what you could do, but we won't tell you what to do or where to lend; the decision is yours. We are responsible for the accuracy and quality of the information we provide, but not for any decision you make based on it. The material is for general information and education purposes only.
We are not financial advisors, which means that we don't offer advice or recommendations based on your circumstances and goals.
The opinions expressed are those of the author(s) and not held by 4thWay. 4thWay is not regulated by the ESMA or the FCA. All the specialists and researchers who conduct research and write articles for 4thWay are subject to 4thWay's Editorial Code of Practice. For more, please see 4thWay's terms and conditions.
*Commission and impartial research: our service is free to you. 4thWay shows dozens of P2P lending accounts in our accurate comparison tables and we add new ones as they make it through our listing process. We receive compensation from Crowd2Fund, LendingCrowd and RateSetter, and other P2P lending companies not mentioned above when you click through from our website and open accounts with them. We vigorously ensure that this doesn't affect our editorial independence. Read How we earn money fairly with your help.