The Investment That's Better Than P2P Lending
Click "Learn" to get help
I wanted to make my first Candid Opinion blog for 4thWay a candid, albeit brief, look at all your quality investment options, and where P2P lending sits. I also wanted to make the case that there is one form of investment that trumps the rest. And it's not P2P lending.
The name 4thWay comes from the "4thWay to save and invest". The other three ways are property, shares and savings accounts. Of course, there are dozens of other ways, but those other three are the most commonly understood. (The founders wanted to call the website "3rdWay", somewhat as in "boring savings, high-risk shares and the new way, P2P lending", but apparently that expression is already used for something else in finance.)
There is a good handful of great savings and investment options that I think everyone should consider: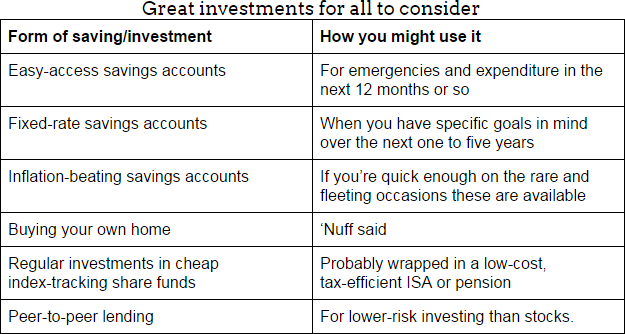 These investments have two important traits in common:
If you shop around, they're a low-cost way to get a fair return for the risks taken.
They're easy to understand relative to other investments.
In addition, between these investments, you can create pretty much any spread of risk and reward you want. Indeed, you don't even need to use all of these options to do that.
Peer-to-peer lending

lower risk than stocks?

There's no question in my mind that P2P lending is, on average, lower risk than picking stocks, but clearly it depends who you lend to, on what platform and whether you'll bid crazy low interest rates.

In my view, it is the psychological risk that is probably the main difference, since it's our psychology while investing that usually costs people – including smart people – most of their gains.

If you invest in one of the super-low risk P2P lending companies, and compare that to a portfolio of stock-market trackers, I think you're more likely to panic and do the wrong thing with an index tracker, even though it is an excellent, excellent product for those of you who learn not to care less when the stock market falls 30%.

If you don't know, an index tracker or "stock-market tracker" is a fund that spreads your money across dozens or hundreds of stocks (or emulates doing so). These follow a benchmark, such as the FTSE 100. Over the long run, investing regularly, you can expect to do just fine with a tracker. Funnily, despite the monotony of it, it's extremely well proven that you can expect to do considerably better with a tracker than the vast majority of professional fund managers over the long run. And even better than the vast majority of private individuals who pick stocks themselves.
So what's the best investment?
The best investment is not P2P lending. It's not a stock-market tracker or your property. It's not even a government-backed inflation-beating savings account.
The best investment is all too often overlooked: you. Before you put a load of cash into anything, consider what you could invest in to develop yourself or your career. I mean doing a course or reading books to improve your knowledge, give you an edge, and break out your career and earnings. All while enriching your life with greater wisdom.
Find the right personal path and that investment will give you an astounding rate of return for very little risk.
Read The Right Split Between Savings, P2P, Shares, Property.