Which P2P Lending Site Offers Very Personal Service?
Click "Learn" to get help
Peer-to-peer lending sites put loads of time into offering great service to borrowers, but what about service for lenders?
Some provide emails that are automatically tailored to what you want or they answer your brief written questions online.
But, as far as I know, just one P2P lending site goes way beyond all the rest to personalise the service for lenders, because you have a direct and open telephone line with CEO and co-founder Ben Shaw. Reassuringly for me, he strongly encourages you to call him. Indeed, he wants you to!
How can Shaw offer you his own time to chat? The main reason is that lending through P2P site HNW Lending* is a very exclusive club with an expensive ticket price: the absolute minimum you're allowed to lend in any individual loan is £10,000!
A very personal service
Shaw sent one 4thWay user the following email recently:
"Below I list the loans currently available. I'd be happy to have a chat with you to explain the due diligence we do, the amount the Directors (such as myself) co-invest etc. I'd also be happy to send you more information about any loan, such as the valuation, report on title, title deeds etc."
One of our experts told me that, if you talk to Shaw about loans, he tells you useful extra information, such as about the fleet of cars that wealthy borrower has lying around (which could also potentially be sold to recover a loan if it goes bad).
"HNW" stands for "high net worth", which to you and me means rich or at least wealthy, as all HNW Lending borrowers are.
Typically, they might be borrowing because they just want to make a big purchase now and don't want to wait for their next few pay cheques to come in, and yet they also don't want to sell any property they have already got to make that purchase.
My biggest beef with HNW Lending
HNW Lending's website is not at all pretty, which seems unprofessional. Actually it's apparently 4thWay's fault. An HNW Lending representative told us that they only really made any effort at all with the website because someone at 4thWay asked for it. Now that is service!
Their preferred method of communication is over the phone, direct with the CEO. However, while it's not a particularly attractive site, it is easy to see the list of both available and completed loans, so that you can get an overview. You can also lend through the internet if you prefer not to use the phone.
What are HNW Lending's loans like?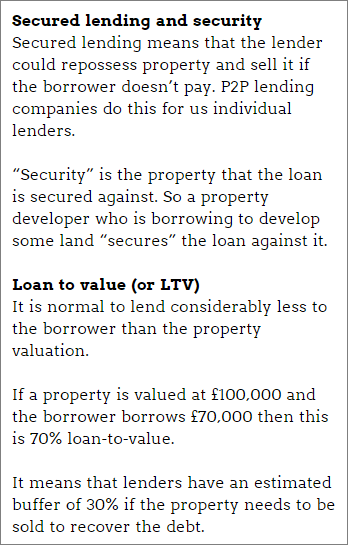 All loans are secured, which means that HNW Lending can easily repossess property and sell it to repay bad debts.
The remarkable thing about HNW Lending, as with other sites like FundingSecure, is that it pays excellent interest rates even though the security is fantastic.
What loans are available now?
When I checked three days ago, one of the 11 loans available was for a maximum of 30% LTV (please see info box, right) while paying 7%.
Another loan was for a maximum of 43% paying 7% too. Yet another was just 14% paying 6.5%.
You can get loans like that for up to 9% or 10% interest.
Background info on HNW Lending
So far, since 2014 and £20 million in loans, no loans have gone bad. It is easy to see why.
Shaw's business recently got full authorisation from the financial regulator, way ahead of most other P2P lending sites.
If you've got tens of thousands under your sofa and want to be part of an exclusive club, you might take a look at HNW Lending*.
Visit HNW Lending* or read The 3 Top Property P2P Lending Sites To Lend In Now.
*Commission and impartial research: our service is free to you. We already show dozens of P2P lending companies in our accurate comparison tables and we keep adding more as soon as they provide us with enough details. We receive compensation from HNW Lending and other P2P lending companies not mentioned above when you click through from our website and open accounts with them. We vigorously ensure that this doesn't affect our editorial independence. Read How we earn money fairly with your help.
The opinions expressed are those of the author and not held by 4thWay. 4thWay is not regulated by the FSMA and does not provide personalised advice. The material is for general information and education purposes only and not intended to incite you to lend.
Journalists, bloggers and specialists writing for 4thWay are subject to 4thWay's Editorial Code of Practice. For more, please see 4thWay's terms and conditions.