How Peer-to-Peer Lending Works
Click "Learn" to get help
This page was last updated on 22 October, 2019
It's a hot time in IFISA season with several peer-to-peer lending companies offering highly attractive cashback of up to £4,000 or 5% (even up to 200% if you're just lending small amounts!) Read more.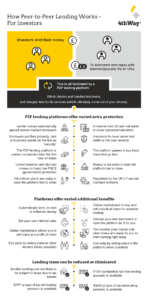 We try to explain peer-to-peer lending in What Is Peer-to-Peer Lending? However, it can sometimes be easier in an image. So we've created one for you called "How Peer-to-Peer Lending Works – For Investors". Click on it to open it up. There is a mobile-friendly version underneath.
These images also explain how P2P IFISAs work, since they are largely identical.