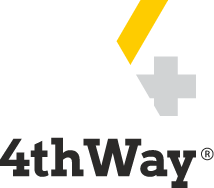 How To Pass Octopus Choice's Appropriateness Test
You'll be asked to pass the Octopus Choice appropriateness test (investor test) before lending. This is standard procedure for P2P lending accounts and IFISAs that are regulated by the UK's Financial Conduct Authority.
Who can lend through Octopus Choice?
Before I show you how to pass the test, here's how you can lend through Octopus Choice without any restrictions. You can do this if you are:
A self-certified sophisticated investor. It can be easy to certify yourself; e.g., if you have lent in two P2P loans or lending accounts. Your previous or current lending through Octopus Choice counts.
A high net-worth investor – with £100,000 income or £250,000 in wealth.
If you don't fit those categories, Octopus Choice asks you to restrict yourself to investing no more than 10% of your wealth (excluding your own property) in peer-to-peer lending.
How to pass the Octopus Choice Appropriateness Test
In the answers to the test below:
The ticked answers are the correct ones.
You sometimes need to select more than one answer in a question.
You'll be asked just four questions.
After each question, inside the gold lines, I provide more information if you need help understanding the questions and answers – and understanding Octopus Choice better.
.
About 4thWay's series on How To Pass The Appropriateness Tests
Warning: taking these appropriateness tests (investor tests) can cause pain or boredom! So, while 4thWay users are far more knowledgeable than most, we want to make things quicker, simpler, more educational and more understandable for you. You get plenty of help below. And you get plenty more help for many other peer-to-peer lending and IFISA providers in our How To Pass The Investor Tests series.
I'm sure I don't need to ask you to please make sure that you do your research thoroughly on all peer-to-peer lending and IFISA providers. You can do that by reading 4thWay's guides and provider reviews, and by looking into the opportunities for yourself.
If you can't correctly answer the questions in an investor test by yourself, you probably need to do a lot more research. Because the questions they ask cover just the bare basics about how they work. The tests don't inform you about how good they are at appraising potential borrowers or any of the other essential tasks they have to do on lenders' behalf. So arguably the most important bit is missing!
Below are all the questions and answers, with the correct ones ticked, in Octopus Choice's appropriateness test.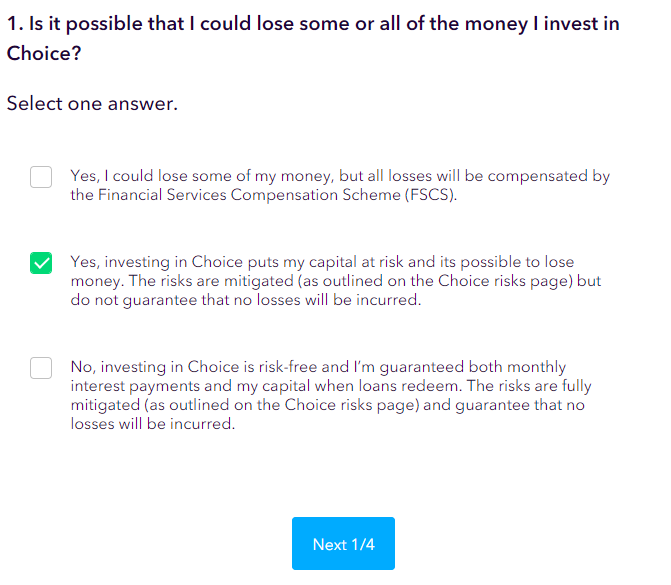 Investing – including money lending – is never covered by the FSCS. There's always a risk of losing money in all investments.
Octopus Choice refers to its risk page, which you can find here.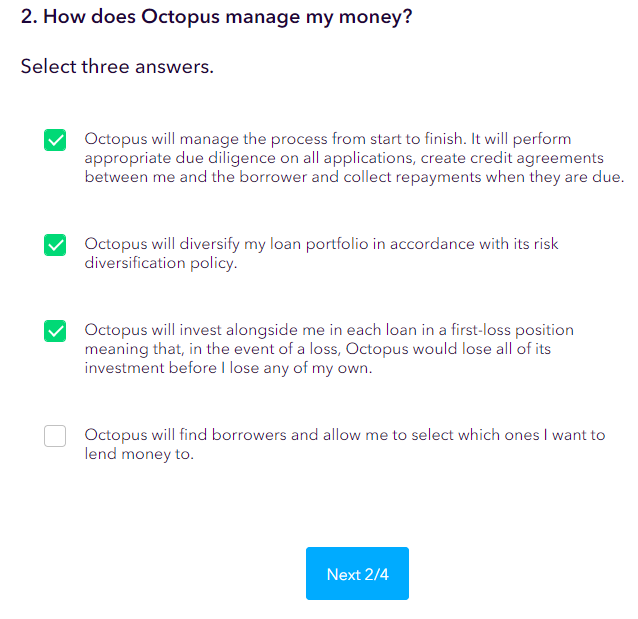 Octopus Choice isn't trying to make this question hard. You're told to select three answers. So you can rule out the fourth simply by knowing that through Octopus you don't select the loans you lend in yourself.
Regarding Octopus lending alongside you, it commits to lend in 5% of each loan. That's substantial enough to show commitment and to take the edge off if it's unable to recover all the money on a debt that goes bad when selling the property that backs each loan.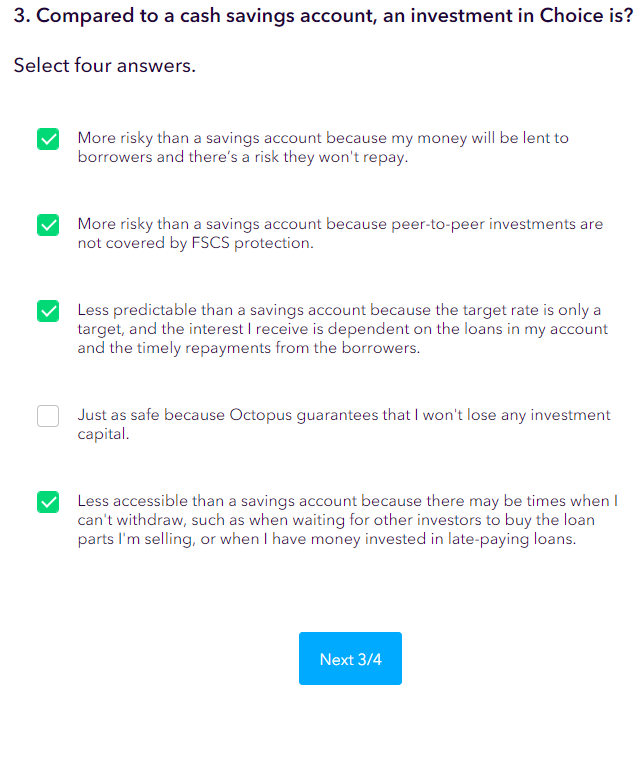 Again, this question is rather easy. How many of you would really think that you're guaranteed not to lose money? Octopus tells you there are four correct answers. So there's only one possible wrong answer.
I would just add that I don't totally agree with the second ticked answer. Yes, there's a greater risk of a sudden loss than with a savings account. But there's a far greater chance of growing your pot faster than prices rise with a basket of P2P lending accounts or IFISAs that include Octopus Choice.
If the money in your savings account grows slower than rising prices for years or even decades, that's a very substantial – and very real – risk. It means your savings pot only buys you more things in future than today if you keep adding more money to the pot. It's not self-sustaining.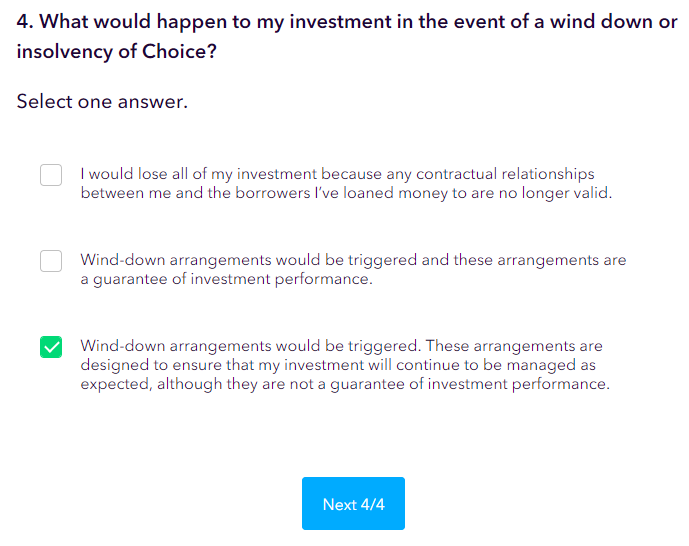 The biggest defence when a P2P lending platform or IFISA provider needs to wind down its service is the fact that you lend directly to borrowers. You don't lend to Octopus which then lends on to borrowers.
That contractual relationship still stands during a wind down. So if Octopus Choice has other debts, the money you've lent can't be used to pay those other debts. Octopus Choice is backed by a very large company that runs a billion pound in investments, so winding down should be a simple matter for it.
[orangebox]
Has anything changed in this test?
Dear 4thWay readers, please help us to give your fellow lenders up-to-date information. If you see anything at all in the test that's different to the questions and answers shown here, please send it over.
Pages linked to in this guide:
How To Pass The Investor Tests.
4thWay P2P lending website/IFISA provider reviews.
Octopus Choice's page on risks.
Independent opinion: 4thWay will help you to identify your options and narrow down your choices. We suggest what you could do, but we won't tell you what to do or where to lend; the decision is yours. We are responsible for the accuracy and quality of the information we provide, but not for any decision you make based on it. The material is for general information and education purposes only.
We are not financial, legal or tax advisors, which means that we don't offer advice or recommendations based on your circumstances and goals.
The opinions expressed are those of the author(s) and not held by 4thWay. 4thWay is not regulated by ESMA or the FCA. All the specialists and researchers who conduct research and write articles for 4thWay are subject to 4thWay's Editorial Code of Practice. For more, please see 4thWay's terms and conditions.
Our service is free to you. We don't receive commission from the above-mentioned companies. We receive compensation from some other P2P lending companies when you click through from our website and open accounts with them. This doesn't affect our editorial independence. Read How we earn money fairly with your help.