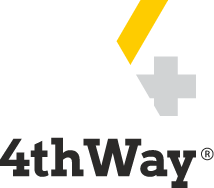 How To Pass LendingCrowd's Appropriateness Test
LendingCrowd* does lending to small businesses and allows lenders to optionally choose your own loans or auto-lend. LendingCrowd does a good job ensuring that you understand this kind of lending with its appropriateness test. It also offers useful little facts to aid you. I'm here to help you with facts too.
How to pass the LendingCrowd Appropriateness Test
Below you'll see the questions and answers in the LendingCrowd appropriateness test:
The selected answers are the correct ones.
Just one answer is correct in each multiple-choice question.
There are 11 questions.
After each question, inside the gold lines, I provide more information if you need help understanding the questions and answers – and understanding LendingCrowd better.
About 4thWay's series on How To Pass The Investor Tests
Warning: taking these appropriateness tests can cause pain or boredom! So, while 4thWay users are far more knowledgeable than most, we want to make things quicker, simpler, more educational and more understandable for you. You get plenty of help below. And you get plenty more help for many other peer-to-peer lending and IFISA providers in our How To Pass The Investor Tests series.
I'm sure I don't need to ask you to please make sure that you do your research thoroughly on all peer-to-peer lending and IFISA providers. You can do that by reading 4thWay's guides and provider reviews, and by looking into the opportunities for yourself.
If you can't correctly answer the questions in an investor test by yourself, you probably need to do a lot more research. Because the questions they ask cover just the bare basics about how they work. The tests don't inform you about how good they are at appraising potential borrowers or any of the other essential tasks they have to do on lenders' behalf. So arguably the most important bit is missing!
Here are the questions and answers in LendingCrowd's appropriateness test, and my own tips: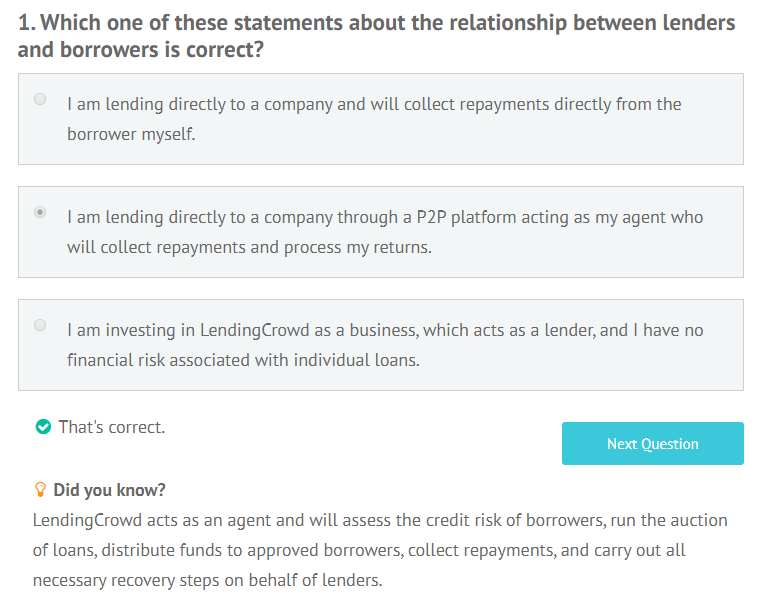 A defining feature of P2P lending is that you lend directly to the end borrowers. So, here, you don't lend to LendingCrowd which then lends on to other businesses. This means that if LendingCrowd itself ever borrows money from HSBC and then gets into trouble, HSBC can't take any of the money you have lent out. The borrower owes you, not LendingCrowd.
Beware that peer-to-peer lending is not a regulated phrase. In the past, some companies have described themselves as P2P lending without direct lending in place or a similar result through other legal structures.
4thWay only lists IFISAs and lending accounts when we have confirmation from the provider of a P2P structure, and we do our best to ensure they have the correct permissions and company structures in place.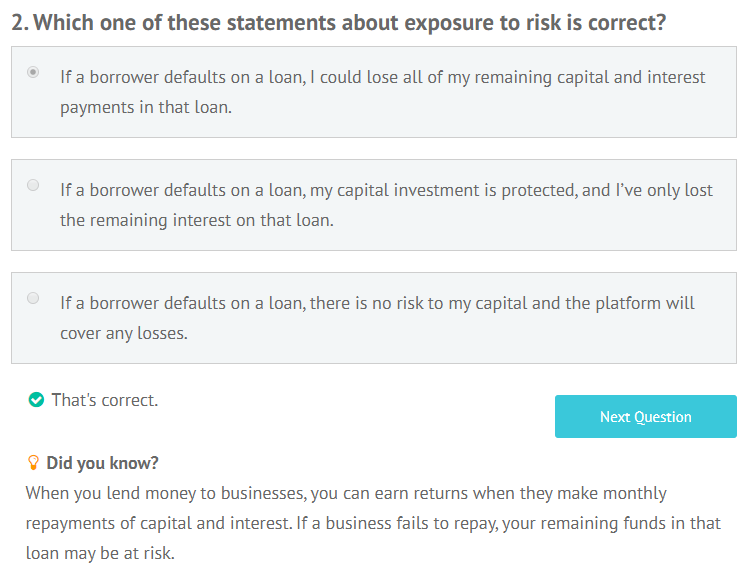 LendingCrowd's hint is very clear. I have nothing to add.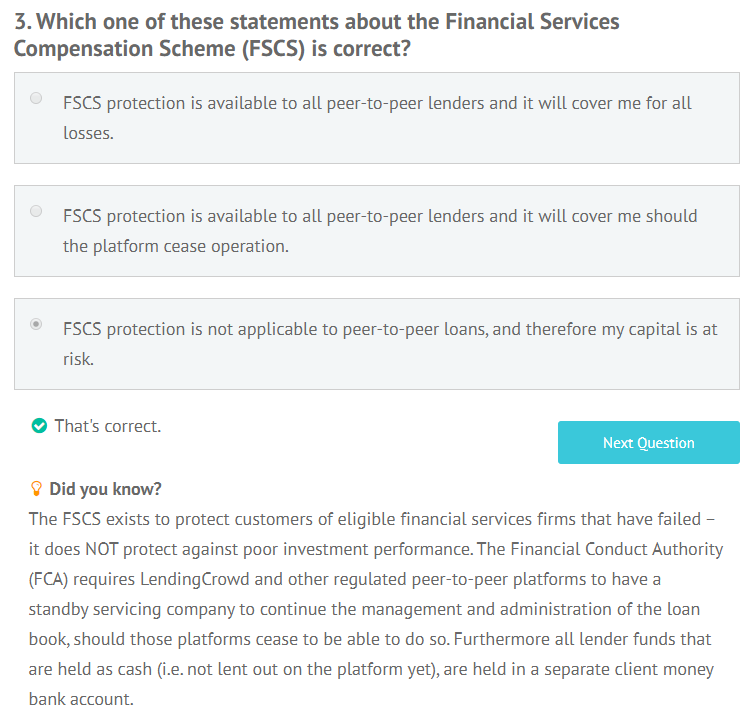 LendingCrowd's explanation is a bit technical. In short, the FSCS never reimburses investors if they lose money. That's regardless of whether you invest in the stock market, lend through P2P, or invest some other way.
If you had FSCS protection, the interest rates you could earn would be as pitiful as savings accounts, because most of the time risk and reward align themselves.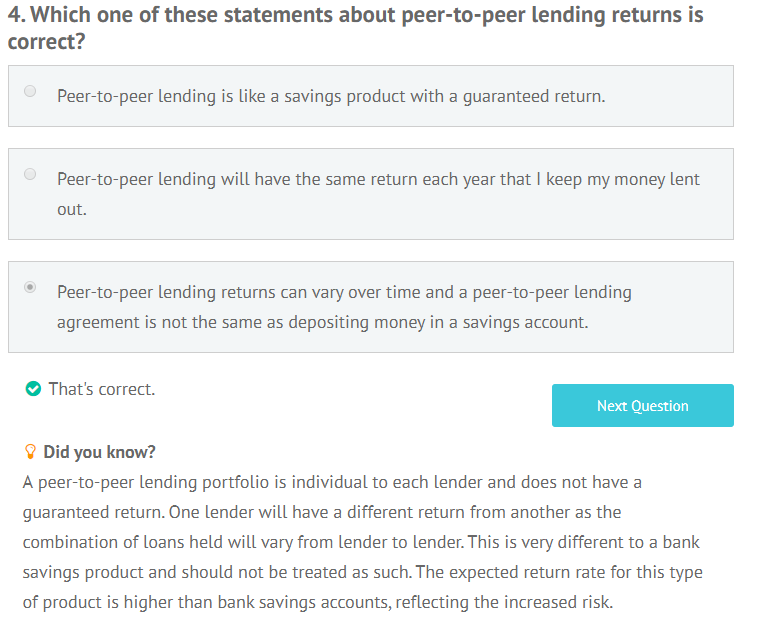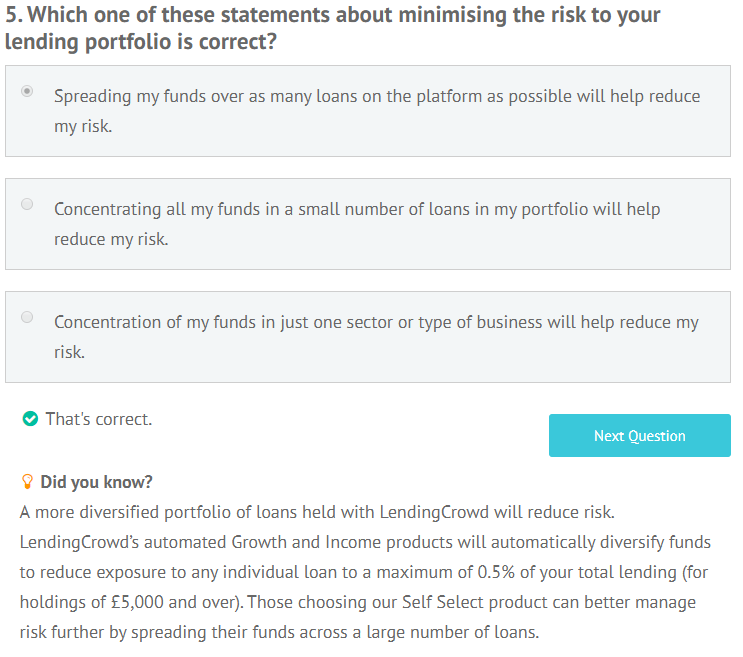 So LendingCrowd* will automatically spread your money across 200 loans, over time, if you lend £5,000. Or you can lend across that many loans if you choose manually for £4,000. This is a sensible spread to work towards over the course of several months for these kinds of loans and this level of risk.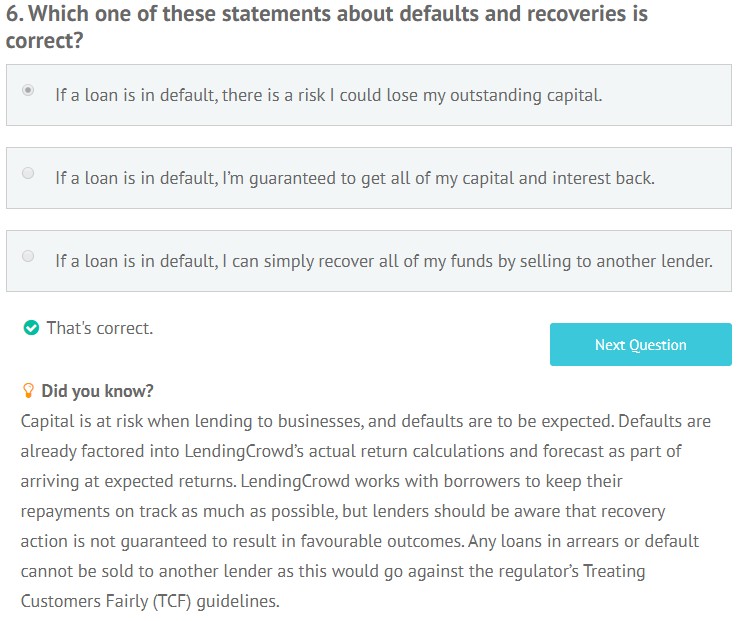 To add to LendingCrowd's tip: with small business lending of this nature, it's not normal to expect high recoveries of bad debt. What's more important is that LendingCrowd* chooses borrowers wisely and sets appropriate interest rates to cover the risk. Lenders then need to spread their money across lots of loans.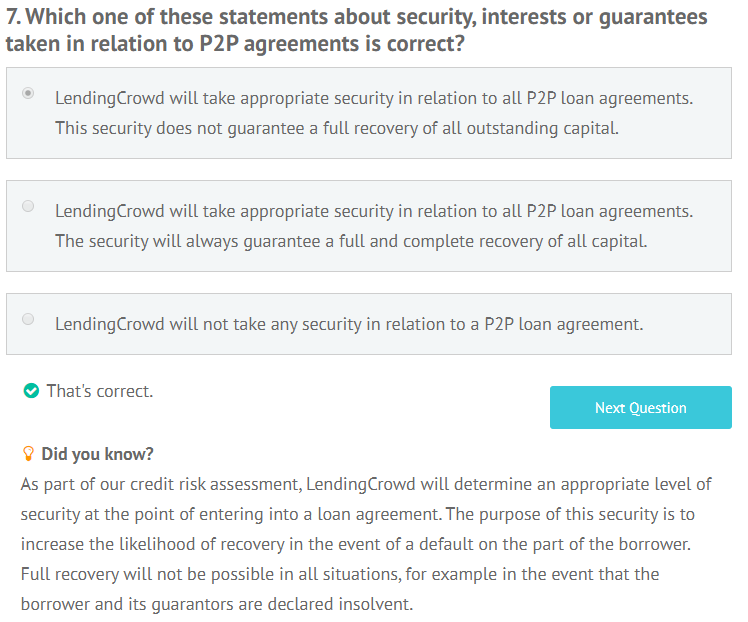 I don't like the wording of that question. LendingCrowd's loans are, according to its own data feed, often not secured at all. Most likely LendingCrowd takes personal guarantees from the directors, but I and many other specialists would not call that "security", as it's very weak in comparison to proper security.
Furthermore, when LendingCrowd does take proper security, it's usually one of the weaker kinds, especially compared to most property lending. For this kind of lending and security, we would generally expect recoveries to be on the lower side.
When a P2P lending platform or IFISA provider has security of this nature, 4thWay's specialists assess the loans with the same chances of recovery as if they were unsecured until proven otherwise. LendingCrowd hasn't yet demonstrated a record of making high recoveries.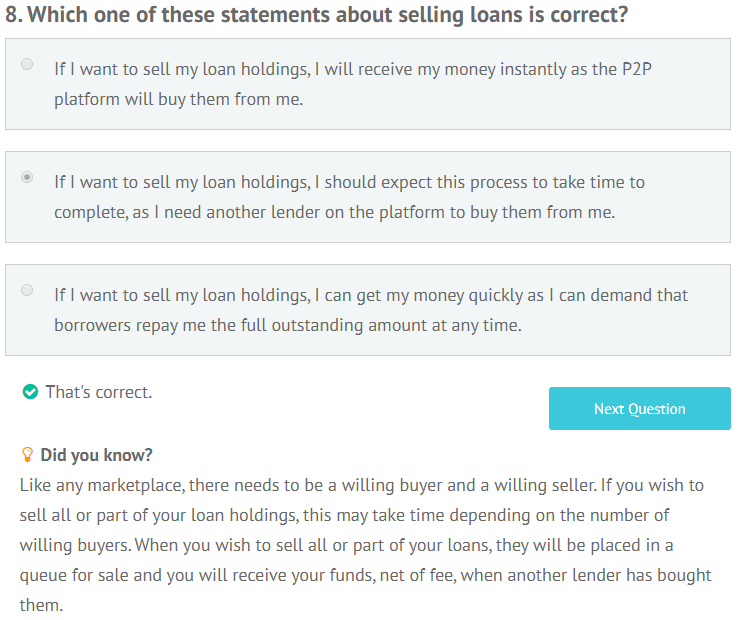 In contrast to the previous question, I like how this one is worded. Most P2P lending websites make it seem too easy to sell loans before they are naturally repaid by the borrowers. While lenders do usually get their money back quickly, this often won't be the case. Be prepared to keep lending – and earning interest – for longer.
If you're particularly worried about getting money back sooner, read 10 Ways To Get Your P2P Lending Money Back!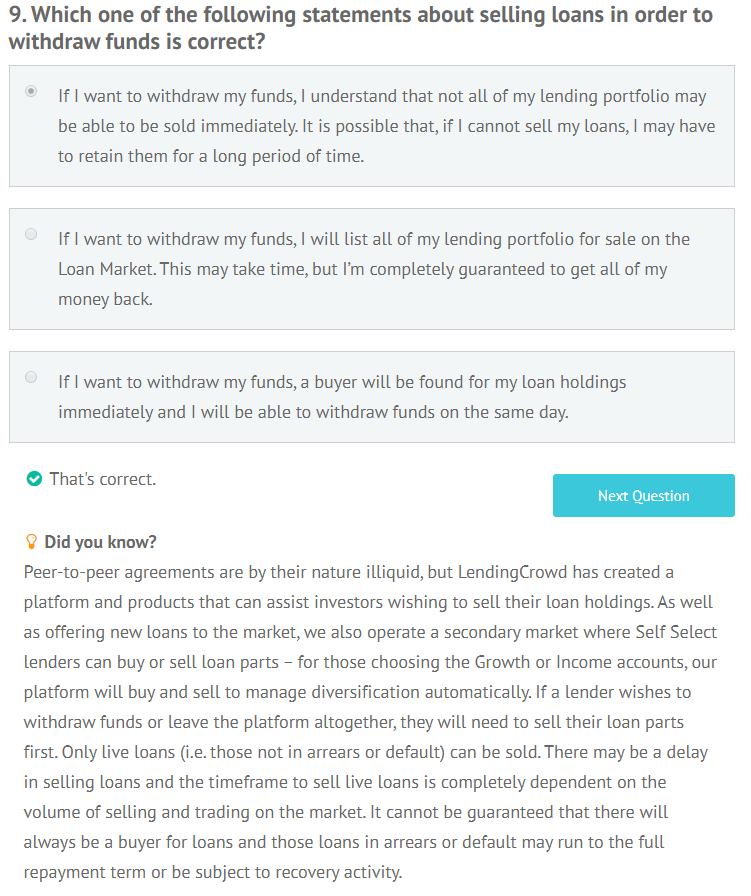 Nice to see LendingCrowd* emphasising this again. Good lending strategy is not about dipping in and out. You don't need the 10+ years' commitment that the stock market often requires, but you need some commitment at least to wait for a good chunk of your loans to be naturally repaid by borrowers  – just in case you can't get out as early as you would like.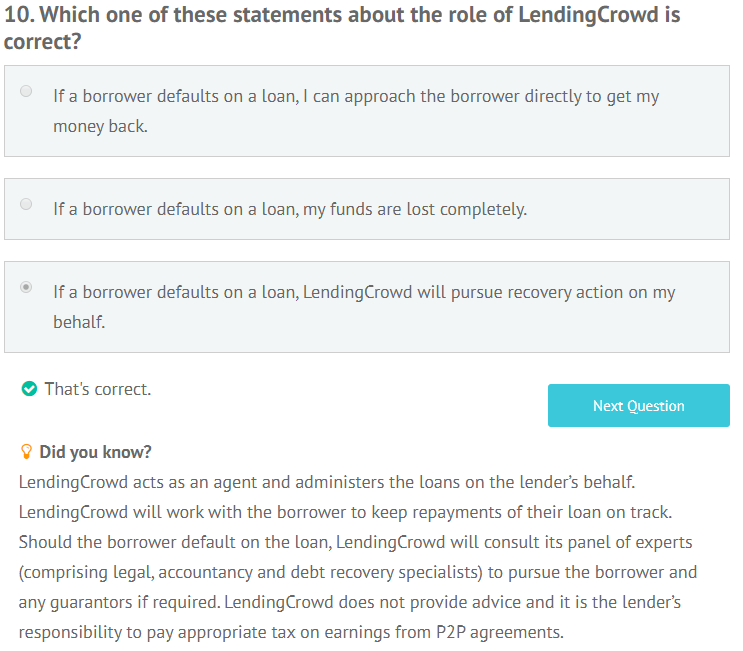 In peer-to-peer lending, it's always the platform in the middle that does the chasing of bad debts.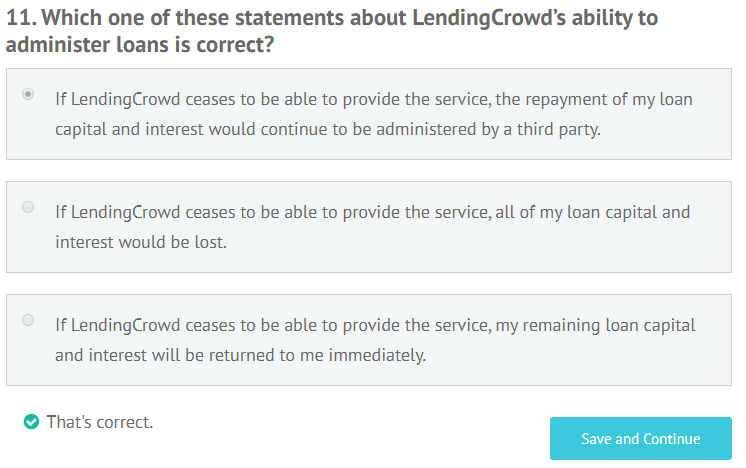 LendingCrowd* is required to have a plan to wind down gently if necessary, like all its competitors based in the UK. It has arranged for a specialist third party to continue administering existing loans until they are paid off.
Pages linked to in this guide:
How To Pass The Investor Tests.
4thWay P2P lending website/IFISA provider reviews.
10 Ways To Get Your P2P Lending Money Back!
Independent opinion: 4thWay will help you to identify your options and narrow down your choices. We suggest what you could do, but we won't tell you what to do or where to lend; the decision is yours. We are responsible for the accuracy and quality of the information we provide, but not for any decision you make based on it. The material is for general information and education purposes only.
We are not financial, legal or tax advisors, which means that we don't offer advice or recommendations based on your circumstances and goals.
The opinions expressed are those of the author(s) and not held by 4thWay. 4thWay is not regulated by ESMA or the FCA. All the specialists and researchers who conduct research and write articles for 4thWay are subject to 4thWay's Editorial Code of Practice. For more, please see 4thWay's terms and conditions.
*Commission, fees and impartial research: our service is free to you. 4thWay shows dozens of P2P lending accounts in our accurate comparison tables and we add new ones as they make it through our listing process. We receive compensation from Lending Works and other P2P lending companies not mentioned above either when you click through from our website and open accounts with them, or to cover the costs of conducting our calculated stress tests and ratings assessments. We vigorously ensure that this doesn't affect our editorial independence. Read How we earn money fairly with your help.