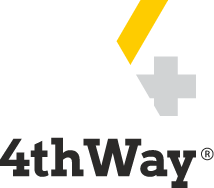 How To Pass Lending Works' Appropriateness Tests
Lending Works* is one of the simplest P2P lending platforms. On the surface, it's simple how lenders use it. Behind the scenes, it simple how it works too. For example, in that it has just one category of loan – "personal loans" – and borrowers can largely be assessed automatically. Its appropriateness test is therefore also one of the simplest.
The Lending Works appropriateness test has just six relatively easy questions. Even if you knew nothing about Lending Works before seeing the test (and possibly nothing about peer-to-peer lending either), you could still possibly guess all the correct answers.
I'll get to how to pass the test shortly, but firstly…
Who can lend through Lending Works?
Lending Works is available to all lenders. It makes it easy, with its minimum lending amount of £10, typically spread across thousands of loans.
You can lend through Lending Works* with no restrictions if you are:
A self-certified sophisticated investor. It can be easy to certify yourself; e.g., if you have lent in two P2P loans or lending accounts. Your previous lending through one or more Lending Works lending accounts counts as one-out-of-two.
A high net-worth investor – with £100,000 income or £250,000 in wealth.
The recipient of professional financial advice about peer-to-peer lending through Lending Works.
Businesses can also lend through Lending Works, although they still need to fit one of the above criteria. Again, your best bet is using the sophisticated investor route.
If you don't fit those categories, you're supposed to restrict yourself to investing no more than 10% of your wealth (excluding your own property) in peer-to-peer lending. Lending Works expects you to abide by that restriction for 12 months – not all P2P lending websites require that.
How to pass the Lending Works appropriateness test
I'll show you how to pass Lending Works' test in a minute. In the test:
The selected answers are the correct ones.
Just one answer is correct in each multiple-choice question.
There are 6 questions.
After each question, inside the gold lines, I provide more information if you need help understanding the questions and answers – and understanding Lending Works better.
About 4thWay's series on How To Pass The Investor Tests
Warning: taking these appropriateness tests can cause pain or boredom! So, while 4thWay users are far more knowledgeable than most, we want to make things quicker, simpler, more educational and more understandable for you. You get plenty of help below. And you get plenty more help for many other peer-to-peer lending and IFISA providers in our How To Pass The Investor Tests series.
I'm sure I don't need to ask you to please make sure that you do your research thoroughly on all peer-to-peer lending and IFISA providers. You can do that by reading 4thWay's guides and provider reviews, and by looking into the opportunities for yourself.
If you can't correctly answer the questions in an investor test by yourself, you probably need to do a lot more research. Because the questions they ask cover just the bare basics about how they work. The tests don't inform you about how good they are at appraising potential borrowers or any of the other essential tasks they have to do on lenders' behalf. So arguably the most important bit is missing!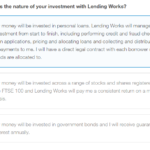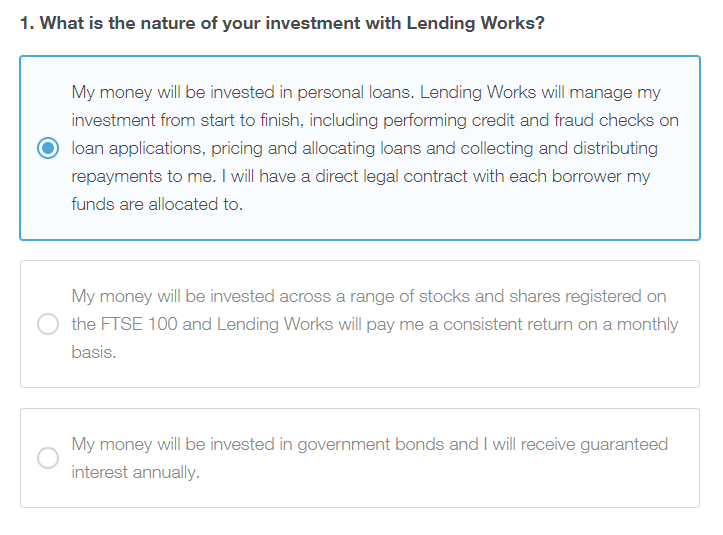 I guess they wanted to start with a ridiculously easy question to warm you up.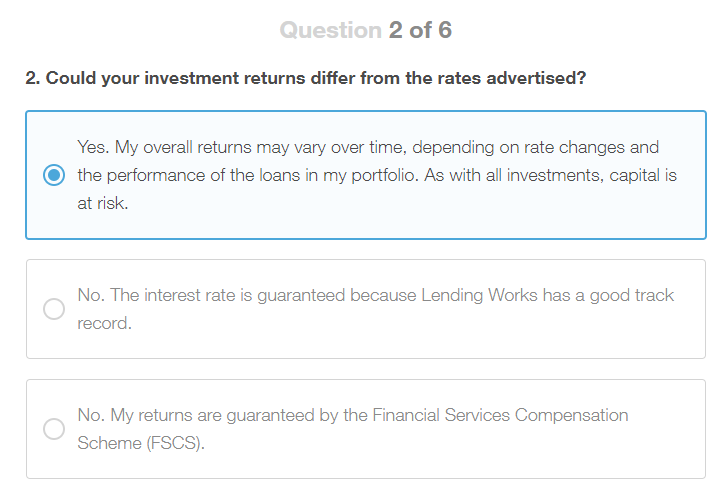 No investments (including lending) are protected by the FSCS.
Borrowers are charged fixed interest rates. Most of the interest paid by borrowers goes to lenders. Some goes into Lending Works' reserve fund (the "Lending Works Shield"). And some goes to Lending Works itself.
Lending Works* sets its rates once a month on new lending. Any money you already have on loan will continue to be lent at an older rate, but as soon as it is repaid to you, with interest, it will then be lent out again at the current rates.
In practice the rates don't move very often: perhaps just a few times a year.
For some lenders who have lent in previous years, Lending Works has modestly lowered interest rates on older loans, in order to divert more money to the reserve fund. You can read more about that in Update On Its Lending Works' Interest Rates, Reserve Fund & More.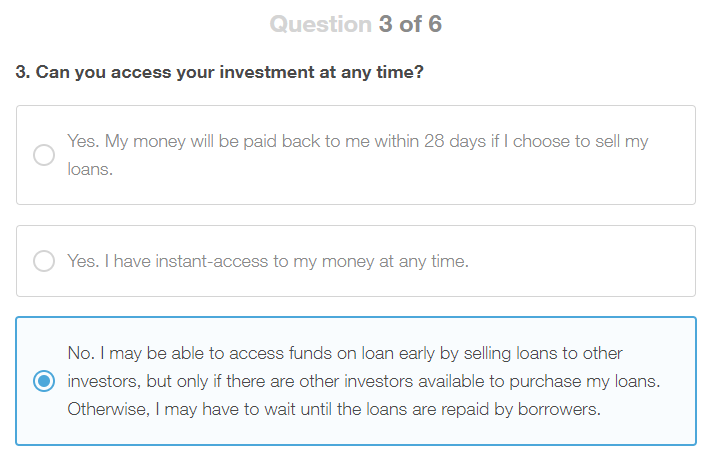 I feel like some P2P lending websites give the impression that withdrawing money is oh so easy, but not Lending Works in this question.
Yes, at many P2P lending websites, including Lending Works*, it actually has been easy, most of the time. Lenders have often got their money back within hours or days. But the reality is that the natural life of these investments is the length of the loans themselves. Selling immediately or quickly doesn't always work and won't always work. We have some examples of that happening in our guide: 10 Ways To Get Your P2P Lending Money Back!
In contrast, with the stock market, the natural life can be as long as one or two business cycles, which can be 10-15 years. While exiting earlier is far easier, you have to accept whatever the market price is at the time. So if you're selling in a panic you're probably selling your shares at a big discount.
That can't normally happen P2P lending. because you keep lending your money and earning interest until there are enough buyers to finally take over your loans for the full amount.
Lending Works might adjust the amount you get back in one scenario, however. If interest rates have risen, in order to compensate new lenders. For example, if you have been earning 5% on £1,000 and the new interest rates are 6%, you'll get back closer to £990. Lending Works also charges a small exit fee that is covered by just a couple of months' interest.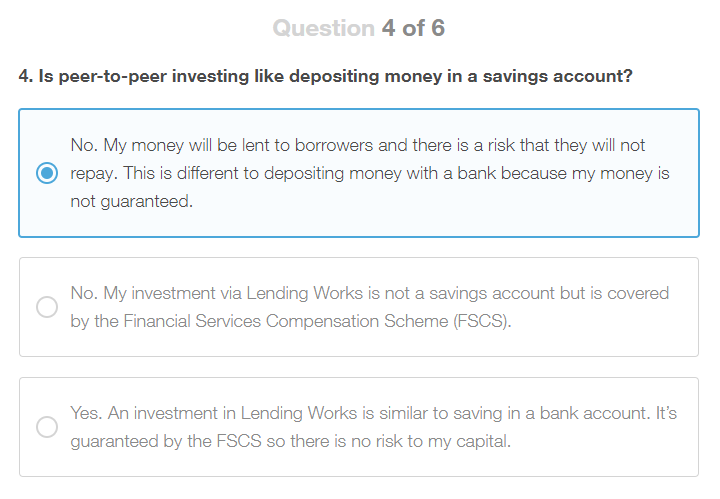 P2P lending is a form of investment and all investments contain risk. Otherwise, you would earn the same low rates as you do in savings accounts.
No investments are protected by the FSCS, partly for the same reason. It would remove almost all possible risks and push the rewards down.
[orangebox]
Has anything changed in this test?
Dear 4thWay readers, please help us to give your fellow lenders up-to-date information. If you see anything at all in the test that's different to the questions and answers shown here, please send it over.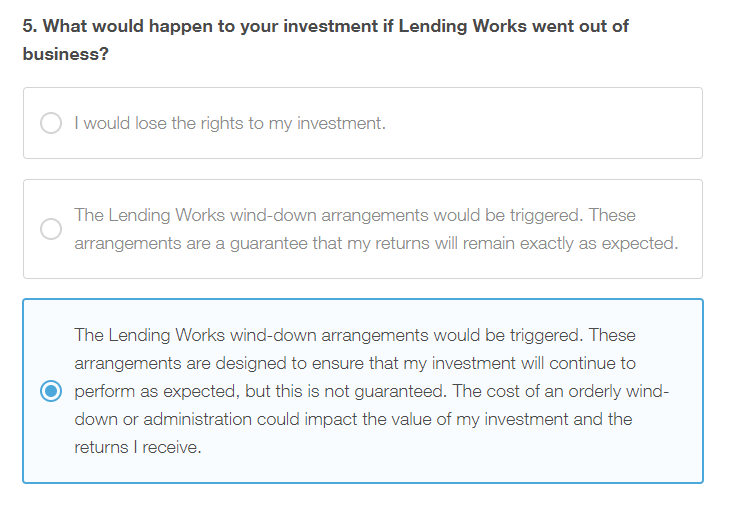 The financial regulator now reviews wind-down plans. While that is no guarantee that the plans will work and be as cost-effective as projected, the fact is that winding down a book of loans is not especially costly.
After jettisoning unnecessary costs – such as the staff and technology costs in assessing new borrowers, and all the advertising costs in finding new borrowers and lenders – a streamlined operation can run down a book of loans relatively cheaply.
The risk of losses due to the costs of winding down at a regulated P2P lending website as professional as Lending Works is low. Read more in The Key Risks In Peer-To-Peer Lending.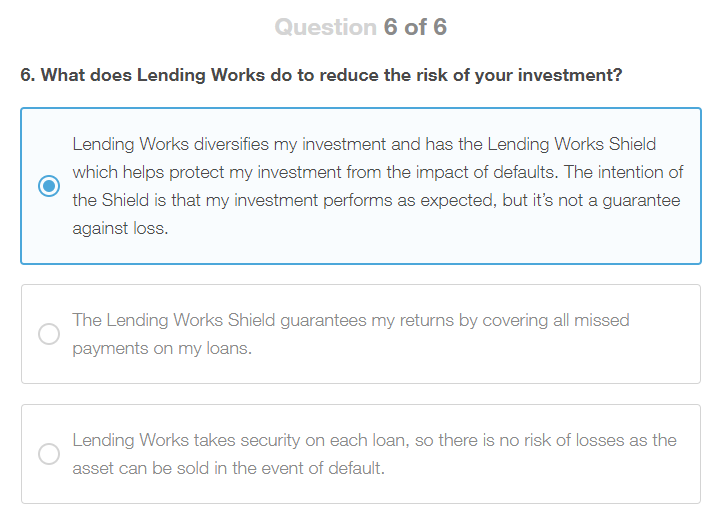 Lending Works* does unsecured lending, meaning that it's not as easy (but not impossible either)  for Lending Works to force a sale of the borrower's vehicle, possessions or even property to recover a bad debt. Indeed, with these kinds of loans, low recovery of debts that go bad is a typical feature. That is taken into account when approving borrowers and setting interest rates.
Lending Works' key defences against bad debts, in order of importance, are:
Professionally selecting a balanced to low-risk mix of borrowers.
Setting sensible borrower interest rates to cover bad debts, the Lending Works Shield, lender interest and Lending Works' take.
Spreading lenders' risks across thousands of borrowers.
Through the Shield itself. Usually, the Shield covers all or most losses without more lender interest having to be diverted from it.
4thWay's specialists currently calculate that Lending Works' lenders can expect to come out with positive returns even in a severe recession, provided you hold onto your loans until they are fully repaid by the borrowers.
Pages linked to in this guide:
How To Pass The Investor Tests.
4thWay P2P lending website/IFISA provider reviews.
Update On Its Lending Works' Interest Rates, Reserve Fund & More.
10 Ways To Get Your P2P Lending Money Back!
The Key Risks In Peer-To-Peer Lending.
Independent opinion: 4thWay will help you to identify your options and narrow down your choices. We suggest what you could do, but we won't tell you what to do or where to lend; the decision is yours. We are responsible for the accuracy and quality of the information we provide, but not for any decision you make based on it. The material is for general information and education purposes only.
We are not financial, legal or tax advisors, which means that we don't offer advice or recommendations based on your circumstances and goals.
The opinions expressed are those of the author(s) and not held by 4thWay. 4thWay is not regulated by ESMA or the FCA. All the specialists and researchers who conduct research and write articles for 4thWay are subject to 4thWay's Editorial Code of Practice. For more, please see 4thWay's terms and conditions.
*Commission, fees and impartial research: our service is free to you. 4thWay shows dozens of P2P lending accounts in our accurate comparison tables and we add new ones as they make it through our listing process. We receive compensation from Lending Works and other P2P lending companies not mentioned above either when you click through from our website and open accounts with them, or to cover the costs of conducting our calculated stress tests and ratings assessments. We vigorously ensure that this doesn't affect our editorial independence. Read How we earn money fairly with your help.