The 3 Top Property P2P Lending Sites To Lend In Now
Click "Learn" to get help
This piece has been updated since first publication in February 2017.
Here is my personal list of the absolute three top property P2P lending sites from among the many excellent property lending opportunities.
1. The top property P2P lending site
I'm very sorry to be boring, but this is not surprising to any of you already familiar with P2P lending: Landbay currently has the edge over my number two, based on its low risks and its historical record.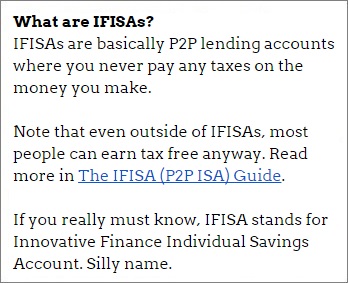 Here are what I think are the biggest points. Most of these are plus points because I think there are few negative ones:
Landbay* has done over £100 million in P2P loans.
There have been no late payments or bad debts.
The interest rates are around 3.5%. This is tax free to all if you lend through Landbay's

IFISA

, although if you invest fairly modest amounts you pay no tax anyway.
Landbay automatically spreads your money across several loans (this changes, but most recently it was "at least five"); we lenders don't have to choose them ourselves.
Landbay might, however, take a good number of weeks to lend out all your money, since there is sometimes quite a wait before there are enough new mortgages to lend in.
It focuses exclusively on low-risk residential buy-to-let mortgages.
If the landlord can't pay the mortgage then Landbay repossesses the property and repays us our money and interest.
On average, loans are for less than 70% of the property valuation. This means that if the property is worth £100,000 then the loans are for under £70,000.
On average, the landlords are earning well over 1.5 times more in rent than they pay out in monthly Landbay mortgage payments.
There's a reserve fund that is 0.6% of all outstanding loans in case repossessing and selling properties doesn't recover all the money we're owed by the borrowers. It sounds small, but it's a substantial extra benefit.
You can open an account for as little as £100. Unfortunately, for Landbay's

IFISA

the minimum is £5,000.
One more point on lending to landlords: this is even better than lending to homeowners in that a judge might refuse to kick out a homeowning family that can't pay its bills. Judges have no such qualms forcing landlords to sell though.
2. Proplend has great
security

and high rates

I feel a bit mean giving Proplend* in just second place in my list of top property P2P sites, and soon you'll see why.

I like Proplend for its simple service, extraordinarily low-risk property loans and very attractive interest rates.

Here are my key points on Proplend:
Similar to Landbay, it lends mostly against rented properties, which is the safest kind of lending.
These properties might be residential buy-to-let or they could be office blocks or other commercial premises.
You can easily identify loans that are for just 50% or less of the property valuation, e.g. if a borrower has a property worth £1 million, the maximum borrowed in this loan is £500,000. To identify these loans, just look for Proplend's "tranche A" loans.
Lending interest rates even in the lowest-risk "tranche A" range from 5.5% to 7%, which I think is very attractive for the risks involved. If you take a bit more risk with tranches B and C then you can earn more.
Tens of millions have been lent through Proplend although the loans are larger than with Landbay, so fewer loans have been completed. This less full history is the sole reason Proplend is only second on my list. Recently there have been more new loans on offer at Proplend than at Landbay though.
Borrowers with rental properties are receiving monthly rent that is considerably more than the monthly payments.
Proplend recently started doing development property lending, and lending against

brownfield sites

. Such loans do not receive rent and the intrinsic risks in such loans are significantly higher. It makes sense to avoid lending in such loans until Proplend has built more of a record.
Proplend takes three to six months' interest payments in advance for extra protection.
As with Landbay, it's not hard to repossess and sell property if a borrower can't pay.
The downside to me is that we need to lend at least £1,000 per loan.
(Note that you can open Landbay and Proplend accounts simultaneously using our free account opener, saving you time, and you get free guides into both platforms too!)
3. Last, but definitely not least, FundingSecure
This last one is a tough call since there are several sites that are kind of similar offering many exciting individual property loan opportunities, including Assetz Capital*, Funding Circle, HNW Lending* and MoneyThing.
But FundingSecure is my final pick of the top P2P lending sites. Here are the pros and cons:
FundingSecure is the most substantial of my three top property sites, having done well over £100 million in P2P lending, over half of which are property loans.**
FundingSecure offers

bridging

and property

development loans

, which are usually higher risk.
This is mostly because, overall, the borrowers can more easily overextend themselves, there is no rent to cover the loan payments and the risk that the debt can't be repaid in full at the end is higher.
It takes a bit of work sifting through loans to choose the ones you want, but you can find even more opportunities than at Proplend for 50% or less of the property valuation, although they do not receive rent that covers the loan payments, unlike Proplend's mortgages.
FundingSecure always uses the current valuation, even on

development loans

, which is a good thing. (Most P2P lending sites instead use the hoped-for future valuation after the property development is hopefully completed.)
The interest rate lenders earn is 12% on all these loans. I believe that's fair for

bridging

and developments in general, but for loans that are 50% or less of property value, that's really good.
Unlike Proplend, the minimum you can lend on each loan is a highly affordable £25.
Unlike Proplend, it takes some work to assess the loans. In particular:
You have to make sure that there is a "

first charge

", meaning that you are first in the queue to get your money back if there are other banks or businesses that have lent to the borrower and the property has to be repossessed, and
You also need to consider whether FundingSecure has agreed to lend more money to the same borrower on equal terms. Read the details to see if FundingSecure has approved other "tranches" that will increase the total debt and the risks.
Visit Landbay*, Proplend* or FundingSecure. Or, if you need even more information first, read all their Quick Expert Reviews in our comparison tables.
Independent opinion: the opinions expressed are those of the author and not held by 4thWay. 4thWay is not regulated by the ESMA or the FCA, and does not provide personalised advice. The material is for general information and education purposes only and not intended to incite you to lend.
All the experts and journalists who conduct research and write articles for 4thWay are subject to 4thWay's Editorial Code of Practice. For more, please see 4thWay's terms and conditions.
*Commission and impartial research: our service is free to you. We already show dozens of P2P lending companies in our accurate comparison tables and we keep adding more as soon as they provide us with enough details. We receive compensation from Assetz Capital, HNW Lending, Landbay and Proplend, and other P2P lending companies not mentioned above when you click through from our website and open accounts with them. We vigorously ensure that this doesn't affect our editorial independence. Read How we earn money fairly with your help.
**Note that due to how FundingSecure works by deliberately rolling over short loans, the actual total lending figure is probably a fair bit lower.