The BridgeCrowd Review: Earn 9% On Property Loans
Click "Learn" to get help
This page was last updated on 1 August, 2020
BridgeCrowd Review: it professes solid loans and interest rates, but insufficient information
It's now over half way through 2020. BridgeCrowd had a fantastic record up to mid-2018 – when its information stops. 4thWay has not been able to assess BridgeCrowd for several years. And the figures we present to you on the 4thWay website – you should be aware – are also therefore hopelessly out-of-date.
BridgeCrowd's failure to provide sufficient, detailed, up-to-date information on the ongoing and historical performance of its loans, either publicly or to 4thWay, seems inexplicable. Not in small part because BridgeCrowd has one of the best records of positive reviews by lenders of all the P2P lending companies.
It has done over £100 million in loans and it has an experienced team that has approved tens of millions more of the same types of loans prior to BridgeCrowd. Up until July 2018, the BridgeCrowd team has said it suffered zero losses on any loans since at least as far back as 2002, although we have no details on loans that are late or in trouble since then.
Particularly if BridgeCrowd has continued the good record it claims to have, and based on the less-than-full information available to us, we believe the interest rates are very attractive and more than high enough for the risks involved, even during a severe recession and horrendous property crash.
But we, and prospective lenders, have simply had insufficient information for too many consecutive years. It is most unusual to earn such high interest rates and suffer so few bad debts, which means that BridgeCrowd should put a lot more effort into providing evidence of its results.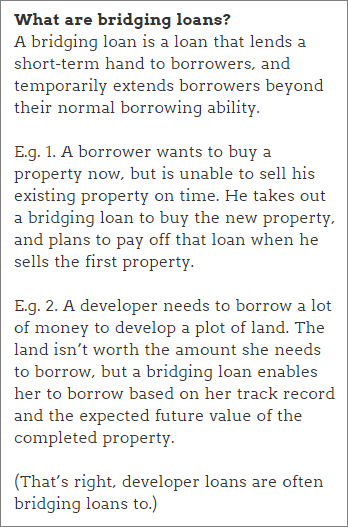 Let's look under the bonnet of this bridging loan P2P lending website. (See sidebox about bridging loans.) Here's our BridgeCrowd Review:
Most interesting points
The minimum lending amount is high at £5,000 per loan.
BridgeCrowd has previously told us that its interest rates are typically 11% per year, but we've seen no supporting data for a very long time. We now estimate that 9% before bad debts is more realistic.
Loans are for six months to one year and are large property loans.
BridgeCrowd still claims in 2020 that no lenders have lost money, since it started matching loans in 2014.
From January 2010-2014, the company did non-P2P

bridging loans

and none of those loans lost them money either.
The limited information available indicates that around a quarter of loans require extensions or fall late, but it's easy to manipulate those figures when no supporting data is provided to back it up. A quarter is, however, about the amount we'd expect for the kinds of lending that BridgeCrowd does.
Feedback from people who lend through BridgeCrowd indicates it tackles bad debts swiftly, which is an absolute necessity for these kinds of loans. Otherwise, the risk of losses rises considerably.
All BridgeCrowd loans are secured.
Sometimes you're

first in the queue

to recover your money if your borrower can't pay its bills and legal action is required…
Sometimes you're second or third in the queue.
The typical maximum loan amount is 70% of the property valuation.
When you're not

first in the queue

to recover bad debts, the typical maximum loan amount (on your loan and those higher in the queue combined) is 65%.
The average loan amount (as of July 2018, I'm afraid) is 59.2% of the property valuation.
Since it's a temporary

bridging loan

, the borrower could well be over-stretched, currently borrowing more than would normally be acceptable based on their current income. The borrower's ability to exit the loan at the end through a sale or other means is critical.
RICS surveyors' indemnity insurance could cover you if the property valuation was faulty (but the insurance doesn't protect you from crashing property prices).
BridgeCrowd doesn't make any money on a loan until lenders have received all their money back and all the interest that you were expected to receive.
The structure of BridgeCrowd and all its companies is rather complicated, as is the legal structure when lending through BridgeCrowd.
Your lending is not regulated and you're not covered by the

Financial Ombudsman Service

.
Who can lend?
Individuals and businesses can lend through BridgeCrowd.
Size matters
BridgeCrowd is larger than most P2P lending websites. It has done around £100 million in lending and is setting up 5-10 loans per month, typically for large amounts.
It's size and history means that we lenders should have a lot to go on in terms of assessing it. Unfortunately, few details are provided and they are seriously out-of-date.
It would be interesting to have more details to go with the scale it's achieved. For example, how it apparently has an impeccable record while lending such large amounts at high interest rates. It's certainly not impossible, but it is also not common for these kinds of loans, so this means it should really provide an awful lot of information to prove it.
Borrower selectivity
BridgeCrowd does all the essential fraud, credit and affordability checks.
BridgeCrowd has kindly summed up its selection process for us:
Get a valuation of the property.
Loan amount is below 70% loan to value (including loans ahead of the queue if this loan is in second place). This is just a slight increase on a few years earlier.
In the event of default: What is our safety margin assuming worst case scenarios? (Including recovering the loan amount plus interest plus any fees for debt collection.)
Are we happy with our safety margin?
What is the borrower's exit strategy? If it is to sell the property then proceed to lend to them. If exit is re-mortgage or another strategy (e.g. to pay using a pension or drawings from a business) then how likely is this to happen?
BridgeCrowd's heavy focus is on quality of the property security rather than quality of the borrower. We prefer to see equal emphasis on both, but lending on the basis of security alone always enables higher potential interest rates, which BridgeCrowd offers.
We don't know if it does many developer loans – which can be a type of bridging loan. This is where quality of the borrower can become particularly important. In the case of development loans, we are pleased to see that BridgeCrowd bases its decisions on the current property valuation, not the hoped-for future value after works are completed. That is appropriate when the loan is based almost entirely on security quality.
BridgeCrowd Review – experience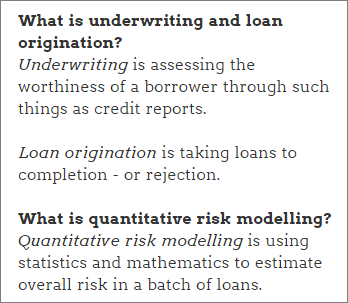 Underwriting and loan origination: Louis Alexander is BridgeCrowd's founder. He originally set up BridgeCrowd with his father, Michael Alexander, an accountant. Together, they had been working on bridging loans since 2009/10.
Michael has over 30 years in bridging, but his role at BridgeCrowd is now very limited. Louis and his younger team have over 20 years' experience between them.
Quantitative risk modelling: BridgeCrowd has no apparent experience in quantitative risk modelling. This blank doesn't necessarily put an end to BridgeCrowd. Its small size and its heavy focus on security, as well as its bridging experience, could all help to make up for any potential shortfalls.
In addition, it is rare to see quantitative risk modelling in bridging or development lending, because loans tend to be larger with fewer of them, which makes number-crunching of this type less likely to provide valid results.
Debt collecting: BridgeCrowd has permission from the financial regulator to chase bad debts, although it still farms out the legal aspect of this when appropriate. That is completely normal for bridging lending. The evidence we have is that it very rapidly chases debts that go late and takes legal action early. This is absolutely appropriate for these kinds of loans, in order to minimise the risk of losses.
How lending works
BridgeCrowd emails you about a loan opportunity. It sets the interest rates for individual loans that it has approved.
You choose whether to lend in that loan.
You can ask BridgeCrowd additional questions about specific loans.
You pledge money to a loan via email before the loan starts and provide proof of funds.
If the loan is fully funded, you transfer the money and start lending right away. You can do free, same-day bank transfers.
You receive interest every month – usually around 1% – direct to your bank account. (Note that this is unusual since the borrower usually pays all the interest at the end of the loan only. So BridgeCrowd seems to be paying you in advance, perhaps from its arrangement fees.)
You get your initial loan back at the end of the loan period. The money is paid back to your bank account.
Early exit and
secondary market
You can sell your loan parts to other lenders or to BridgeCrowd, if either are willing to buy. You do this through BridgeCrowd's secondary market.
BridgeCrowd makes no charge for this.
You can list your loan parts for sale for the full amount. Alternatively, if you want, you can sell your loans for a discount. E.g. if you want to sell a £10,000 loan part, you might try to speed up the sale by offering it for £9,800.
Lending costs
Note that, while BridgeCrowd charges a 1% lending fee, your total lending costs are going to be considerably higher. You can find out why in  There's No Such Thing As "No Lender Fee".
Unfortunately, BridgeCrowd has not provided sufficient information for us to estimate your actual costs.
Trading loans
It costs nothing to sell your loans to other lenders, but you earn no interest while you wait to sell. At the point you list your loans for sale, then, you have all the risk with no reward.
It's therefore probably not as beneficial to buy new loans and sell them before the end as it can be with other bridging loans, unless loans are selling fast at the time.
Tax-free lending
BridgeCrowd has taken its merry time to set up an ISA, although it has been suggesting it will do so for many years. It seems likely to me that the structure of BridgeCrowd loans makes it difficult to pass the rules for lending through an IFISA.
More on that in the next section.
At the same time, basic-rate and non-taxpayers will be allowed to earn £1,000 of interest tax free even if they are not lending through an ISA. Higher-rate payers can earn £500 of interest tax free. This is through your Personal Savings Allowance, which applies to your savings too.
Unlike some other P2P lending opportunities, BridgeCrowd is not currently available in a pension. As with its planned ISA, it has been suggesting for many years that lending through pensions (SIPPs) is coming.
The mystery of BridgeCrowd
We've always found BridgeCrowd (a trading name of Social Money Limited) quite curious.
The senior management talks like it wants to engage with us and sometimes does so quickly and other times doesn't.
It appears to have an excellent record from the very limited information it publishes, but it only publishes aggregated statistics that are typically 1-2 years out-of-date, and it doesn't really provide much information about what's going on with late loans, whether it extends loans or rolls them over a lot – a potential sign of can-kicking – or how rapidly it recovers bad debt, among other things.
Its website is hopelessly out-of-date, still listing, for example, a former director who had 30 years experience in this kind of lending. He stopped being a director two years ago and now has limited involvement.
From what we gather anecdotally, lenders using BridgeCrowd appear to be happy with it in terms of their interest rates and the speed and energy BridgeCrowd puts into recovering bad debts – which is essential for this kind of lending. So that makes it especially curious that BridgeCrowd doesn't provide many answers to the general public or to independent analysts such as 4thWay.
Some of the questions we posed to BridgeCrowd in July 2020 were just to see if it would give us a high-level, up-to-date summary of its performance. But they wouldn't even give us that right now.
It has put off answering our questions about directorships, its myriad companies listed at Companies House and how they are interconnected, or whether interest is technically paid out from its trust fund. (Mostly we're asking about that last one for tax purposes – if paid from the trust then certain lender tax reliefs are applicable).
It didn't answer questions about its capital requirements either, which are just perfunctorily mentioned in its contract with lenders. It didn't answer queries into its wind-down plans or whether they are funded.
We know it plans to create "other P2P offerings", but have no idea how they are connected or what this means.
BridgeCrowd Review: a lot of unanswered questions
We asked BridgeCrowd just some of our outstanding questions in July to attempt to begin a more extensive conversation and an exchange of data. We set our sights low in terms of the complexity of our queries and the detail we asked for, since we know from experience that P2P lending companies that provide little information up front are generally not willing or able to answer very detailed questions or requests for data.
Its CEO decided not to answer these until some time in September, with the unhelpful explanation that the questions are "time/competitor sensitive". Questions it didn't answer include:
Please tell us about City United Properties Limited
Specifically can you tell us about its connection to Social Money Limited through charges and now to you through your directorships/PSC?
United City Properties Limited
Can you explain this business with a similar name?
Somo P2P Limited
How is this platform going to be connected to, or take over from, BridgeCrowd? Why did you not just change the name of Social Money Limited?
All Somo companies
What will the full structure of Somo Bridging Limited, Somo Holdings Limited and Somo P2P Limited do?
Social Money Two Limited
What have you set up this company for?
Interest paid to platform lenders
Do you know if technically speaking – legally speaking – the interest paid out to platform investors is interest from the trust fund? Is that how it legally works or is it counted as interest from the bridging borrower or BridgeCrowd itself?
Capital

requirements

Your investor terms mention that you stick to the FCA's capital requirements. What are the requirements for  BridgeCrowd?
Wind-down arrangements
Do you have any wind-down plans you can share, and how are they funded?
A very quick update on your loans
We know that providing lots of precise data is a big chore for you, so please could you just say roughly:
The total number of loans that BridgeCrowd has ever approved.
Roughly how many loans are outstanding.
Roughly how many loans are in arrears by 180 days or more.
Roughly how many loans you class as defaults?
Has BridgeCrowd had any loans where some

capital

has been written off – how many loans was that?
Roughly how many of your outstanding loans have been extended or are renewals of prior loans? (With a renewal being an agreement for a new loan based on the same or nearly all the same

security

– the renewed loan amount can vary.)
BridgeCrowd takes no pains to publish timely and complete information or to share it with 4thWay. It also takes no pains to make the limited information it does publish clear.
Is BridgeCrowd hiding big problems for lenders? Or is it naive in its marketing, PR or how it deals with independent analysts? Is it just too busy? Does it think it's already so successful it doesn't need to work on its reputation or increase appeal to new lenders? Is it just giving up on BridgeCrowd as it moves on to other P2P ventures?
The fact is that, almost without exception, the P2P lending companies that have ultimately gone on to cause the most consternation for lenders are the ones that don't provide a lot of public information or keep that information up-to-date.
Is BridgeCrowd truly P2P lending?
Peer-to-peer lending is not a regulated phrase. By 4thWay's definition, any online lending company is peer-to-peer of it structures itself and its loans to protect lenders in the event that the lending company itself goes bust. Because, from lenders' point of view, this is the key purpose of direct lending.
Such structures can be achieved in different ways.
The most common way is to create direct lending agreements that the regulator calls "P2P agreements". If you're a little familiar with the technical side of this, you'll know these are article 36H agreements. Another common way to faciliate effectively direct lending can be through setting up bonds correctly, possibly through special companies called special purpose vehicles (SPVs), which when set up correctly can be "bankruptcy-remote" – sheltered from other connected business' bankruptcy.
It can all get quite complicated to ascertain if an online lending company is genuinely P2P, based on the legal basis of each loan contract or how the benefit of that contract is passed from one lender to another, as well as how, and if, the lenders can be properly identified for each borrower.
BridgeCrowd has gone another route in how it is legally structured. It lends money to the end borrowers itself. It then assigns not the entire loan contract itself but the beneficial part of the loan contract (meaning the repayment of the debt and the interest due) to lenders using BridgeCrowd's online platform. Technically, lenders using the platform are lending to BridgeCrowd, but BridgeCrowd's obligation to repay is limited to whatever the end borrower repays.
BridgeCrowd then uses a trust to protect lenders' cash, as well as the proceeds received from end borrowers. The property security is also held on trust for the exclusive benefit of lenders, allocated to each individual lender as per the terms of the trust.
A lawyer has confirmed to us that this structure as described should protect lenders from seeing their money being diverted to Barclays Bank – or whoever – in the event that BridgeCrowd went bust. This is provided that BridgeCrowd has set up the trusts and agreements correctly. Our legal advisor said: "Legally these protections can work and all but eliminate insolvency risk – but they must be strictly followed in practice.
BridgeCrowd is not regulated for lenders and there's no recourse to the ombudsman
BridgeCrowd is regulated for some activities, such as chasing bad debts. However, your lending is not protected by the Financial Conduct Authority, because BridgeCrowd's relationship with you is not regulated.
We also therefore can't envisage any realistic circumstances as to when lenders using BridgeCrowd's online platform might be able to submit a claim to the Financial Ombudsman Service (FOS).
Why? Firstly, because you're lending to BridgeCrowd. When you lend to a company, the borrowing company isn't suddenly regulated or open to complaints to the FOS.
Secondly, because BridgeCrowd's regulatory permissions are borrower-facing, not lender facing, such as debt collection. It has the additional regulatory permission to be a regulated lender itself. However, that doesn't concern your lending to BridgeCrowd.
The fact that it doesn't have permission to hold client money is further evidence that BridgeCrowd is not handling investments in any legal or regulatory definition. When it holds your money, it's doing so because you have lent money to it; not because it's providing investment services for you.
Financial health
BridgeCrowd's filed company accounts are short, but at least up to 2019 it appears to have been a profitable business. BridgeCrowd's owners are wealthy, having often participated in large loans themselves in a big way.
As far as we can tell, BridgeCrowd's founders put their money where their mouths are by lending their own money in all loans. Information on this has, if anything, got even sketchier over the years.
More:
You can see BridgeCrowd in our comparison tables, but remember that it has not helped us update its information for several years.
Independent opinion: the opinions expressed are those of the author(s) and not held by 4thWay. 4thWay is not regulated by the ESMA or the FCA, and does not provide personalised advice. The material is for general information and education purposes only and not intended to incite you to lend.
All the specialists and researchers who conduct research and write articles for 4thWay are subject to 4thWay's Editorial Code of Practice. For more, please see 4thWay's terms and conditions.
Our service is free to you. We don't receive commission from the above-mentioned companies. We receive commission from some other P2P lending companies when you click through from our website and open accounts with them. This doesn't affect our editorial independence. Read How we earn money fairly with your help.