Landbay Rates Rise, Risks Remain Low
Click "Learn" to get help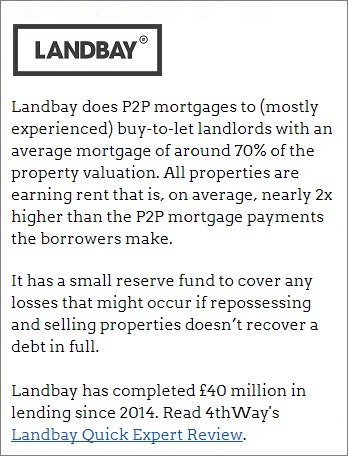 When high-quality peer-to-peer lending websites first start up, they often pay interest rates to lenders that are too generous compared to the risks involved.
The risks can be extremely low because, at that stage, the peer-to-peer lending website is so small that it can be fantastically picky about which borrowers to accept.
(Assuming it is good at picking borrowers, that is.)
And the interest rates are too high because lenders demand a lot of interest when lending through a P2P lending site that has almost no historical record on which you can judge its performance.
However, no investment can sustain such an imbalance in risk-and-reward forever.
So what tends to happen is that lending interest rates gradually fall and the risks rise until there is a better balance.
Landbay rates are up slightly
It's seemingly contradictory, then, that as Landbay* approaches its fourth birthday, the tracker interest rate is rising to 3.25% in January, up from 3.07% today. This rate tracks the Bank of England base rate, plus 2.7 percentage points, and it is available as an IFISA.
3.25% is unexciting, but considerably more than you would expect in savings accounts and I consider it to be an excellent rate of return on the kind of low-risk lending that Landbay offers.
However, Landbay is not really being an exception to the rule that interest rates fall as quality P2P sites grow and mature. After all, its interest rates are still lower than they were three years ago.
That said, Landbay rates have just dropped a very small amount since it launched. Far smaller than usual for a peer-to-peer lending site with a perfect record of no bad debts or missed payments.
Risks are unchanged
Landbay is also breaking the trend on the risk side, because the inherent risks in the loans it approves still look very well contained, and virtually unchanged, versus the interest rates.
When Landbay started, it set a maximum mortgage of 70% of the property valuation. Back then, Landbay had the luxury of a tight cap like that, when it was doing far fewer loans than today.
While that is a sensible cap for many types of secured lending, it was unnecessarily strict in the field of buy-to-let mortgages, where the risks are lower. Perhaps with that in mind, Landbay quickly loosened the cap to allow borrowers to borrow up to 80% of the property valuation.
Despite this apparently big jump in its minimum standards, as Landbay* has grown and approved more mortgages, the risks have been surprisingly stable:
| | | |
| --- | --- | --- |
| Characteristic | First 96 loans (half of the total 192) approved by Landbay | Second lot of 96 loans |
| Average mortgage compared to property valuation | 68% | 71% |
| Average rent received by landlord compared to monthly Landbay mortgage payments due | 173% | 180% |
As you can see, the average mortgage size has barely ticked up when compared to the property values and statistically there is probably no real difference at all.
In addition, the rent landlords are receiving has even gone up a little bit.
Drilling down from the aggregated figures to look at the detailed list of every individual mortgage that Landbay provides, the loans it has been approving recently are basically unchanged.
So while your own individual mortgages that are assigned to you might not be average, it appears that it would be very difficult to build a high-risk basket of loans. That's even if you were allocated to lend in the mortgages that had the worst characteristics.
Lending to a basket of mostly experienced buy-to-let landlords with tenanted properties is low risk. (Indeed, it's far lower risk to lend to landlords – with the right to repossess and sell their properties – than to become a landlord yourself.)
Quality buy-to-let mortgages have a low risk of going bad, so the modest reserve fund Landbay offers looks substantial when combined with its cautious lending caps.
Clearly, as always, we need to watch out for any loosening and rising risks, but at present it is still well within sensible limits for buy-to-let mortgages, and basically unchanged.
Please remember to diversify across lots of P2P lending sites. Use our account-opening service.
The opinions expressed are those of the author and not held by 4thWay. 4thWay is not regulated by the ESMA or the FCA, and does not provide personalised advice. The material is for general information and education purposes only and not intended to incite you to lend.
Experts, journalists and bloggers who conduct research and write articles for 4thWay are subject to 4thWay's Editorial Code of Practice. For more, please see 4thWay's terms and conditions.
*Commission and impartial research: our service is free to you. We already show dozens of P2P lending companies in our accurate comparison tables and we keep adding more as soon as they provide us with enough details. We receive compensation from Landbay and other P2P lending companies not mentioned above when you click through from our website and open accounts with them. We vigorously ensure that this doesn't affect our editorial independence. Read How we earn money fairly with your help.