The Best IFISAs Available Now (Reviews Updated Regularly)
Click "Learn" to get help
This page was last updated on 25 April, 2017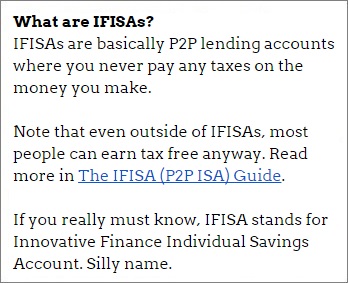 The number of IFISAs is growing (the full list of IFISAs is here), so I have narrowed the playing field down to the best IFISAs for low risk as well as the top choices for those people who want to pick individual loans.
I regularly update these best IFISAs lists as the existing IFISAs change and as more IFISAs become available.
The main criteria for selecting these IFISAs are the same ones that all 4thWay's experts use for selecting P2P lending investments:
The type of lending.
How long these P2P lending sites have been going.
The amount of loans completed.
The people and processes behind the P2P site that enable it to choose borrowers, set sensible interest rates and recover bad debts.
Bad debts and late payments.
Protections such as reserve funds to cover losses.
The interest rates.
Where there is enough history, the P2P lending sites should pass our severe stress tests, based on a much tougher version of the international stress tests that banks are required to do. These tests indicate how lenders will do in a severe recession the same or perhaps worse than in 2008 and during a property crash that leads to distressed property sale prices that are -55%.
Focusing just on the P2P lending sites that have provided 100s of data points to us, followed up by email Q&As and then telephone and or/in-person meetings to better assess the risks, the people, the business itself and its processes.
The top IFISAs today
Without any further ado, here are all my top choices of IFISA that I would lend my own money in today if I was putting fresh money into an IFISA right now.
Category 1: lowest-risk IFISAs
The following IFISAs are, in my opinion, the lowest risk of all the available IFISAs that are simple to use, have ample protections such as reserve funds or property that can be repossessed and sold in an emergency, and they also offer automatic lending, which means that you don't have to choose borrowers and that as you lend over time your money is spread across an increasing number of borrowers.
Currently, I find two high-quality IFISAs in this category that are just about the lowest risk opportunities in P2P lending today. One does residential buy-to-let mortgages and the other personal loans.
1=. Landbay
5/5 4thWay PLUS Rated

Disciplined borrower selection on very low-risk property loans with zero bad debts, a reserve fund, early exit and interest rates of 3.75%.
Before I waste anyone's time, you need £5,000 to open a Landbay IFISA (in contrast to its non-IFISA lending accounts, for which you just need £100.) If that's too rich for you, skip to the next IFISA.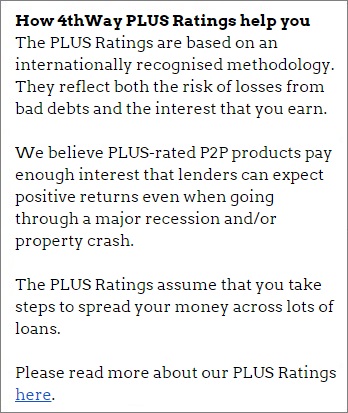 In my view, Landbay has just about the lowest chances of lenders suffering losses from bad debts, largely due to lending on average just 70% of the property's valuation to experienced landlords who are receiving rent that is, on average 1.7 times higher than the Landbay monthly mortgage payments. It is also very easy to open an account and lend.
Type of lending. Landbay sticks to lending to experienced landlords in residential buy-to-let mortgages. These kind of loans are intrinsically just about the lowest risk you can get, since you have property security that is also receiving rent to pay the mortgage, and repossessing and forcing a sale of the properties is relatively easy if the borrower becomes unable to pay.
History. Landbay* has done £10 million in around 60 P2P loans since 2014. While this is less than Lending Works, less history – and less diversification – is required due to the risk in this type of lending being lower. (Landbay has also arranged tens of millions of pounds-worth of mortgages in non-P2P loans.)
People and processes. Landbay has a good team that draws clear lines in the sand, including straightforward loans to experienced landlords, lending no more than 80% of the property valuation, on properties that are already receiving rent that is at least 1.25 times greater than the mortgage payment. Landbay recently did very well from a risk-control perspective in two 4thWay secret shopping exercises, where we sent potential, but somewhat flawed, borrowers to them.
Bad debts and late payments. There have never been any bad debts or late payments from any Landbay borrowers. We would expect that bad debts would be negligible or zero for this kind of lending during the economic conditions we have been having, so its performance is as expected.
Protections for lenders. Landbay's loans are secured on property which can be repossessed and sold. In addition, Landbay has a reserve fund. While the reserve fund is small compared to Lending Works', it is very substantial in combination with the property security.
Interest rates. Its interest rate of 3.75% is not mouth-watering if you desperately want to get rich, but I think that rate is excellent for the low risks involved. In the event of a major recession and huge property crash, we expect that few lenders, if any, will permanently lose money due to the interest earned on top of the protections for lenders.
Performance as a business. Landbay is probably years away from making a profit. Yet it is professional, it has a headstart on its key P2P competitors and it hasn't had trouble getting investors to give it money to take it through its journey to profitability. In addition, I think the risk of losing much money if Landbay were to go out of business is small, due to the back-up processes in place to wind down existing loans.
Top tip for lending through Landbay. We think Landbay currently offers no strategies for active investors to lower their risks further, since you just put your money in and wait for it to be allocated to mortgages. Landbay does say it will automatically spread your money across "multiple" mortgages, which we believe for most people will be no more than five to begin with, although many people can expect to be in more loans as you lend for longer, and re-lend your money.
You may read our quick expert review on Landbay as well as read about its PLUS Rating in our comparison table, or visit Landbay* to register and then open an IFISA.
1=. Lending Works
5/5 4thWay PLUS Rated

Lending Works* is a very solid, low-risk choice with no lender losses, very low bad debts, a large reserve fund to cover losses, insurance to pay you when your borrowers can't repay due to unemployment, early exit and interest rates of 4.5%. To my mind it is in joint-first place with Landbay.
For Lending Works, you can lend as little as £10.
Type of lending. I like that Lending Works* sticks entirely to arranging personal loans for prime borrowers, keeping it simple and focusing on what they do best. Personal loans are another lower risk type of lending, largely due to the ease of spreading your money across a lot of quality borrowers, most of whom you can be confident will repay even in a big recession.
History. Lending Works has completed over £50 million in loans since early 2014, across more than 8,000 loans. This is a substantial history.
People and processes. I'm impressed with Lending Works' professionalism. We're convinced that Lending Works has highly qualified people to assess borrowers, create and improve its lending models and to administrate loans, and that its processes appear to support that view.
Bad debts and late payments. Bad debts and late payments are very low, which is what we'd expect for a competent personal loans P2P lending site of this size focused on prime borrowers, during normal economic conditions. Just around 0.5% of loans issued in 2014 and 2015 have gone bad, which is a record any bank would be very proud of. (I exclude 2016 and 2017 because loans issued then are still very fresh, but they are looking strong too.)
Protections for lenders. No lenders have lost any money, which is not least because Lending Works has a good-sized reserve fund to cover bad debts and it also has insurance to protect lenders if a borrower can't repay due to unemployment, which could potentially be particularly handy during a recession.
Interest rates. We find the interest rates to be very good for the risks involved in its five-year product at around 4.5% per year, and more than satisfactory in its three-year product, at around 3.5% per year. In the event of a major recession, we expect that few lenders, if any, will permanently lose money due to the interest earned, on top of the protections for lenders I just mentioned.
Performance as a business. I think it very likely Lending Works will become profitable. Even if it doesn't, as with Landbay, I think the risks of losing money due to Lending Works closing down are small.
Top tip for lending through Lending Works. I just don't see how I should expect to lose money with Lending Works even in a recession. The one caveat there is, as with Landbay, I would just make sure my money is being spread across more loans more quickly by either lending regularly or by allowing my pot of cash to be lent out over several months, and if you re-lend the borrowers' monthly repayments and early repayments you will quickly be lending across lots of loans.
You may read our quick expert review on Lending Works as well as read about its PLUS Rating in our comparison table, or open a Lending Works IFISA*.
Category 2: best IFISAs for selecting individual loans yourself
The following are the best IFISAs for selecting individual loans yourself. These are for investors who like to actively pick the best individual loans to lower the risks and/or increase the interest you earn.
Again, I find two IFISAs that are worthy of this list (with a third removed at least temporarily as I await some important updated figures). Both of these have a strong record and offer some really fantastic individual loans. The second of these is just for people who are wealthy due to its very high minimum lending amount.
1. FundingSecure
In my list of what I think are the best IFISAs, FundingSecure is the only entrant that has not earned a 4thWay PLUS Rating.
The sole reason for this is that it has not presented enough data to us in a way that we can do our PLUS Rating calculations. However, looking at its own statistics, and the reams of information FundingSecure has provided us separately, we do not doubt that it would receive a very high PLUS Rating, most likely 5/5.
Lots of loan opportunities, including many very secure property loans, always with very attractive interest rates and negligible bad debts.
Type of lending. Six-month interest-only loans that are automatically allowed to roll on for another six months (and again after that) provided the borrower pays all interest that is due. These loans are secured on a variety of different assets, typically property (roughly 50%), art, jewellery, antiques, luxury cars and boats.
History. FundingSecure is one of the larger P2P lending sites, having done £100 million in P2P loans since 2013, of which around 80% are new loans as opposed to rolled over loans.
People and processes. Despite FundingSecure's rapid growth, it has unusually strict processes for a lender of its type, which both makes it easier to assess compared to its most similar competitors and gives me great confidence.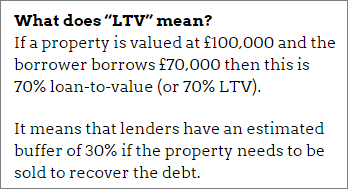 FundingSecure seems to stick very tightly to assets it understands well, so that it can properly value them.
FundingSecure has a great maximium loan-to-value of 70% (see sidebox, right) and the average is under 60%. FundingSecure appears to take the trouble to value assets and property properly, which is far from a given in P2P asset loans.
Some of FundingSecure's property loans are development loans, but even here it values the loans against the current land and property value rather than the hoped-for sale value after the development is finished. This is a big rarity in development lending, but a very welcome one.
Bad debts and late payments. Bad debts have been few and far between, and FundingSecure has an excellent record on recovering bad debts. Outstanding bad debts are around 1.5% of loans ever made, which is highly satisfactory for these sorts of loans, and I think we can expect strong recoveries on most of these.
It is possible that more bad debts are waiting to emerge in the £15m to £20m of loans that have rolled over at least once, but these rollovers are to be expected and I have seen no indications that we should be alarmed.
Protections for lenders. FundingSecure offers no additional protections other than the substantial property and asset security already mentioned.
Interest rates. Interest rates of 12% (or often more with bonus interest) on individual loans is excellent for the risks involved.
Top tips for lending through FundingSecure. I think you have two sensible choices. You could either make use of its wide selection of loans to spread your money as much as possible, which lowers your risks. Alternatively, take the time to choose the loans that are easiest to understand, with good valuation and other supporting documentation, and low loans to value.
Visit FundingSecure or, for more information, read our HNW Lending Quick Expert Review in the comparison table.
2. HNW Lending
5/5 4thWay PLUS Rated

Frequent opportunities to lend in highly secure property loans with decent to excellent interest rates – although note a high minimum investment of at least £5,000 per individual loan (minimum £10,000 if you don't pay in or transfer at least £15,000 into your IFISA). With contained bad debts and interest rates of 6% to 12%.
Type of lending. Short-term loans to wealthy individuals and always with property or other assets as security – most loans are property loans. The risk in these kinds of loans can be contained if the property or other assets are sensibly valued by suitably qualified people and the loans are for considerably less than the valuation amount, and by charging higher interest rates.
History. HNW Lending* has done £20 million in more than 100 P2P loans since 2014.
People and processes. HNW Lending is what we at 4thWay refer have started to refer to as a bit of a "swinger", which means that we believe it doesn't stick to tightly defined, borrower approval rules (computer says "No") or it shows flexibility in what evidence it requires to approve loans. Borrowers and deals are, in other words, very individual and tailored.
"Swinging" can mean that you get some very interesting and great loan deals with attractive security and interest rates that other platforms couldn't approve due to inflexible processes.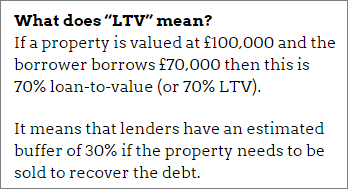 Although swinging can also lead to more errors, it also means that anyone willing to pick individual loans for themselves can seek out some with decent to excellent interest rates combined with great security that has low loans-to-value (see info box, right).
There are bad swingers that approve very crazy loans, and there are good ones that generally make wise decisions. We believe HNW Lending falls into the latter category, not least because of its bad-debt record (more on that in a second).
HNW Lending frequently offers loans that are for less than 50% of the property valuation, and even less than 30%, despite offering 6%+ interest. That's very secure.
Even as a swinger, HNW Lending still rarely approves loans that are for more than 70% of the valuation of the property or asset, it sticks almost exclusively to assets that it understands itself, and it takes steps such as taking physical assets into its possession for the duration of the loan.
Bad debts and late payments. A small minority of loans are currently late or have moved to bad-debt recovery. We are watching how well HNW Lending recovers these bad debts with interest, but the number of loans that have stopped being good is well within sensible limits for this type of lending.
Protections for lenders. HNW Lending offers no additional protections other than the substantial property and asset security already mentioned.
Interest rates. I find the interest rates of 6% to 12% on individual loans to be excellent for the risks involved, making up for the lack of additional protections. We expect most lenders to come out of a serious recession and property crash with no overall permanent loss.
Top tips for lending through HNW Lending. HNW Lending has the most experience with property lending, so look for individual loans with outstanding property security. You can find quite a lot of loans for under 50% of the property valuation, and 10% to 20% is not unusual, offering huge protection in a downturn. Check how the properties were valued; if it is anything less than a full physical inspection from a qualified RICS surveyor, the loan-to-valuation size should be very low. HNW Lending's CEO is waiting for your call, so talk to him and get as much detail about each loan as possible before you lend.
Sign up to HNW Lending* to open an IFISA and or see the lending oppportunities available. Or, for more information, read our HNW Lending Quick Expert Review in the comparison table.
The opinions expressed are those of the author and not held by 4thWay unless specifically stated. 4thWay is not regulated by the FSMA and does not provide personalised advice. The material is for general information and education purposes only and not intended to incite you to lend.
Journalists writing for 4thWay are subject to 4thWay's Editorial Code of Practice. For more, please see 4thWay's terms and conditions.
*Commission and impartial research: our service is free to you. We already show dozens of P2P lending companies in our accurate comparison tables and we keep adding more as soon as they provide us with enough details. We receive compensation from HNW Lending, Landbay and Lending Works, and other P2P lending companies not mentioned above when you click through from our website and open accounts with them. We vigorously ensure that this doesn't affect our editorial independence. Read How we earn money fairly with your help.