The 3 Best IFISAs To Open Now
Click "Learn" to get help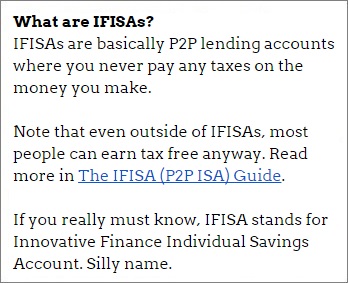 There are now seven IFISAs available to lend your money through P2P tax free. (See info box, right). From those seven, I'm going to narrow it to the three best IFISAs to choose from.
I think there are enough fantastic choices, at last, for most people to choose and open a first IFISA.
After 6th April – the start of the new tax year, we're allowed to open another IFISA and thus spread our money out more widely.
It's still a very good idea to keep spreading out the risks by lending through several "normal" P2P lending accounts too, as well as through other savings and investments.
But now, let's look at the three best IFISAs:
Three struck off the list immediately
I can easily cross off three out of the seven simply because they have not provided enough information to me or 4thWay, and I think to lenders in general, to assess their risks.
These three are Abundance (lending to businesses that do renewable energy projects), Crowdstacker (business lending) and LandlordInvest (lending to landlords).
For all we know, those three might be the best IFISAs that will ever exist in the world ever, period, full stop, exclamation mark. But without detailed knowledge about them there's no way to know.
Best IFISAs: three down, four to go…
That leaves me with four potential candidates of varying quality and risk levels:
I have talked with or met each of them and they have supplied 4thWay with lots of information and data. Here are my top three, more or less ordered by the risks involved, although it's tricky to see which is lower risk out of the top two, since they offer some of the safest P2P lending out there. Period. Full stop.
1. Landbay – best IFISA for property P2P lending
Before I waste anyone's time, you need £5,000 to open a Landbay IFISA (in contrast to its non-IFISA lending accounts, for which you just need £100.)
In my view, Landbay has just about the lowest chances of lenders suffering losses from bad debts. It is also very easy to open an account and lend.

Landbay sticks to lending to experienced residential landlords, which is one of the safest types of lending – at least if the P2P lending business is being run by good people.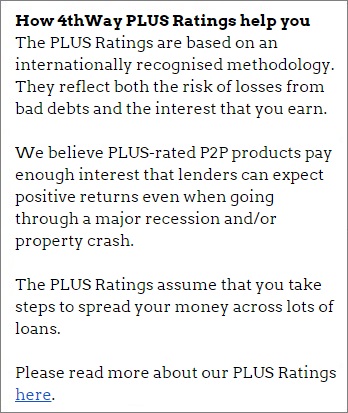 I believe that Landbay* certainly demonstrates this.
One of 4thWay's professional experts helped Landbay get its initial lending models started and Landbay has some great safety criteria:
Loans are for considerably less than the properties are valued at, meaning lenders recover their money more easily if the properties have to be repossessed and sold;
landlords are experienced;
The rent more than covers the loan payments and;
Landbay also has a reserve fund just in case there are any excess losses.
Landbay's results have been perfect – no late payments or bad debts – since it started in 2014 while lending £10 million in P2P loans. The future won't necessarily be the same as the past, but a great record supports that the team has not just the experience but the abilities they need to have.
Its interest rate of 3.75% is not mouth-watering if you desperately want to get rich, but I think that rate is good to excellent for the low risks involved and way better than savings accounts and cash ISAs (tax-free savings accounts).
Landbay is probably years away from making a profit. Yet it is professional, it has a headstart on its key P2P competitors and it hasn't had trouble getting investors to give it money to take it through its journey to profitability. In addition, I think the risk of losing much money if Landbay were to go out of business is small, due to the back-up processes in place to wind down existing loans.
While it looks to spread your money across many loans, I would probably still help Landbay do so more quickly by lending my money over several months, so that some money goes towards different batches of borrowers. Over time, especially by re-lending payments received back from borrowers, spreading money across plenty of loans should not be difficult.
To view the Landbay IFISA account, sign up to Landbay* for free.  Or, for more information on Landbay, you may read the Quick Expert Review on Landbay as well as read about its PLUS Rating in our comparison table.
2. Lending Works – best for offering special protections

I like that Lending Works* sticks entirely to arranging personal loans for prime borrowers, keeping it simple and focusing on what they do best. Personal loans are another lower risk type of lending, largely due to the ease of spreading your money across a lot of quality borrowers, most of whom you can be confident will repay even in a big recession.
I'm impressed with Lending Works' professionalism and results on £40 million in loans since 2014. It has very low bad debts and its ample reserve fund has easily paid for those bad debts so that no lenders have lost money.
It has insurance that could be particularly useful during a recession: when borrowers can't pay due to unemployment, an insurance company will ensure lenders still get some of those monthly payments. The insurance could also pay our loans back to us if the borrower can't repay due to illness.
Lending Works' interest rates of up to 4.5% are, as with Landbay, good to excellent for the risks involved.
I think it very likely Lending Works will become profitable. Even if it doesn't, as with Landbay, I think the risks of losing money due to Lending Works closing down are small.
I just don't see how I should expect to lose money with Lending Works even in a recession. The one caveat there is, as with Landbay, I would just make sure my money is being spread across more loans more quickly by either lending regularly or by allowing my pot of cash to be lent out over several months.
You may read our quick expert review on Lending Works as well as read about its PLUS Rating in our comparison table, or open a Lending Works IFISA*.
3. And the last of the best IFISAs is…
The last one is a tough call, not least because both Crowd2Fund and LendingCrowd have short histories, making it hard to assess their abilities.
But the winner is Crowd2Fund*, which offers business lending with interest rates potentially around 8.5%.
Crowd2Fund will automate picking loans for you if you want. However, I'm interested in this P2P site from a self-select angle, so it is therefore a specialist IFISA opportunity.
Since you're picking loans yourself, this one is for advanced users and special cases. Beginners, and those looking for easier ways to do P2P lending with higher interest rates, should probably stop reading after this sentence, and consider waiting for more IFISAs to open, including both business and property P2P lending sites.
Crowd2Fund 's record is too short for earning a 4thWay PLUS Rating, which means we can't yet rely on its currently perfect results of zero bad debt on £2 million of lending since early 2015.
I like how it approaches potential borrowers itself and only goes for profitable ones that are getting the cash in regularly to cover the loan payments.
However, Crowd2Fund's team has not proven it has the volume of relevant experience I want to see. It has also told 4thWay that it doesn't do numbers-based risk models to aid its selection of borrowers and in setting interest rates. This is usually a must in business lending.
Its future is also unclear. I don't have enough information to guess whether it will still be around in five years, although, again, it has processes in place to wind down loans smoothly if that happens.
What Crowd2Fund's IFISA has going for it is a combination of two things: interest rates on loans of 8.5% or more and you can pick individual loans yourself, with a minimum of £50 or £100 that you can lend in each loan.
This means that, while we don't yet know if Crowd2Fund's loans will do well overall, we can cherrypick the ones with clearly superior characteristics.
You can see the sorts of loan opportunities available for yourself before opening an IFISA by signing up to Crowd2Fund's website here*. Considering the complexity in analysing individual business loans, I shall write a second article on how you might do this for Crowd2fund right after I have had a quick coffee. (Edit one coffee and many hours later: here's the link to that article.)
Sign up to Crowd2Fund to see more about the lending opportunities (you can decide later whether to use Crowd2Fund as your IFISA for the year). Or, for more information, read our Crowd2Fund Quick Expert Review in the comparison table.
*The opinions expressed are those of the author and not held by 4thWay unless specifically stated. 4thWay is not regulated by the FSMA and does not provide personalised advice. The material is for general information and education purposes only and not intended to incite you to lend.
Journalists writing for 4thWay are subject to 4thWay's Editorial Code of Practice. For more, please see 4thWay's terms and conditions.
*Commission and impartial research: our service is free to you. We already show dozens of P2P lending companies in our accurate comparison tables and we keep adding more as soon as they provide us with enough details. We receive compensation from Crowd2Fund, Landbay, Lending Works, LendingCrowd and other P2P lending companies not mentioned above when you click through from our website and open accounts with them. We vigorously ensure that this doesn't affect our editorial independence. Read How we earn money fairly with your help.