4thWay's Funding Circle Review
Click "Learn" to get help
Unfortunately, due to low use from 4thWay's website users, we rarely update these detailed Insight Reports any more. Please see our Quick Expert Reviews in 4thWay's P2P lending comparison tables and see our latest guides, articles and research by visiting our Learn page.
If you would really find it useful to have reports like this, or other detailed reports in another format, please get in touch. We are very interested in how we can present you with all the information you want and need – in the way you want it – to educate yourselves about P2P lending opportunities.
This 4thWay® Insight Report was last updated on 25 July, 2016
Here is our detailed, candid research: our Funding Circle* review. Funding Circle is a P2P lending website focusing mostly on loans to UK small and medium-sized businesses, as well as some property development loans.
If you're looking for one aspect in particular, glance through the contents on the far right.
Funding Circle review: interest rates and 4thWay® PLUS Ratings
Funding Circle divides its borrowers into six grades. The top two grades, A+ and A, include a sizeable portion of property development loans. This is properly picked apart when we do our risk modelling, and therefore the varying risks are taken into account in the following table:
Interest rates fluctuate so they're approximate and they are averages. Interest rates after losses for E-grade loans are based on estimates rather than actual figures, since Funding Circle introduced E loans fairly recently.
Funding Circle* has been awarded 4thWay PLUS Ratings, which means it has passed tests showing that we believe it is investment grade. Only 6/64 platforms analysed by 4thWay's experts have earned a PLUS Rating.
All six of Funding Circle's products have been awarded the top two ratings of five PLUSes or four PLUSes. This reflects both our estimates of the scale of losses during a very severe recession and the available annual interest rates to cover and recoup those losses.
Its five PLUSes scores mean that we conservatively estimate Funding Circle lenders will recover all their losses within two years during a very severe recession. Indeed, they might never move into a loss due to the often high-single or double-digit interest earned on an annual basis. Four 4thWay PLUSes mean we think in the worst case it might take up to three years to recover losses.
The 4thWay Risk Scores reflect our conservative estimate of the risk of losses during a very severe recession before taking into account any interest you might earn. So it is just the risk without the reward. A score of 1 is reserved for savings accounts and a score of 10 is for risk equivalent to the riskier end of the stock market. Funding Circle's risk scores of 5 or 6 are highly creditable for business lending, meaning we believe losses before interest in a major disaster scenario should be contained at under 15%.
Read about the 4thWay PLUS Ratings and Risk Scores. The PLUS Ratings and Risk Scores are indicators, not guarantees. They assume that you spread your money across lots of loans.
Key data points
You can see all Funding Circle's statistics in great detail by going to 4thWay's comparison tables, selecting a Funding Circle product and then checking the box to see more details. There are over 100 items of data to compare. Here are some key items:
*The E-grade loans are still new, so expect bad debts for that grade to end up higher. 
Funding Circle review: highlights and lowlights
Funding Circle* is one of the older and larger P2P lending companies, having matched around £1.5 billion of loans in over four years.
Funding Circle clearly has a team with the right experience in banking and credit-risk management to manage and administer these loans.
A large selection of borrowers and loans and six different grades of borrower, so you can create precisely the risk-reward balance you want.
Funding Circle offers low risk A+ loans at attractive rates where just a fairly small handful of companies per 1,000 businesses have failed to repay.
Lenders who have lent through Funding Circle to at least 100 businesses for at least a year have had incredibly low chances of losing money and have typically earned 6% or more.
Low minimum lending amount of just £20.
Funding Circle sensibly sets interest rates on lenders' behalf – since it has the people with the skills and training to choose sensible interest rates.
There is no bad-debt provision fund, but this doesn't necessarily increase your risks of losing money since interest rates are also higher.
Indeed, over the medium to long run we expect Funding Circle to give calm, patient lenders a good chance of earning higher rates than average.
Funding Circle is improving further as it goes, tightening and improving its analysis of borrowers as time goes by.
An excellent risk-reward balance with around 6% to 8% after costs and losses and with excellent 4thWay PLUS Ratings.
Funding Circle offers plenty of loans to choose from so that you can spread your risks and so that you can much more easily find other lenders willing to buy your loan parts off you if you want to get out early.
Lots of loans and lenders also means you can expect to lend (and re-lend) more swiftly, to ensure you're earning interest most of the time.
Funding Circle allows you to automate your lending so that you can re-lend even more quickly and easily without logging back in.
Active investors: you can also select your own borrowers and you could increase your gains by looking for better loan parts to buy from existing lenders.
Active investors: if you have time and an understanding of statistics, you can forecast which borrowers will do better than others within a borrower grade, creating a lower-risk portfolio.
Since you can buy or sell loan parts for more or less than they were originally worth, calm, patient lenders could make a lot of money when others are fearful. Those "others" will lose money.
You can buy into loans lasting between six months and five years.
Funding Circle is a member of the Peer-to-Peer Finance Association and maintains high standards of transparency.
Funding Circle is financially backed by investors who backed Betfair, Skype, LoveFilm, Facebook, Supercell, Spotify and Wonga.
Funding Circle's customers have given the P2P lending company a Net Promoter Score of 89, which means its customers are very likely to recommend it to others. (Compare this to a score of -11 for the banks.)
It takes a lot of time and money to produce high-quality research. If you want to re-use the thoughts, ideas or information within this 4thWay® Insight Report commercially, journalistically, in comparison tables or in a blog, please see our terms and conditions. We do not provide financial advice or guarantees. See the bottom of this report for some key terms from our T&Cs on our liability.
Are bad-debt rates realistic?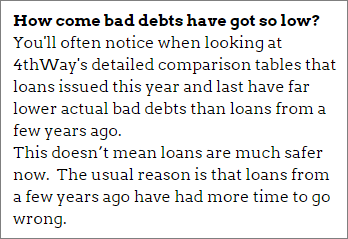 Bad debts currently – and historically – look well under control and easily covered by the interest rates.
Samir Desai, Funding Circle's co-founder and chief executive officer, said that bad debts in the first year of a loan are now a quarter of what they used to be. The deep-level data that Funding Circle provides currently seems to indicate that bad-debt rates are realistic and the platform is not hiding any problems. A good proportion of loans are related to one another, with many loans repaid and a new one taken out by the same business borrower, so 4thWay will keep an eye on that to ensure problem debt is not being rolled over.
You can see detailed bad-debt and late payment figures in the bad debts section of the detailed comparison tables.)
We're going to take a look at two key indicators of potential bad-debt trouble ahead: acceptance rates and arrears (late payers):

Acceptance rates
Funding Circle has decided not to publish its borrower acceptance rates and nor will it provide them to 4thWay® confidentially.
While this is not optimal, we are not worried. Funding Circle is very transparent in most areas – more so than almost every other peer-to-peer lending platform. The other data provided give us a very detailed picture of Funding Circle's performance and ability.
It's always possible in the future that, if the management is feeling the pressure to keep growing at high speed when there is little more room to grow, it will sanction a slackening in its criteria. At this point, individual lenders might regret not having the early warning sign of a rapidly rising acceptance rate.
Arrears
Lenders in Funding Circle still have an early warning system though, if not quite as early. That is late payments (arrears).
4thWay® keeps track of Funding Circle's arrears to see if there are any increases that should give us cause for concern. Specifically, if they're rising fast, is it due to a slackening in standards?
Currently, however, we see no worrying signs that Funding Circle is weakening what we believe to be its very high standards.
Interest rates
Funding Circle* lenders are, on average, in our opinion, getting satisfactory or better returns for the risks they're taking.
The official figure is around 7% or more after bad debts and fees which will mean you earn around £1,800 in interest over five years. Although, this is assuming 1) you re-lend the repayments you receive and 2) that you can always get your money lent out within a week or so. We'll explain those two points now in more detail:
1. Re-lend repayments to earn more interest
If you don't re-lend your money then the interest rate will be a little lower and the pound amount will be considerably lower than you expect. If you provide £1,000 towards a one-year, A+ loan, for example, you'll get closer to half of the £70 you might have expected. This is because the borrower repays part of the loan each month, rather than borrowing the whole lot for the whole year, he doesn't owe you the full annual 6.9% on all £1,000.
Although the interest rate is steady throughout the year, the outstanding debt is shrinking, so the pounds you receive in interest shrinks too. That's why you have to re-lend your loan repayments as they come in so that you get the interest you expect.
2. You lose interest while waiting to lend
Even if you do re-lend your repayments, you will still earn less than £70 per £1,000, per year when lending at 7%.
This is because Funding Circle's official rates assume that you re-lend your repayments immediately. Since you might sometimes have to wait at least a little while before your money is lent out, you should assume your rate is lower than stated.
That said, you will need to be left waiting for many days every time you come to re-lend in order to see a significant hit to the interest you earn. Funding Circle has a large market of borrowers and lenders so the likelihood of this happening in a good or moderate economy seems to be low.
How will Funding Circle lenders do in the long run?
We believe that Funding Circle lenders can expect better average returns over the long run than with P2P lending companies that have a bad-debt funds on average, precisely because the risks of losing money are higher.
Regardless of what investors (or lenders) are investing in, in the long run, while they often get things wrong, they learn to generally invest or lend at rates that are going to be worth the risks they take. It's just that the higher the risk, the more bumpy the ride and results between individual lenders will be less consistent.
Exiting loans early
As you saw in the key details near the top of this report, you can exit loans early for a 0.25% fee.
You are never guaranteed to be able to get out early with any P2P lending company, nor are you necessarily going to be able to get out as swiftly as you like. It all depends on there being enough money and people willing to buy you out.
Since it is other lenders who buy your loan parts, exiting early is on the condition that other lenders want to do so. With a large market like Funding Circle*, we expect that you will normally be able to leave very easily. However, lenders buying your loan part don't have to pay you the same amount for it as you did; you could get more or less depending on supply and demand.
Ease of lending
When choosing one or more P2P lending companies to lend through, one key criteria for many individual lenders is how easy it is to lend their money and to re-lend it when repayments are received.
Enabling this is a major issue for most P2P lending companies and the results are often disappointing, but Funding Circle has a lot of new loans each day and a big "secondary market", making it much easier to keep your money on loan most of the time. A secondary market is where you can buy into or sell out of existing loan parts.
It takes 1-3 days to fund your account by bank transfer but if you want to get lending more quickly you can transfer money instantly by debit card at no cost.
Easily automate your lending
Funding Circle has some smooth automation options that enable you to make a few simple choices and then leave it to the P2P lending company to lend and re-lend for you.
The simplest way to automate is to:
Select your target average interest rate before fees and bad debts. (The "gross" interest rate.) You will also be shown the estimated return after fees and bad debts.
Select the maximum amount you want to lend to any one business, e.g. 1% means that you'll lend to at least 100 businesses.
Press the button called "Turn Autobid On" and Funding Circle will start lending your deposits and repayments automatically across all borrower grades.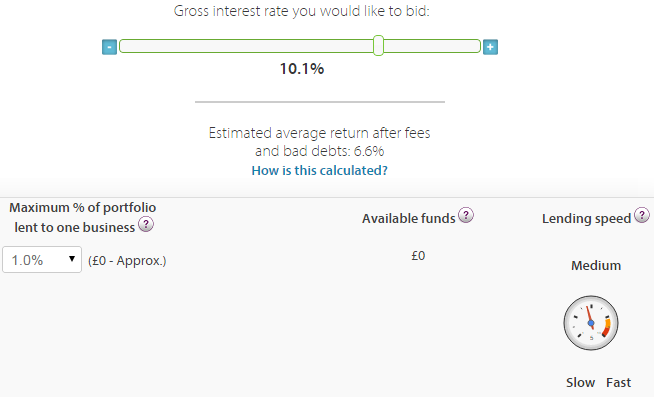 You can also select the borrower grades that you want to lend to.
If you switch on autobid, all your repayments and interest, plus new money you deposit, will be automatically loaned out. Switch off autobid again to stop this from happening.
Automate selling your loan parts
You can choose to sell some or all of your loan parts automatically without fussing around trying to handle the transactions manually.
To do this, you set the amount you want to sell in multiples of £100 and then loan parts will automatically be listed for sale for you.
Automatically lend new money on a regular basis
At present, like the vast majority of P2P lending companies, Funding Circle has no online facility to enable you to regularly transfer money from your bank account to Funding Circle and then automatically lend that money.
However, you could set up a standing order with your bank to transfer regularly. Autobid will then lend that new money automatically for you.
Automate your withdrawals
Like the vast majority of P2P lending companies, Funding Circle does not offer automated withdrawals.
Spreading your risks – diversification
It's easy to diversify across lots of loans, because there are dozens of new loans on a typical day and you can buy existing loan parts from other lenders. And, as noted in the section above, "Ease of lending", you can set your account to automatically diversify across, e.g. 100 borrowers.
If you're aiming to lend to one or two borrower grades only, you might take several weeks to get your entire starting pot of money lent out if you want to spread your risks widely. After that, re-lending your loan repayments and interest might require less time, as it will be more staggered.
The lower your bids, the faster you can expect to have all your money on loan, but ensure that you're not bidding too low for the risks involved.
You could buy into existing loans to speed your investment; there are thousands of loan parts currently available to buy.
You could also spread your money across more borrower grades to begin with, and attempt to redistribute to the grades you prefer as you're repaid.
We believe that most people should be satisfied with the ease and speed at which they can diversify with Funding Circle. Even though lenders bidding higher than average rates can expect to take longer, we think the wait will often be worth it.
Bear in mind when selecting loan parts manually and diversifying that some borrowers might have more than one Funding Circle loan.
In our opinion, Funding Circle* easily provides enough diversification for you.
Borrower selection
You want to see a team that convinces you it is experienced and that conducts adequate checks on borrowers and their security.
Funding Circle has a great team and it appears to be fantastic at analysing its borrowers so that it can constantly improve its assessment of them. This means more acceptable borrowers are slotted into the right grades and unacceptable borrowers are more easily weeded out.
Funding Circle's primary focus is on measuring and improving its borrower data so that it can improve its loan book and it has demonstrated it has the skills to achieve this.
The majority of loans are unsecured. Of the secured business loans, there is no indication of the quality of the security, so for analysis purposes we ignore it. This still does not noticeably impact the risks, however.
When Funding Circle takes security against business loans, it is usually in the form of guarantees from the directors. This sort of security is far weaker than securing against real property, assets or possessions. However, Funding Circle* has taken this into account when grading borrowers, so there should be no hidden surprises.
For Funding Circle's property development loans, which you can lend through in the A+ and A grades, we have no information about the quality of the security. We know that it is usually the land and property on which the development is being made, but we do not know how much more valuable the initially purchased land and property was compared to the loan amount. We therefore conservatively assume in our own analyses (such as for the 4thWay PLUS Ratings) that development loans are for more than the land and property was initially worth. Nevertheless, the A+ and A grades still have the best PLUS Ratings available.
Can you select better borrowers?
We believe that it is difficult, but not impossible, to select borrowers who are less likely to suffer bad debts than the average within the same borrower grade.
Funding Circle does all the borrower analysis in the background with its impressive technology and team of data scientists and then it grades the borrowers. It then presents to you a summary and a selection of some interesting details of the borrower, including the borrower's industry, its credit rating, the reason for the loan and a summary of recent financial accounts.
You know the borrower's name, so you (or lenders competing against you) could get an advantage by researching the businesses directly. You can also ask the borrowers questions online through Funding Circle, although they're not obliged to answer.
You see less detail than Funding Circle has already used itself to grade the borrowers. From the details provided to you, we think it requires lots of time and a good understanding of statistics to find genuine patterns in the borrower profiles. But it surely can be done.
Deal-making potential
Since you cannot set interest rates on new loans – Funding Circle does it for you – this limits your ability to further improve your returns or lower your risks. However, for investors who are interested in taking the time to do so, it is still possible:
Buying second-hand loans
Funding Circle has a "secondary market" where you can buy and sell loan parts to other lenders. That's how you exit early, and it's also how you enter into loans that have already started – although you can't buy loans that have already gone bad on Funding Circle.
You might want to enter a loan later because the interest rates are higher than those available in the new loans market. Or you might do so because you want to lend for a shorter period of time.
However, a secondary market, especially one as large as Funding Circle's, also gives you opportunities to make – or lose – more money.
Funding Circle won't show you the original interest rate for the loan parts you're thinking of buying, but this is probably a good thing. What the person before you got is not likely to be an accurate reflection of what you should get; it makes more sense to make your own mind up independently; for example, by looking at the borrower grade, repayment history, reason for borrowing, how much time is left on the loan and whether the loan is interest only.
Making outstanding gains or losses
With Funding Circle*, we can expect special situations to occur where we are able to make an awful lot more money than usual.
Typically, these situations might occur most when impatient lenders are panicking because bad debts in general are rising and the economy has turned bad. This is when other lenders could sell you their £5,000 loan parts for £4,000 or less, giving you far greater returns, just because they're more worried about losing all their money than they are in getting raw deal.
That sort of behaviour happens in all other investments without exception, so we expect it to happen in P2P lending too.
You cannot underestimate how many intelligent people turn headless chickens when there is widespread worry and fear, so you, too, need to be calm, diversify, re-lend, never chase interest rates too low, and stick to a patient strategy to ensure you never become one of those selling good loans for a fraction of their real worth.
Technology
Funding Circle uses secure authentication both before and after you log in to your online account. This is a basic, vital safety feature that a surprising number of websites overlook. It uses a high level of encryption to protect your financial information and a timed log-off to protect you in case you forget to log off yourself.
This is far from the end of Funding Circle's technology security measures. In particular, it gets an independent security review every year from certified professionals.
While there are no guarantees, we don't consider technology to be a big, widespread risk in the industry, and certainly not at Funding Circle.
Transparency
We believe that no lender or investor should deal with P2P lending companies that hide a lot of information.
The more open they are, the harder it is to hide an inferior service or to cover up lies. We also believe that it is a small indicator of good intentions if companies make transparency a central part of their business.
On transparency, Funding Circle does a fantastic job of providing very detailed statistics on its website and it is adding to the available data as time goes by. It also publishes its full loan book showing the history of every single loan ever completed. This level of transparency is considerably higher than we are used to in traditional investments.
It withholds a small amount of useful information, such as acceptance rates, although it informs us that it does so because the information is confidential.
Where it could probably improve most is by explaining more clearly what the costs are. You pay a 1% annual fee, but the difference between what the borrower pays and what you receive is far larger. It is the total "spread", including the fee, that tells lenders their total costs. This is an area where the vast majority of platforms are still weak – although the same can be said for investment funds in traditional investments like bonds and the stock market.
Skin in the game
Many, and hopefully most, P2P lending companies can and will do well for their lenders even with no direct skin in the game, but we see it as a positive sign if the directors and founders put their money where their and the lenders' mouths are.
The founders quit their jobs to start Funding Circle and make it work. However, as far as we know, like most P2P lending companies (and most other investments for that matter) they do not share lenders' risks directly by lending in all the loans that are matched in its service.
What happens if Funding Circle goes bust?
Funding Circle is regulated by the UK's Financial Conduct Authority and is a member of the Peer-to-Peer Finance Association.
Funding Circle has set up an independent trustee to run down your loans in an orderly fashion if it goes out of business. Money of yours that is not currently being lent to a customer is held in a segregated client account, so that it is not used to pay Funding Circle's debts.
Financial health
Funding Circle operates at a loss, but only in the cause of expansion. The firm has stated that it could become profitable whenever it wants to by slowing its expansion.
In the current market, we believe that many P2P lending companies like Funding Circle can continue to grow rapidly without taking dangerous risks.
Accuracy
There's always the risk, for all companies, that their information is inaccurate. And we can never be sure that a company is fault or fraud free. However, we have seen no signs to indicate possible significant errors in Funding Circle's numbers or statements.
Costs
Funding Circle does not publish borrower interest rates. However, we believe we can estimate them reasonably well using Funding Circle's historical data.
We think that the difference between what borrowers pay in interest and what you pay is roughly 1.8% to 3.2%, with the costs being lower the better the grade of borrower.
Considering the many expenses that Funding Circle* pays on your behalf, from vetting customers to managing high-quality technology and chasing bad debts, these costs do not seem obscene to us and are roughly in line with both what we'd expect and with competitors.
Important!
We do not provide personal financial advice and no opinions expressed on or through this website are to be taken as personal financial advice.
While we try to be as accurate as possible, we can accept no responsibility for any direct or indirect losses if any information on this website proves to be incorrect.
It is a big challenge rating investments accurately, not least because we rely on data and information from P2P lending companies and others. That's why, while the 4thWay® PLUS Ratings and Risk Scores are objective measures that we are proud of and are working to improve all the time, they are not infallible.
There are always additional outside risks that most of us just aren't rich enough to plan properly for. Crazy as it sounds, maybe there'll be a nuclear war, anarchy or some other big disaster. We can't measure such risks, nor can we say whether having your money in a savings account would have been any safer.
See our full terms and conditions of use.
*Commission and impartial research: our service is free to you. We already show dozens of P2P lending companies in our accurate comparison tables and we keep adding more as soon as they provide us with enough details. We receive compensation from Funding Circle and other P2P lending companies not mentioned above when you click through from our website and open accounts with them. We vigorously ensure that this doesn't affect our editorial independence. Read How we earn money fairly with your help.